Case lodged against 250 Left Front supporters for thrashing cop at Entally
Middya, who was a resident of Bankura, died at a Calcutta nursing home on Monday allegedly of injuries from police beating during the Left rally for jobs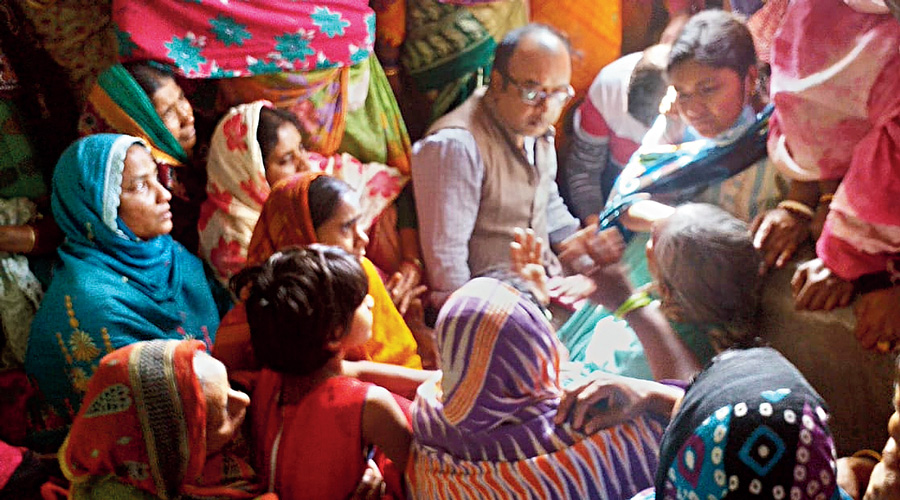 DYFI leaders meet the bereaved kin of Maidul at their Bankura home on Tuesday.
Rupesh Khan
---
Calcutta, Panskura
|
Published 17.02.21, 01:18 AM
|
---
Calcutta police on Tuesday lodged a case against over 250 Left supporters, including SFI state secretary Srijan Bhattacharya, for allegedly roughing up a policeman at Entally on Monday, a few hours before the body of DYFI leader Maidul Islam Middya, a protester in Thursday's march, arrived there.
A Bankura resident, Maidul died at a Calcutta nursing home on Monday allegedly of injuries from police beating during the Left rally for jobs.
Hundreds of Left supporters reached the SFI-DYFI office in Entally on Monday. During a heated argument between them and the police, an ASI of Taltala police station, Arunava Dutta, was thrashed.
Police sources said apart from Srijan, FIRs were filed against DYFI spokesperson Kalatan Dasgupta, SFI Calcutta district president Arjun Ray and Calcutta district secretary Samanway Raha under sections including rioting. SFI sources said that none apart from Srijan was even present there.
"We are being framed to shift the focus from police brutality," Kalatan said.
On Tuesday, New Market police sent questions to CPM leader and doctor, Fuad Halim, on Maidul's medical condition and whereabouts since Thursday. Halim, who treated Maidul, said he had replied to all queries and sent copies of Maidul's medical reports.
Left sources said this came in the wake of chief minister Mamata Banerjee's announcement that the police would probe Maidul's death.
On Monday's incident, Srijan said the cop's "insulting remark" about Maidul's "sacrifice" angered some Left supporters present there.
CPM leaders asked the police to focus on identifying those who had beaten up Maidul and trace Left worker Dipak Kumar Panja, missing since the march.
A source at Taltala police station said that one Dipankar Sengupta, 45, had been picked up from his Bangur Avenue residence on Tuesday in connection with the case.
A missing person's case has been initiated to search for Panja with New Market police by his wife Saraswati, who lives in Panskura in East Midnapore. "Dipak (Panja) is missing because of the police and they will have to find him or we shall launch a bigger protest," said Panskura's CPM MLA Ibrahim Ali.
Funds for Maidul kin
The DYFI will raise funds to help Maidul's family who lost their breadwinner. "All our party workers will donate," said DYFI state secretary Sayandeep Mitra and added the government would have to compensate for "killing" Maidul.
The Left has lined up a series of protests for Maidul. Supporters of 10 Left students and youth outfits will gherao all police stations of the state on Wednesday. A call to block railway tracks has been given on Thursday.
A source in the CPM said an application will be filed at Calcutta High Court by Thursday demanding judicial inquiry into Maidul's death.