Carpenter chisels idol out of tree trunk
Nabadwip villager turns artisan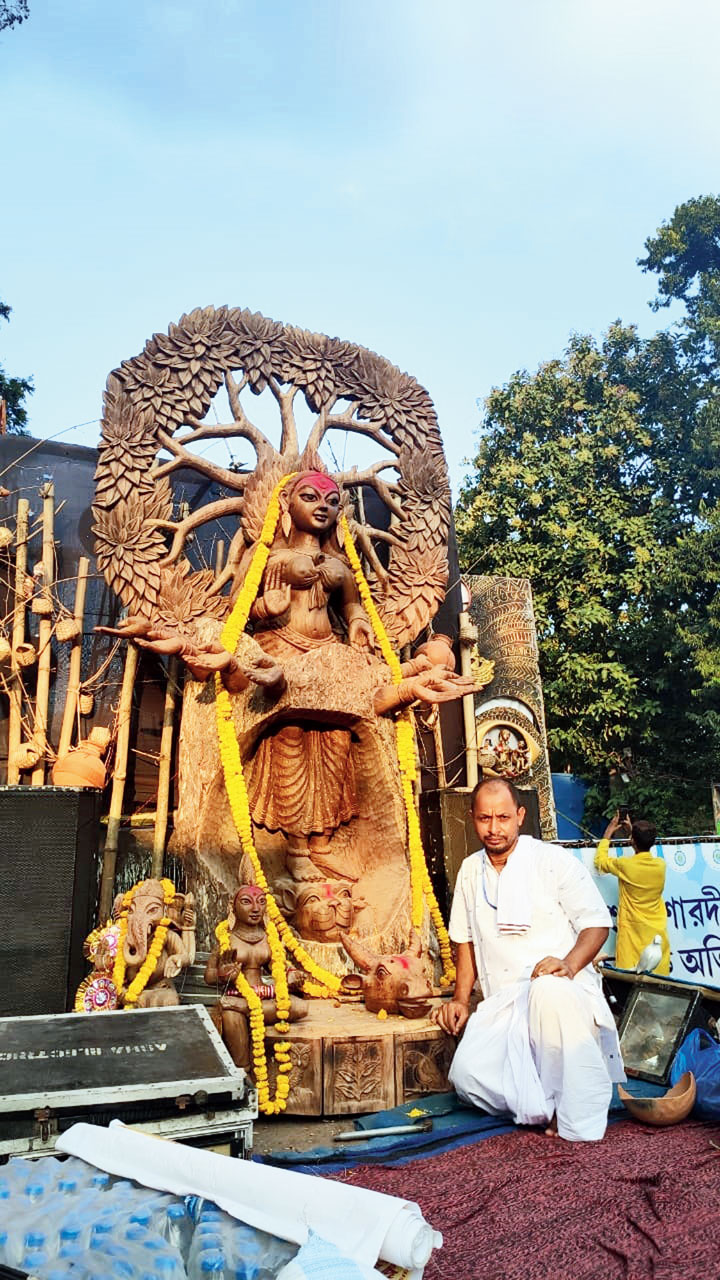 ---
|
Calcutta
|
Published 12.10.19, 08:35 PM
---
He makes his living making khadam (wooden slippers) and Gour-Nitai dolls for disciples visiting Mayapur and Nabadwip. This Puja, he surprised himself and enchanted visitors with an intricately carved idol chiselled out of a gigantic tree trunk that was the centrepiece at the Barisha Club pandal.
The puja, highlighting the plight of birds suffering from mobile tower radiation, was bestowed with the IIHM True to Nature award by the CESC The Telegraph True Spirit Puja jury.
On Friday, as he walked in the state government's immersion carnival on Red Road, Udayshankar Mondal was still in a daze that he had produced such a work of art.
The 34-year-old hails from a Bagadinga village in Samudragarh panchayat area, about 4 km from Nabadwip. "Other than khadam and dolls, I sell faux antique furniture in village fairs," Uday said.
His father died when he was four. His brother, older by 12 years, supported the family with his mason's job. Uday was brought up in his aunt's house nearby and studied till Class VII. "I am the first in my family to dabble in wood," he said.
"The credit for discovering Uday goes to Rintu Das, our theme-maker. We were not convinced that a village carpenter could pull off such a project but Rintu was adamant," said Biswanath Banerjee, the club secretary.
Das heard of Uday while he was visiting Katwa in June. "People told me of this carpenter who has a knack for design. I studied his work for a week. Once I realised he understood wood, I broached the topic, showing him a simple drawing. Even that daunted him. So I made him a clay model of only the head of the idol and asked him to replicate it in wood. As he grew in confidence I added design elements and gave him scale-wise drawings to work with," said Das, who would visit Uday every week and stay back nights to supervise the progress.
The theme-maker said he knew art college pass-outs were better-oriented to do the job but preferred to use an experienced carpenter. "He knows the correct angles of chopping wood without breaking a finger or nose."
The choice caused an argument with the puja committee. "I told them that getting the job done was my responsibility and I'd forego my remuneration if the idol did not shape up. But if they were still not convinced I would walk out," Das said.
Uday is aware of the fight that Das put up to retain him. "Rintuda amay onek himmat jugiechhey (Rintuda backed me a lot)," he admitted.
The wood he had to work on was a sirish trunk of 14ft diameter and 12ft height, sourced after a long search from a saw mill near his village. "At first, we were planning for a clay idol but Rintu said he had found a tree trunk of the right proportions. We did not have the budget for mahogany. So we went with sirish. Even then, the final expense came close to Rs 5 lakh. By then, we knew a masterpiece was being created," said Animesh Chakraborty, a veteran member of Barisha Club.
When the cost exceeded the initial estimate, Uday offered to work for free, if required. "My only condition was I would be called to every prestigious occasion involving the puja. I knew this was the chance of a lifetime," he smiled.
At the puja inauguration, he was introduced to chief minister Mamata Banerjee, who praised his work, and on Ashtami, he brought family and friends from the village to see his work. "They were so proud of me."
The club has received several offers for the idol and will take a call soon.