Cannon rolls out to new address - Neglected Boer War relic to be shifted from New Market to Town Hall
Read more below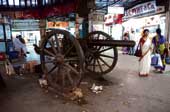 ---
Published 08.04.06, 12:00 AM
|
---
Bricks hold up the broken wheel of the cannon in the New Market rotunda. Picture by Pabitra Das
Once a key player in the Boer War (1898-1902) and now the favourite plaything of street children, the mighty cannon will be making a move from the New Market rotunda to the Town Hall.
The historic cannon will be shifted after 50 long years for better preservation. Mayor Bikash Ranjan Bhattacharyya signed the proposal for the shift on Thursday evening.
One of its wheels has fallen apart owing to neglect. On being told of the damage, municipal commissioner Alapan Bandyopadhyay on Thursday evening proposed that the cannon be shifted immediately.
?We will keep it in the Town Hall. The cannon is actually an 18-mm Krupp gun used by the Boers in their war against the British. It was part of the armaments seized by the British after defeating the Boers,? said Bandyopadhyay. He asked Town Hall director Dipankar Sinha to get the broken wheel repaired.
The cannon was presented by the British crown to the Calcutta Corporation in 1905 as a tribute to Indians who participated in the war as a non-combatant force. Sir Charles Allen was chairman of the Corporation then.
Its location has changed over the past 100 years. It was first kept in the main tower block near the grand staircase of the central municipal building till the mid-1960s.
During the Indo-Pak conflict in 1965, when a buffer wall came up in front of the main entrance of the tower block, the cannon was shifted to Market Square (now Chaplin Park), opposite the civic headquarters. Later, it was moved to New Market.