Bengal polls 2021: No division on religious lines. Kabhi nahin: Kamarhati
At the polling booth in the area, the conversation among residents on Saturday was centred on why it was important to vote for Didi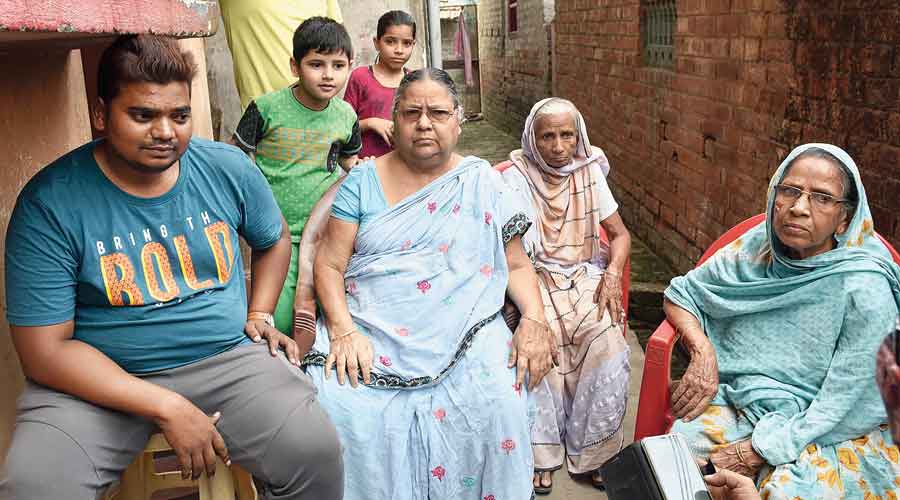 Faiyaz Ali (left), Shahida Khatun (centre) and Mehrunnisa Bibi (right, in green) in Kamarhati on Saturday
Bishwarup Dutta
---
Kamarhati
|
Published 18.04.21, 01:39 AM
|
---
In a neighbourhood off Graham Road on the northern fringes of Calcutta, a Lakshmi temple shares a wall with an open plot where Muslims traditionally assemble for Muharram rituals.
At the polling booth in the area, the conversation among residents on Saturday was centred on why it was important to vote for Didi.
"There is no concept of any division on religious lines here… Kabhi nahin (never)," said Shahida Khatun, 69.
"We understand there is an attempt to create differences along religious lines now. Lekin ye bhed bhao hum nahin maante hain (We don't agree with this divisiveness)…. Humara Didi sahi hain. (Our Didi is right)," she adds.
Khatun has two daughters who are married. The eldest of her two sons runs a small business supplying building materials in the area, dotted with upcoming multi-storeyed buildings on small plots of land. Her youngest son is unemployed. One of his friends, Faiyaz Ali, joins Khatun for the late afternoon conversation.
"Every year during Lakshmi Puja, the mandir just round the corner here (he says, pointing with a raised hand), is all decked out. The microphones continue to play for three-four days. Hum log mandir jaane sey koi aapatti nahin karta hain (no one objects to us visiting the temple)," said Ali, pulling up a stool to sit down with the others.
Kamarhati, which went to the polls on Saturday, has around 27 per cent minority voters and a sizable number of them live along small lanes and dingy bylanes off Graham Road.
Inside a small lane, popularly known as Raju Stores Gully, several residents spoke proudly of a "Durga Maa ki mandir" and a "Hanuman ji ka mandir" co-existing with mosques and dargahs in the locality and how every festival would witness the two communities celebrating together.
"Sab mil jul key rehtey hain yahan (We live together here). We celebrate our festivals together," said Mehrunnisa Bibi.
"It never felt that we belong to some other country. Abhi humko sikhla raha hain ki kaagaz dikhlao (Now we are being told to show papers)."
A few others of the locality joined in as the conversation veered towards the new citizenship matrix. Some wondered "dada pardada mar gaye hain (the old have passed away), now from where to fetch the papers?".
"Modiji ke vichaar sahi nahin hain (Modi's views are not right). Didi has said she won't execute all this," said Khatun.
Most residents across seven wards — from one to seven — of Kamarhati municipality had arrived in Bengal several generations ago from parts of Munger, Siwan and Chhapra of neighbouring Bihar.
Senior residents of the neighbourhood said most of their forefathers had moved here to work in jute mills that dotted Kamarhati and Agarpara.
"Some of these migrant labourers who settled here later, switched from working in jute mills to other factories in the area, including the likes of India Foils Limited and Beni Engineering," said Sheikh Anwar, an elderly resident of the area.
In January last year, when protests against the Centre's Citizenship Amendment Act rocked the country, fear gripped many in places like Kamarhati. They were worried they
may not be able to produce papers to prove their ancestry.
"At Chaai Gada maidan, we had organised a protest against CAA for almost 35 days in January 2020," Anwar said.
"Many residents with roots in Bangladesh from parts of Belghoria, on the other side of BT Road, had joined us in our protests then," he said.
"Polls will come and go but we will continue to remain the way we have been," said A.K. Pandey, a resident of the area. Pandey is a taxi driver.
The crowd outside the polling booth gradually thinned.
Some started preparing for Iftar while others got back to their daily chores.
Some residents talked about Trinamul's Madan Mitra making several rounds in the locality as a part of his campaign.
Others talked about how Raju Banerjee, the BJP candidate from Kamarhati, has never visited the area even once.