BJP drives chartered flight traffic
Elections are crowding Calcutta sky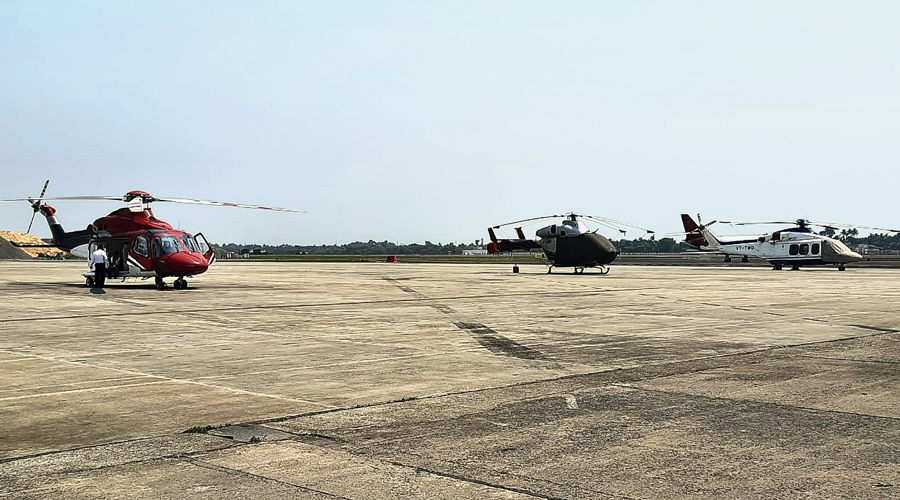 Helicopters at the city airport on Monday
Telegraph picture
---
Calcutta
|
Published 08.04.21, 02:51 AM
|
---
This election, the city airport has handled the highest number of chartered planes and helicopters compared with any other elections in Bengal and nine out of 10 of those were hired by the BJP, officials at the airport said.
In March, the airport had handled 140 chartered planes and helicopters, said officials. Around 30 per cent of them were helicopters and the rest were aircraft with five to 15 seats. The choppers used were mostly five-seater. 
"Most of the chartered planes and helicopters were hired by political parties. Only a few were used for non-poll purposes like air ambulances," said an official.
At least two officials working for more than 25 years at the airport said they had never seen so many chartered planes and helicopters ferrying political leaders to and from Calcutta during any election. 
The state BJP has formed a six-member team to coordinate the operation of these planes and helicopters. Leaders of the party said this was the first time such a team has been formed because so many leaders from outside were coming to campaign in Bengal. 
"This March we handled 140 chartered planes and helicopters and 90 per cent of those were used by BJP leaders. The chartered planes were mostly used to fly leaders from Delhi to Calcutta and the helicopters were used to ferry them to districts," said an official at the airport. 
Airport sources said the leaders who used chartered planes and choppers included Union home minister Amit Shah, BJP Bengal minder Kailash Vijayvargiya, BJP president J.P. Nadda, Uttar Pradesh chief minister Yogi Adityanath and Smriti Irani. 
Some local leaders, too, flew to districts on helicopters to campaign.
Among leaders of other parties, Bengal Pradesh Congress president and leader of the Opposition in the Lok Sabha, Adhir Chowdhury, has flown on a chartered plane once to campaign for the ongoing elections, said airport sources. Among Trinamul Congress leaders, the sources said, only chief minister Mamata Banerjee has flown on hired helicopters to campaign.
The BJP has set up a team of five people to coordinate with the hordes of leaders flying in and out of the state daily. This team, dubbed as the protocol department, is headed by Tushar Kanti Ghosh, a state unit secretary of the party. 
Though no one from the group wanted to speak to The Telegraph officially, a party source said this was the first time such a practice had been initiated. "Planes and helicopters are usually arranged from Delhi. Here the team coordinates with airport officials," the source said.
The BJP is not denying that it has been contributing the most to the rapid growth of air traffic in Bengal over the last month or so. 
"We are a national party and it is only natural that our leaders will come from other parts of the country to campaign for us," said Samik Bhattacharya, the BJP's chief spokesperson. 
"As far as expenditure is concerned, we are an organised party and for the benefit of the party such expenses are necessary. At least the individual assets of our leaders don't multiply like leaders of other parties."
The chief minister and her party has labelled the BJP leaders coming from other states to campaign as outsiders. 
An agency in Delhi that gives small planes and helicopters on hire said a eight-seater plane flying from Delhi to Calcutta and back would cost around Rs 10 lakh, plus an 18 per cent tax. The cost of hiring a five-seater helicopter ranges between Rs 95,000 and Rs 1,10,000 per hour, plus an 18 per cent tax. 
In Calcutta, airport officials said, there is not much movement of chartered flights and helicopters. After the lockdown, the airport would handle a maximum of 60 such aircraft in a month. Before the lockdown, the number was much less, officials said.