Twin events mark Prince Dwarkanath Tagore's 175th death anniversary
The BHF, a UK-based group of diaspora members promoting Bengali heritage and culture across the world, held a memorial meet at Kensal Green Cemetery in London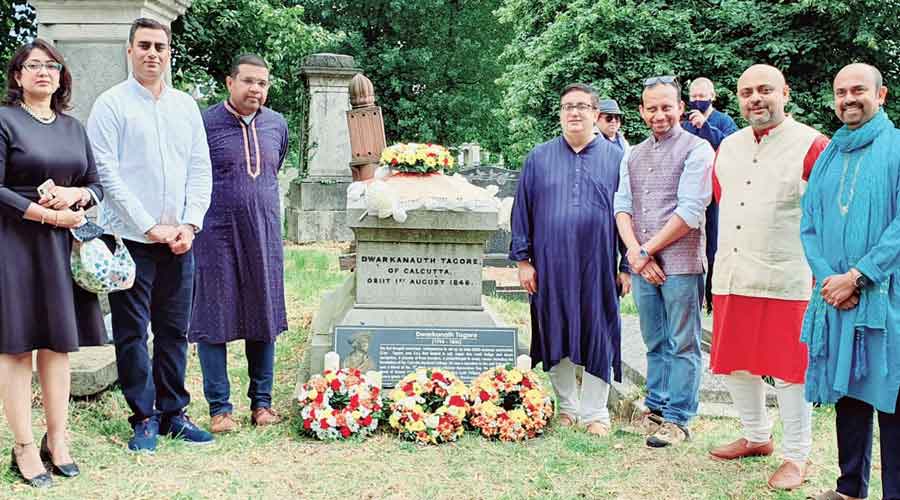 ---
Calcutta
|
Published 02.08.21, 01:09 AM
|
---
Across continents, Prince Dwarkanath Tagore was remembered in the lands of both his birth and death on his 175th death anniversary on Sunday.
The Bengal Heritage Foundation (BHF), a UK-based group of diaspora members promoting Bengali heritage and culture across the world, held a memorial meet at Kensal Green Cemetery in London where the merchant prince was laid to rest in 1846, two and half hours after heritage enthusiasts of Narayankuri village near Raniganj commemorated him on the Damodar bank beside the jetty that Carr, Tagore & Company had built for running the coal mine he had acquired.
"Dwarkanath was a pioneer in Indo-British trade relationship in being the first Indian to hold an equal partnership in a company with the British. This was a tremendous achievement in that period. He had personal audiences with Queen Victoria and knew her family, so when he passed away at a London hotel, royal carriages were sent to carry his remains," BHF president Sourav Niyogi told The Telegraph from London.
BHF has worked with the cemetery authorities to clean the Aberdeen granite tombstone and restore his resting place in 2018.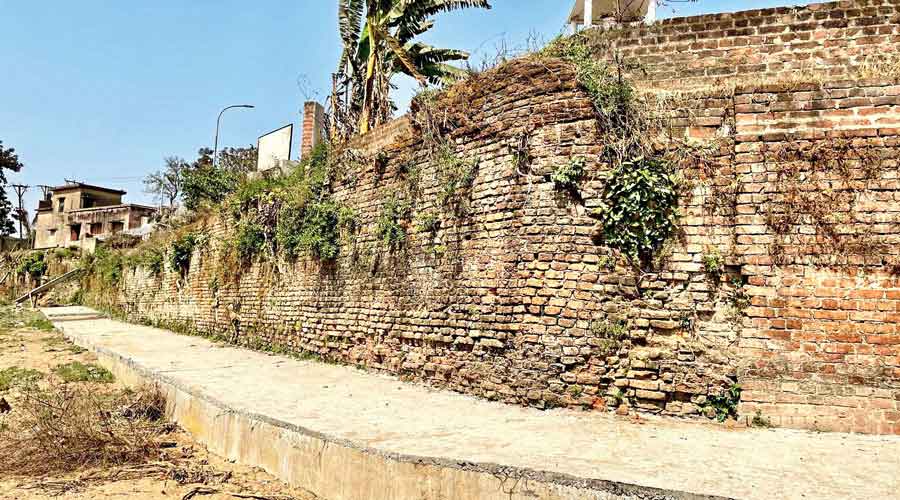 Other than BHF members, the event was attended by Henry Vivian-Neal from the Friends of Kensal Green Cemetery, Rohit Vadhwana, first secretary, High Commission of India, and Neil Mukherjee, a Tagore descendant. Jonathan Kennedy, director, arts, British Council India and British deputy high commissioner Nick Low delivered virtual addresses.
"It is great that Dwarkanath's contribution to industry and his enterprise are being celebrated," said Mukherjee, a London-based anesthesiologist whose great great grandmother was Dwarkanath's niece.
On the Damodar banks, villagers of Narayankuri, 12 km from Raniganj station, have fought to preserve the remains of Carr, Tagore & Co. under the banner of a memorial committee which bears the year 1832 in its name. "This is when Dwarkanath first visited the area to start work on acquisition of the coal mine from a British company. He would start scientific mining and transportation to turn the business around. The company built a jetty on the bank to facilitate coal transportation by schooners. Earlier elephants did the job.
A section of the jetty wall still stands," said Santanu Banerjee, a teacher of Kazi Nazrul University, who is part of Asansol Heritage Research Group which is helping the villagers preserve local history.
Tagore, who had imported steam engines from England, had tried to get permission to start a rail service from Calcutta but was refused by the East India Company till nine years after his death.
"The haulage room where coal brought from the pit was dumped is there but the manager's bungalow has crumbled. The villagers have resisted attempts at mining at the site so three of its walls remain," said Banerjee.
The group collected video comments from its own members as also key figures involved in research on the topic like Bashabi Fraser, who heads the Scottish Centre of Tagore Studies at Edinburgh Napier University. "The comments were sent to be screened at the London event," Banerjee added.
The villagers hold a three-day fair during Makar Sankranti in memory of Dwarkanath and have installed his bust near the jetty wall.
"Sourav (the BHF president) is from Asansol and during his visit here this February, he proposed an event parallel to theirs on August 1. We are planning to mark this day annually henceforth," said Gautam Chowdhury, a village heritage committee member. Raniganj MLA Tapas Banerjee, who had got the jetty base concreted on the committee's request, attended the event held next to Mathurachandi temple where the Tagore bust is installed.