A breeze comes wafting across the paddy fields yonder, caressing a few krishnachura, palash and atashi flowers along the way. Cicadas sing in a monotone. A dim lamp or two in the courtyards of distant huts highlights the gathering darkness. Perfect setting to lounge outdoors and munch on muri and telebhaja.
The ambience of rural Bengal can be experienced right in the heart of New Town, with Banglar Gram having come up over three acres, next to the herbal garden near Gate 6 of Eco Park. Now you can have a meal of dishes served in rural homes of Bengal or enjoy tea in a clay cup with traditional snacks seated in the midst of it all.
"Many urban youngsters have little idea how villages look, how paddy is sown or how mustard flowers look. Banglar Gram, which came up a couple of years ago, helps them get that feel. But many visitors used to ask for a taste of Bengal's villages too. That is why we have come up with an eatery serving tribal cuisine, called Dhamsa," said Hidco chairman Debashis Sen, at the inauguration on Sunday.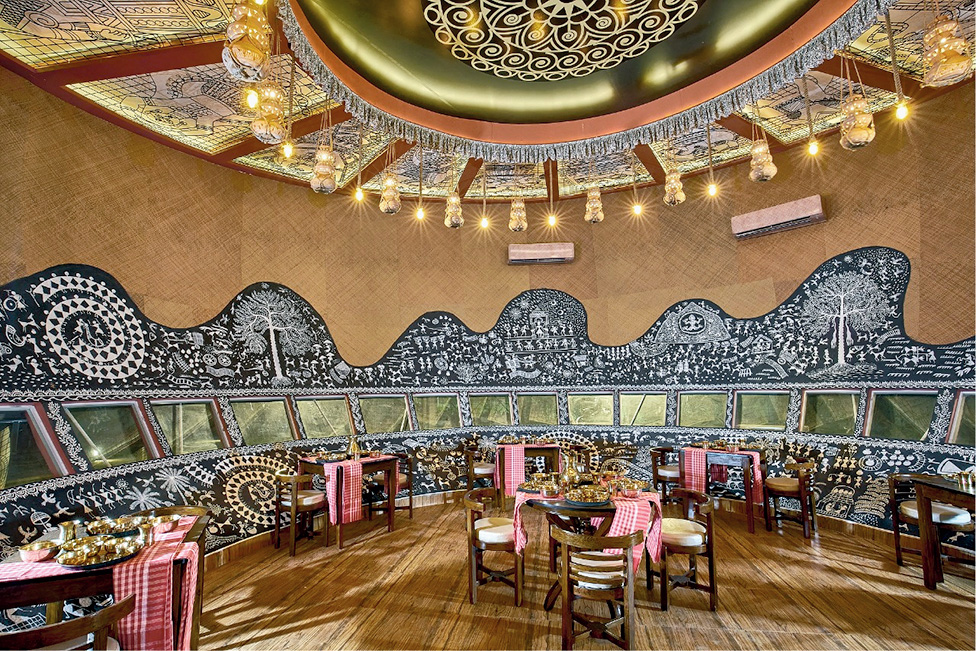 View of Dhamsa from within. The walls inside are adorned with Warli paintings.
The restaurant, named after the Santhali drum, owes to it both its name and shape. The structure is 22ft high and has a diameter of 35ft at the top. "If you take an aerial photograph, it looks like a dhamsa even from above," said Anirban Das, a Dum Dum Park resident who is one of the city's best-known Durga puja theme-makers and is behind prominent pujas like Chetla Agrani. "It has a steel structure over which we have used tensile fabric, imported from France. The wooden look of the sides is actually fibre," adds his partner Samiran Krishna Dey.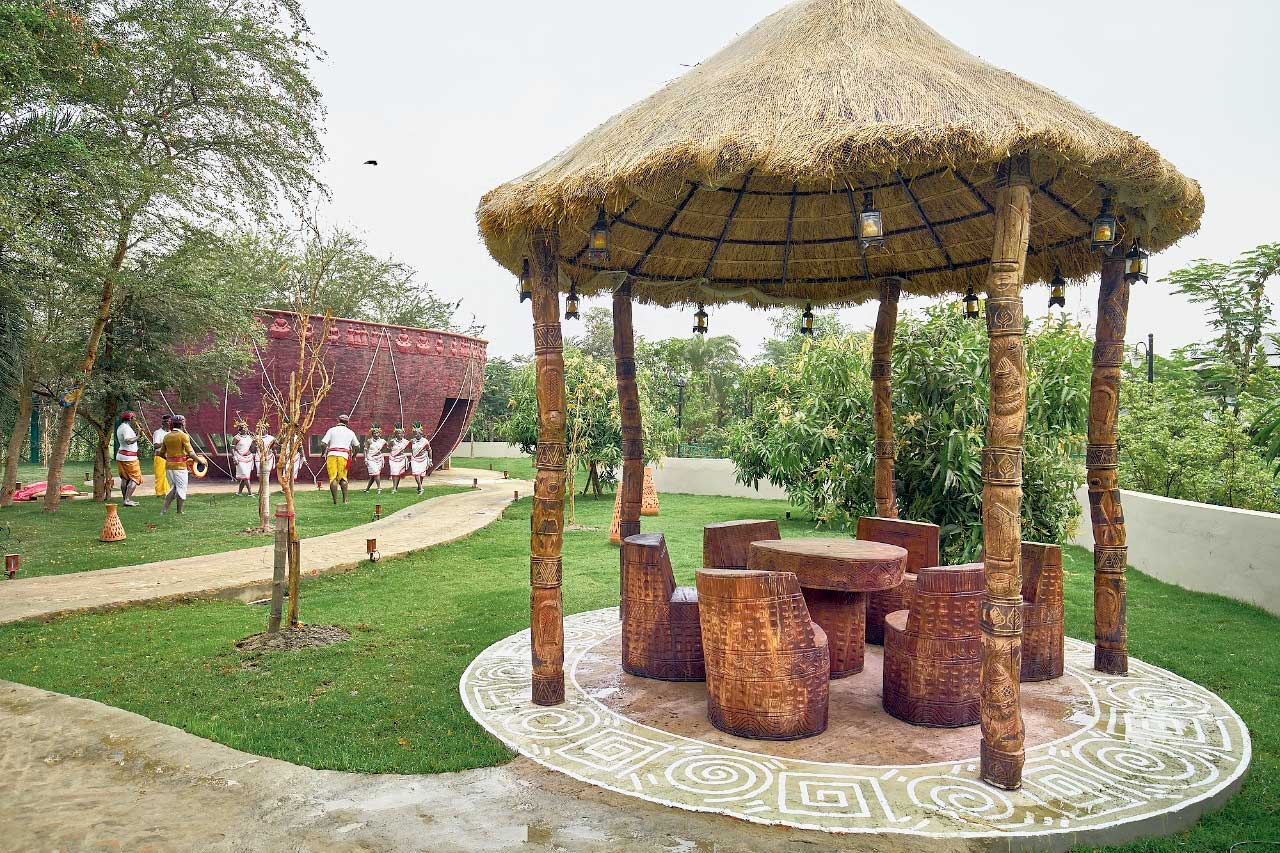 Shelters with thatched roof provide safely distanced outdoor seating.
An idea takes root
The two had started work in 2016. "Chief minister Mamata Banerjee had come up with the idea of Banglar Gram and asked me to work on it after she saw a dhaner morai I had created at the Book Fair. We finished work in 2017," he said.
Dhamsa, he points out, was the chief minister's idea too. "She wanted the seats to be created out of stumps of trees and put us in touch with the forest department. We travelled to north Bengal in search of them," Das says.
There are three thatched hay roofs supported by carved wooden pillars under which the seats are placed around wooden tables. In spring afternoons and evenings, these are the best places to savour the meals served. Sen says there are plans to add more outdoor shelters once the tribal kitchen becomes popular.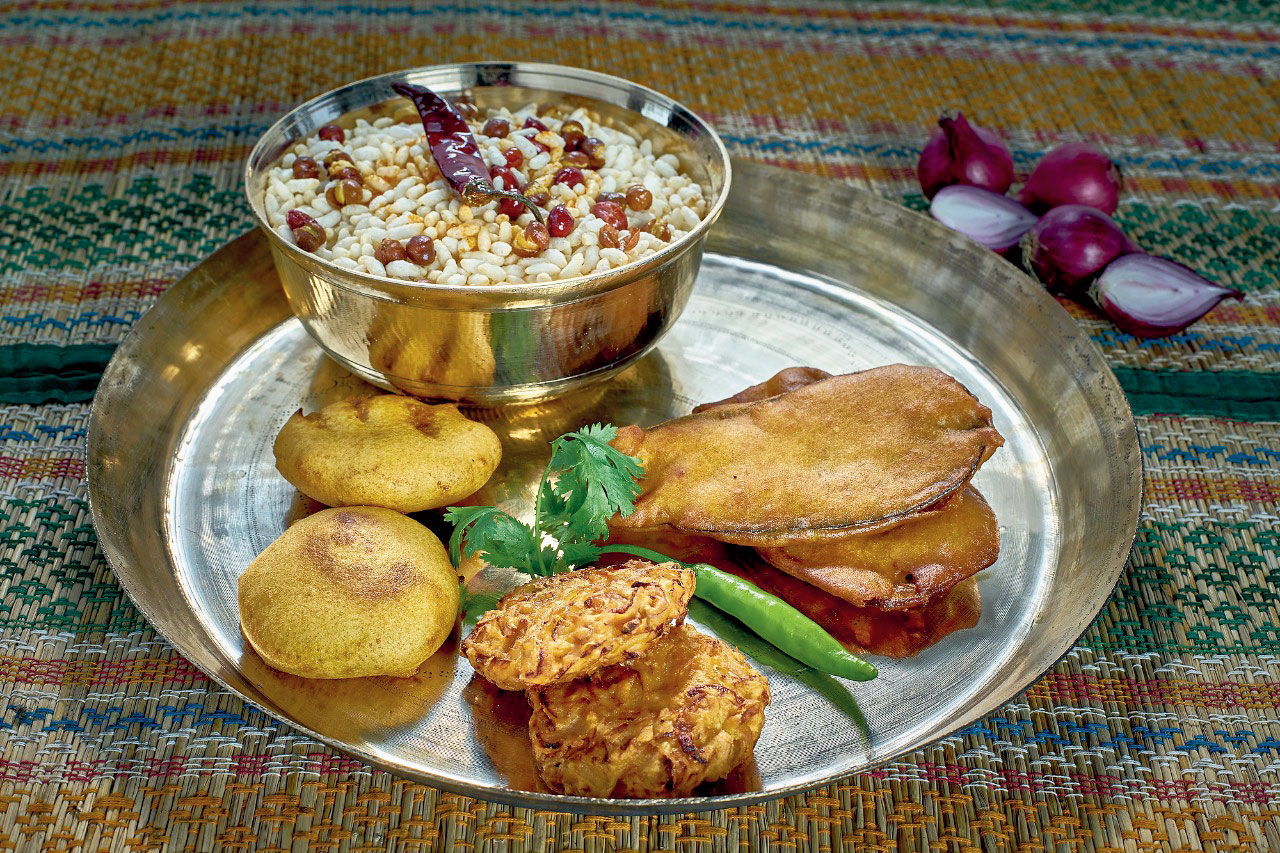 The afternoon Muri-Telebhaja platter.
The indoor restaurant is air-conditioned and seats 18. The walls are done up elaborately with Warli paintings, a tribal art typical of Maharashtra, drawn on cane mat (sheetalpati).
Dhamsa serves dishes soaked in the flavours of Bengal's districts. Currently it runs according to the park's timings — 2.30pm to 7.30pm on weekdays, and 12.30pm onwards on Sundays. (Monday closed.) So two menus have been drawn up — for lunch and afternoon snacks.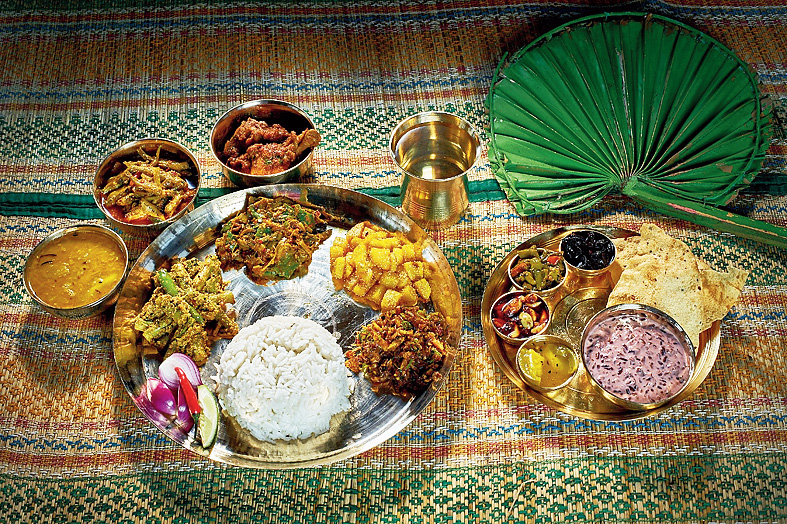 Barishal-er thali, with dishes from across the border.
Dishes from the districts
The lunch menu serves five kinds of thali. One has Panta Bhat with alu bhorta, tomato bhorta, shaak, piyaji, kucho machh bhaja and papad. It costs Rs 178 (the vegetarian option costs Rs 135). Black rice is served in the Purulia thali, named after Pakhi Pahar in the Ayodhya hills. "It is slightly sticky and high on starch. It is cultivated mostly in Assam and Manipur. If the feedback is not good, we may shift to dhneki chhnata chal," said Snehasis Sinha, additional general manager, tourism, Hidco. It comes with shak bhaja, alu bhorta, musur dal, khosha chochchori, kochu lotir ghonto, dimer mamlet dalna, buno murgir jhol, chutney, papad and payesh. It costs Rs 188.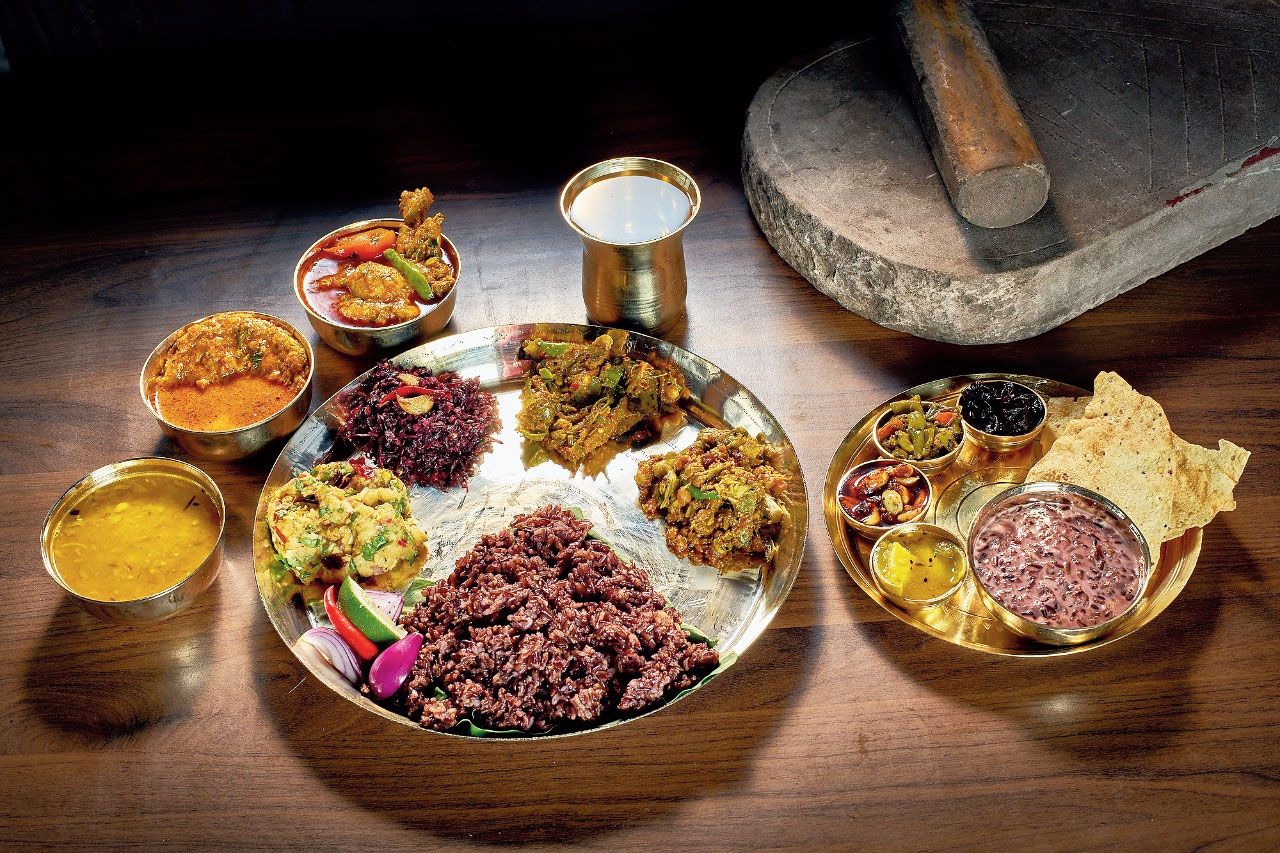 Pakhi Pahar thali, from Purulia
Certain specialities from the districts can be ordered separately too — like dumurer dalna or chochchori, kochur loti ghonto or jhal and anajer khosha chochchori or bhaja. Tribal touches have been added in dishes like Banspora Machh, Murgi or Mutton, where marinated fish or meat is stuffed within a hollow bamboo stem and chargrilled (priced Rs 167, Rs 157 or Rs 198, depending on the main ingredient). Another village favourite, Gugli, is also on the menu. Collected from the edges of ponds, gugli will be cooked as jhal, posto or chochchori (all dishes priced Rs 156).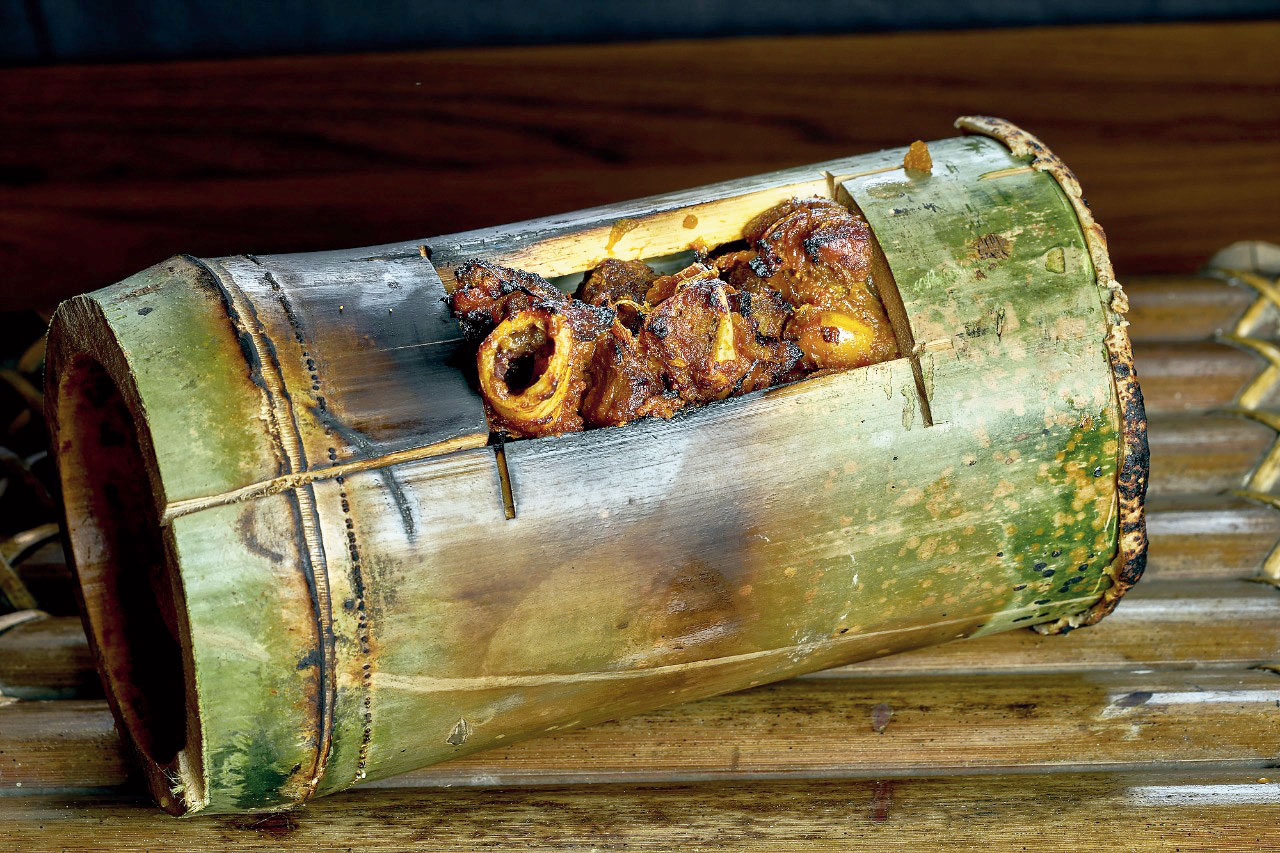 Banspora Mangsho
From 5pm to 7pm, there are three platters on offer, each costing Rs 95. The Muri Telebhaja platter has beguni, alur chop and piyaji. One called Kopai-er Jolkhabar has Kumro Phooler Bora, Alur Bora and Beler Morobba. The third features an assortment of papad - papad chura, sabu papad, masala papad, chaler papad with morobba.
A la carte options at snack time include Egg Devil, Fish Chop, Fish Fry, Fish and Chicken Kabiraji Cutlet, all priced in the range of Rs 105 to 200. The costliest is Prawn Cutlet at Rs 252.
There are plans to extend the restaurant timings to serve dinner as well in future. For that, a separate entrance independent of the park will have to be worked out.