Strike fails to have impact
Shops and markets were open, pubs and restaurants welcomed customers and government and private offices bore little impact of the strike.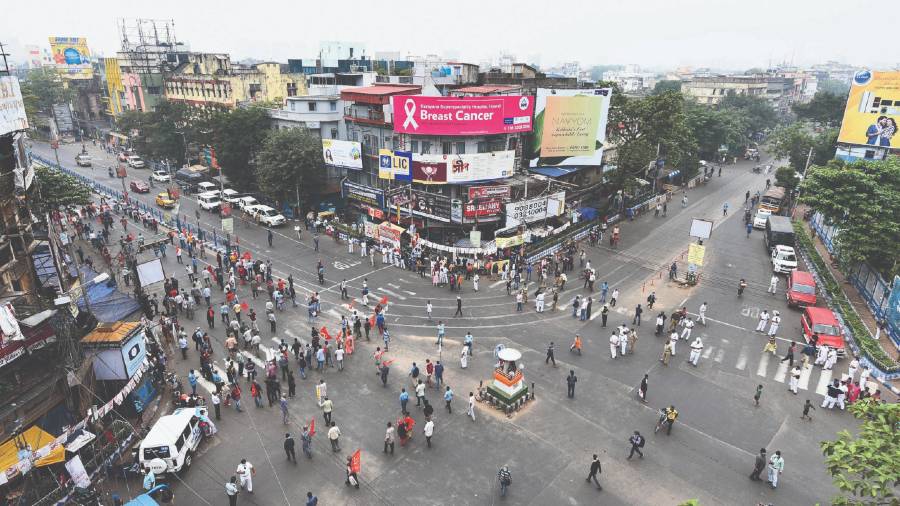 ---
|
Calcutta
|
Published 27.11.20, 01:21 AM
---
⚫ Central Avenue at 11am: A shutter of Central Metro station was downed by strike supporters
⚫ Garia and Barasat between 9am and 9.30am: Two buses were stopped and the passengers were asked to alight. A tyre of one of the buses was deflated.
⚫ Jadavpur at 9am and mid-afternoon: Local trains were disrupted. Some students played football outside Jadavpur University, disrupting traffic on the main road.
The majority of Calcuttans stepped out of their homes like on other work days despite disruptions in pockets of the city.
Shops and markets were open, pubs and restaurants welcomed customers and government and private offices bore little impact of the strike. A few banks were closed, but some remained operational. All ATM kiosks were open.
People could avail themselves of public transport like on other days to reach their workplaces and return home. There were only a handful of exceptional cases where protestors had disrupted movement.
For Aditi Agarwal, 32, a Salt Lake resident, it was a normal day which she spent shopping clothes and groceries. Agarwal first drove down to Axis Mall in New Town, where she shopped for groceries. Then she drove to City Centre in Salt Lake, around 7.5km away.
"Although I spent most of the afternoon driving around, I was not stopped anywhere. It felt pretty much like a normal day," said Aditi.
Prakash Maity, who works in a store at New Market, said he had no problem reaching his workplace from Garia in a government bus he had boarded from Garia.
Rahul Mehra, a resident of Patuli, drove to his office on Russell Street like on other days without being stopped, he said.
Hundreds of people travelled by Metro without the fear of being stranded or stopped.
Sourav Das, who runs a resto pub in New Town, near City Centre II, said his place followed the normal schedule, opening at 10.30am and closing at 11:30pm. He said he had families and groups of friends walking in for lunch and the footfall went up after 6pm.
"We cannot afford to keep the establishment closed given that Covid-19 has left an impact and have hit sales. Things are picking up and people are stepping out for lunch and dinner,"said Das.
He said he had heard that bandh supporters had forced some shops to shut down in the nearby Chinar Park, but he did not face any problems. Nor did anyone ask him to close his establishment for the day.
There were a few instances of disruptions in the city, but life went back to normal in those pockets once the protestors left.
Raja SC Mullick Road was blocked for some time as Jadavpur University students started playing football blocking the thoroughfare. However, there were no reports of violence or forcible implementation of the strike in Jadavpur.
Earlier in the day, a few protestors had forced passengers to alight from a bus near Garia, triggering protests from a group of men and women who were getting late for office.
"This is no way to register protest. They deflated a tyre. What can anyone gain by stopping people like us from going to office? Offices have just started opening and we cannot afford to be late," said an angry passenger, who took an autorickshaw after he was forced to get off the bus. The city police arrested 140 men and women from across the city for trying to disrupt life. They were taken to the central lock-up at Lalbazar, from where they were released on personal bond, police said.
A senior officer at Lalbazar said police arrangements had been made across the city from 7am but the disruption was negligible.