Sharp drop in bus count across Calcutta
Commuters' woes set to linger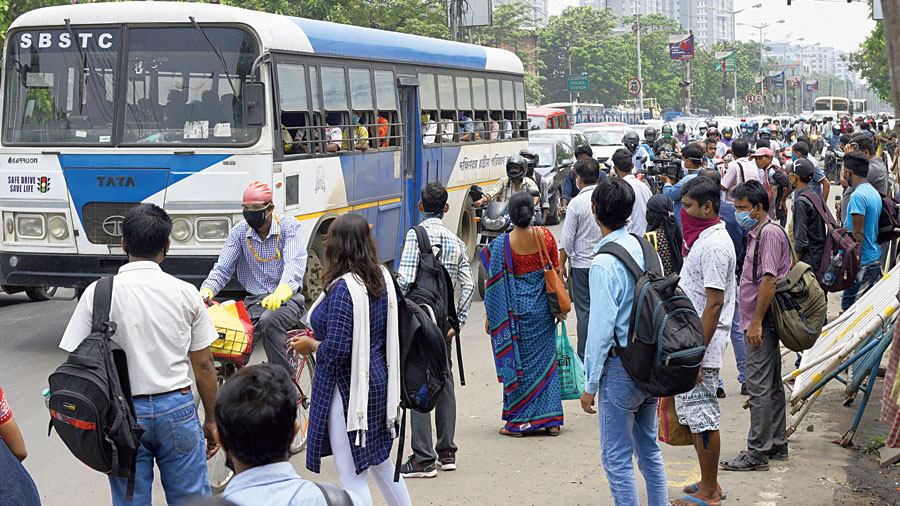 Commuters wait for buses on BT Road on Monday morning.
Sanat Kr Sinha
---
Calcutta
|
Published 30.06.20, 04:46 AM
|
---
Over the past few weeks the state government had cajoled the owners of about 1,900 buses into rolling out their vehicles. On Monday, the count came down to 900.
More and more private bus operators are withdrawing their vehicles on the ground that the service has become unviable because of a steep rise in the diesel price and the government's unwillingness to agree to a fare hike.
Operators said the cost of running a bus for the entire duration had gone up to about Rs 6,000 a day but they were earning only about half that amount. In such a situation, they said, the number of buses on the roads would go down further if the government doesn't find a way out.
Of the Rs 6,000, around Rs 3,200 is spent on fuel. Other compulsory expenses include loan repayment, insurance premium, wages for drivers and conductors and rent for tyres.
The government has offered a monthly subsidy of Rs 1,500 to 6,000 buses each for three months beginning July. But a number of operators said the amount was paltry. Some wondered about the fate of the operators after the subsidy scheme would end.
"How did the government arrive at the figure of Rs 1,500 a month or Rs 500 a day? There are certain calculations a bus owner has to make before deciding to run a bus for a day," said Tapan Bandopadhayay, of the Joint Council of Bus Syndicates. 
"That is why we had demanded that a regulatory commission be set up to look into details of this economics."
As the price of diesel rose by around Rs 10 over the past few weeks, many private bus operators had either decided to run their vehicles for a few days in a week or run them on truncated routes before withdrawing them by the evening.
On Monday, as the number of private buses dwindled further, passengers had to suffer long waits at bus stops. In the morning, long queues were seen at Garia, Ultadanga, Dunlop and the Ruby crossing.
"I had to wait for over 45 minutes in the evening at Esplanade for a bus to Barrackpore," said Sukhla Ghosh, a Sodepur resident. "Finally, four of us hired a taxi to Dunlop."
Transport minister Suvendu Adhikari was to meet bus operators on Monday to discuss the modalities of the subsidy payment. The meeting was deferred.
Around 9,000 private buses ply across Calcutta and its adjoining areas. The fares were last revised in 2018. Since Unlock-1 started, the state government has been dodging a growing demand for a fare hike.