Chirp delight and Chhat worry
Sarobar regulars fear rituals may drive away birds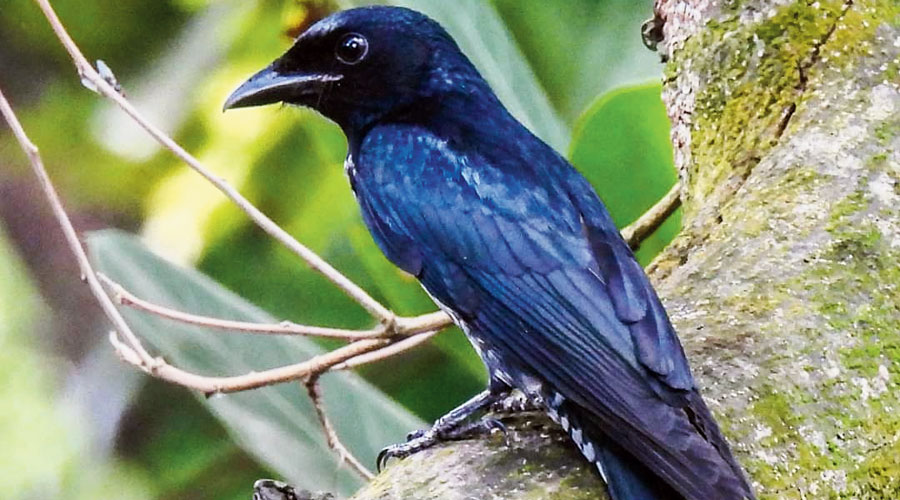 The Crow-Billed Drongo at Rabindra Sarobar recently.
Sudipto Shome
---
Calcutta
|
Published 19.10.20, 01:58 AM
|
---
Dozens of migratory birds have checked in at Rabindra Sarobar, raising hopes of an exciting winter of birdwatching and also stoking fears that many of the winged visitors would exit if Chhath Puja is allowed on the banks of the lake.
The migrants include one Taiga Flycatcher, which breeds in the Siberian region and round the Himalayas to winter in a warmer clime, birdwatcher Arka Sarkar said. The bird was sighted in September.
A Yellow-browed Warbler and a Thick-billed Warbler, seen earlier this month, also flew over the Himalayas. Among the other significant sightings were a Crow-Billed Drongo and a Chestnut Winged Cuckoo, which breed in the Himalayas, said Sarkar. "Both these birds are passage migrants, meaning their stay at the Sarobar is a stopover in their flight from the Himalayas to the place where they winter. The Cuckoo travels to south India during winter," he said.
"It feels so exciting to know that birds in the Sarobar have actually flown thousands of miles, from the Himalayas as well as places in the extreme north like Siberia," said a regular visitor to the Sarobar.
"The winter migratory birds are the ones that come down from the extreme cold climate in the mountains during winter. They spend the winter months in the plains and again return to the mountains around the onset of summer," said Sudip Ghosh, an IT professional and a keen birdwatcher at the Sarobar, who is also compiling a list of birds seen there.
The good beginning to winter birdwatching may not sustain, fear the birdwatchers, if Chhath Puja is again allowed. "Crackers are burst, drums are beaten during the rituals. This scares and irritates the birds for sure," said Ghosh.
"Every year, we notice this phenomenon. Migratory birds are not found at the Sarobar immediately after Chhath Puja. The passage migrants do not return at all," said Sarkar.
The National Green Tribunal has turned down an appeal from the Calcutta Metropolitan Development Authority to allow Chhath Puja at the Sarobar but Firhad Hakim, the urban development minister, has said the state government could approach the Supreme Court against the order.
Rabindra Sarobar is now open to visitors for three hours every morning. The authorities are likely to keep it open for longer hours.
Hooded Pita, a rare resident bird of south Bengal, has also been sighted at the Sarobar this year. "It is an important sighting because of its rarity," said one birdwatcher.