Over 9 lakh plastic bottles, water pouches and bags flushed out from Sunderbans in 10 days: Officials
All these were part of relief materials sent to the region after Cyclone Yaas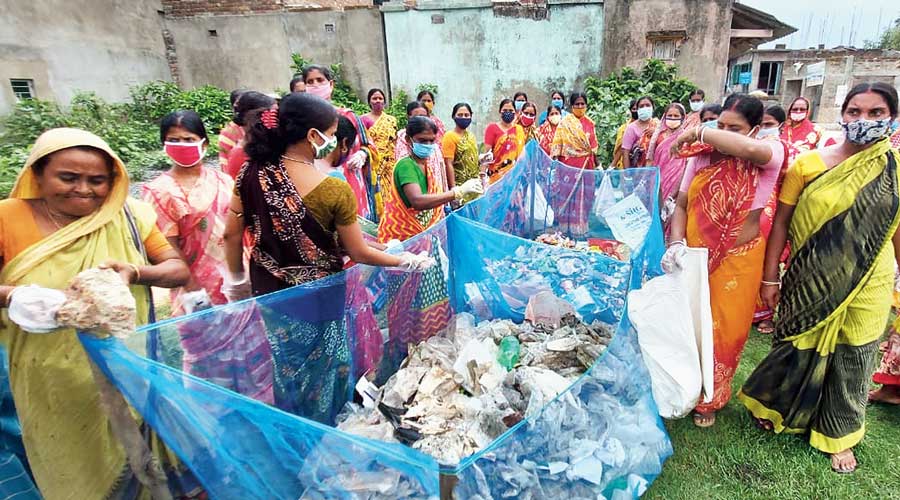 ---
Calcutta
|
Published 22.06.21, 01:33 AM
|
---
More than 9 lakh plastic bottles have been flushed out from the ecologically sensitive Sunderbans in 10 days and all of that was part of relief materials sent to the region after Cyclone Yaas, said district administration officials.
Apart from plastic bottles, water pouches and various types of plastic bags were fished out of rivers and ponds and accumulated at collection points using mosquito nets to prevent them from flowing back into the water.
The remaining plastic waste will be disposed of, too - in a similar way or through registered recyclers of plastic approved by the state pollution control board, said an official involved in the drive.
What has been collected till now is believed to be only a small percentage of plastic dumped across a 230sqkm area of the Sunderbans, covering eight blocks that were worst affected by the cyclone that had struck on May 26.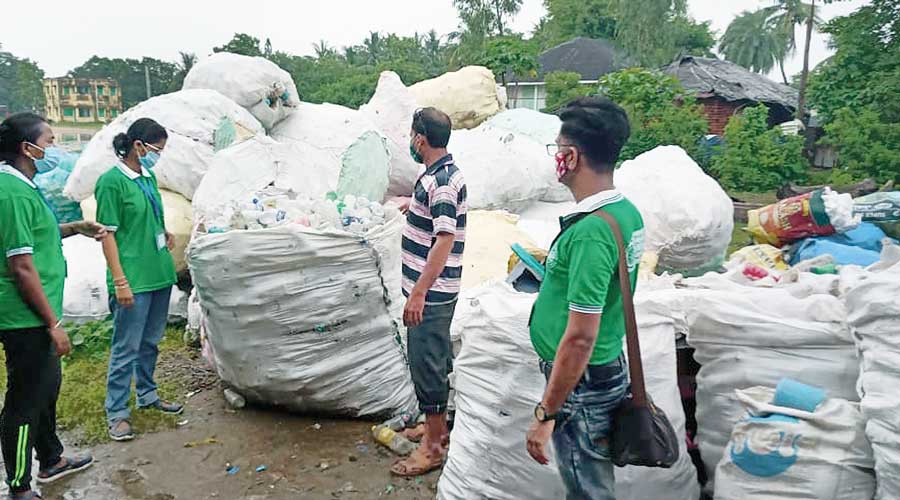 Waste collectors, including ragpickers in the city, have been engaged to weed out the plastic items and take them to recycling units. The plastic bottles are being manually sorted and their lids and labels removed before being compressed into cubes and sent for recycling.
The administration is working along with women from over 300 local self-help groups and members of the government's vector-borne disease control teams.
"In the last 10 days, 3.5 tonnes of plastic bottles have been removed from the riverine areas with the help of local kabadiwalas", said the district magistrate of South 24-Parganas, P. Ulganathan. "The process will continue till the entire lot is cleared."
According to official estimates of the district administration, an estimated count of 1 crore plastic pouches, 20 lakh drinking water bottles and polythene and plastic packets were dumped in water bodies across the 69 affected gram panchayat areas in eight blocks — Kakdwip, Namkhana, Patharpratima, Sagar, Kultali, Mathurapur, Basanti and Gosaba.
Of the 20-lakh bottles, approximately 9.6 lakh have been fished out of the water. The bottles that were removed weighed 9.03 tonnes and would need five or six large trucks to be transported.
Pockets of the Sunderbans delta — which are a little more than 100km from the heart of Calcutta — have been ravaged by supercyclone Amphan, which hit last year, and then Yaas.
Apart from the government's aid, the cyclone affected areas received large quantities of private relief in form of food, water, baby food, sanitary napkins and medicines. The relief materials were all carried in plastic bags.
The bags and plastic bottles and pouches were dumped across villages after use.
"As river water flooded the villages during high tide, it washed away all the plastic. We split the accumulated plastic in separate categories — plastic bottles and the remaining plastic bags, wrappers and tetra-packs," said Prasun Kanti Das of Aamra Susama Jalaprapat, an NGO that has been engaged by the South 24-Parganas district administration for solid waste management in the Sunderbans.
The presence of huge quantities of plastic has set alarm bells ringing among environmentalists.
"Dolphins and turtles unknowingly consume plastic and may choke to death. The smell of plastic used for carrying food attracts fish, which nibble at them. Such fish is bad for human consumption," said Sugata Hazra, a former director of the School of Oceanographic Studies, Jadavpur University.
"The mangrove roots are breathing roots and they protrude out of the surface to breathe. If they are covered with plastic, their condition becomes as bad as that of a person who is choked," he said.
District magistrate Ulganathan said the adminis-tration was trying to persu-ade people carrying relief materials to use starch or jute bags.