St Xavier's University to admit students through online tests
The exams for admission will be held between July 10 and 12 and a mock test will be conducted on July 8 and 9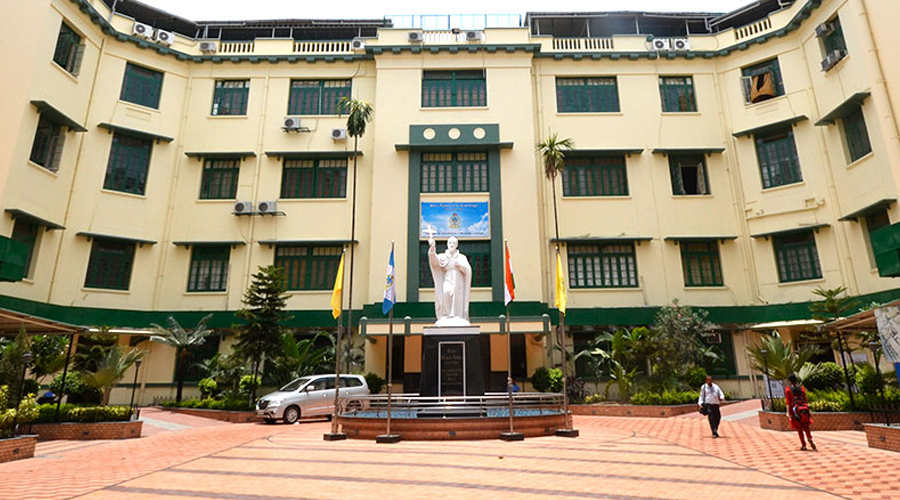 St Xavier's University.
File photo
---
Calcutta
|
Published 15.06.21, 01:59 AM
|
---
St Xavier's University will admit students to its undergraduate programmes through online tests, marking a departure from the practice of selecting students based on their marks in the Class XII board exams.
The board exams could not be held this year because of a surge in the number of Covid cases.
The admission tests will be held between July 10 and 12. An online mock test will be conducted on July 8 and 9.
The online submission of application forms and fees started on Monday and will continue till July 3.
"Admission tests will bring out the potential of an aspirant to study the programme. It will give a level playing field to all applicants," said Father Felix Raj, the vice-chancellor of the university.
Across boards, plus-II students are likely to be evalu-ated on the basis of internal assessments or home assignments conducted by schools.
"The boards might try to outstrip each other while giving marks generously to the Class XII students. So, it is advisable to screen applicants through admission tests," said Father Felix Raj.
Over the past two years, for all subjects except mass communication, the university had been admitting students on the basis of their Class XII scores. But this year, for all five subjects — commerce, management, economics, English and mass communication — applicants will be screened only on the basis of the online admission tests.
The entrance test questions will be set in a way to test the proficiency of the aspirant in the subject he or she wants to pursue, Father Felix Raj said.
"The entrance tests will examine an aspirant's proficiency in English, reasoning and the subject. As part of a common pattern, the candidate has to take a test in English and reasoning. The questions will be of multiple-choice type. The applicant has to prove his or her grasp on the subject to answer them," Father Felix Raj told The Telegraph.
Since Class XI exams, including the pre-board selections tests, could not be conducted last year for the current plus-II batch, admission tests will have to be held to screen applicants, an official of the university said.
An official of St Xavier's University said that since the aspirants would write the tests from home, the university would take steps for "remote proctoring" so that no one could adopt unfair means. "The aspirants will be asked to keep their desktop or laptop cameras on so that there can be remote invigilation," he said.
The schedule and the syllabi for the tests will be announced on the university's website.
St Xavier's College (Autonomous) is considering some kind of "filtering process" and may conduct online interviews to make the final selection from shortlisted candidates.