NUJS cuts fees for monsoon semester
Students will now have to pay around Rs 38,000 less for the July-December session though they had demanded a waiver of up to Rs 48,000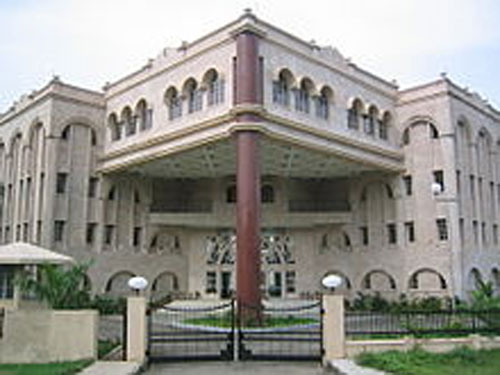 National University of Juridical Sciences
Wikipedia
---
Salt Lake
|
Published 23.08.20, 01:35 AM
|
---
The National University of Juridical Sciences (NUJS) on Saturday reduced the fees for various facilities that students haven't been using since the campus is closed and classes are being held online.
The institute's executive council, its highest policy-making body, decided to waive the fees for examinations, students' welfare activities, moot courts, hostel accommodation and study materials.
Students of all batches, excluding those of the incoming first year, will now have to pay around Rs 38,000 less for the July-December monsoon semester.
"Students of all batches (excluding first year) will have to pay Rs 1.21 lakh instead of Rs 1.59 lakh for the current semester," N. K. Chakrabarti, the NUJS vice-chancellor, said after the meeting of the executive council.
Students, though, had demanded a waiver of up to Rs 48,000.
"Several students have been talking of financial difficulties because of the pandemic. The executive council unanimously agreed to provide students with some relief. We have reduced the fees as much as possible," Chakrabarti said.
The institute does not receive any financial aid from the government. It depends entirely on student fees, a university official said.
"It was not possible to accept all the demands of the students. The institute has been closed for five months. But we have had to pay full salaries to every member of our staff… and we will continue to do so in future," the official said. "There was a proposal to reduce the library fees. But it could not be considered as ours is a law school and we have to maintain the library services even if the institute is shut."
Students had recently requested the authorities to reduce the fees under the heads they were not using because of online classes.
The students' proposal on the fee waiver has been placed before the institute's finance committee. The committee had approved the proposal and forwarded it to the executive council for ratification.
The vice-chancellor said a notice would be issued next week asking students to pay the reduced semester fees.
Those who have already paid the fees will have the surplus amount adjusted with the fees for the next semester.
The monsoon semester (July to December) online classes are being held from July.
But the payment of semester fees has been kept on hold since July because of the students' demand for a waiver.
As of now the university has no plans to reduce the fees for the next semester that starts in January, the vice-chancellor said. 
"We will take a decision depending on the Covid situation at that time," the vice-chancellor said.