It was an occasion to enjoy the fruits of and, in the process, encourage the culinary talents of neighbours. It ended up being a race to pick up the dishes of choice before the stock finished.
CE Block hosted a Pithe Puli Utsav one winter afternoon where 10 stalls had been set up by women of the block who had knack for preparing traditional sweets that carry the taste of the season.
Barely had the chief guest, Hidco chairman Debashis Sen, completed a tour of the stalls after opening the festival that swarms of the sweet-toothed descended.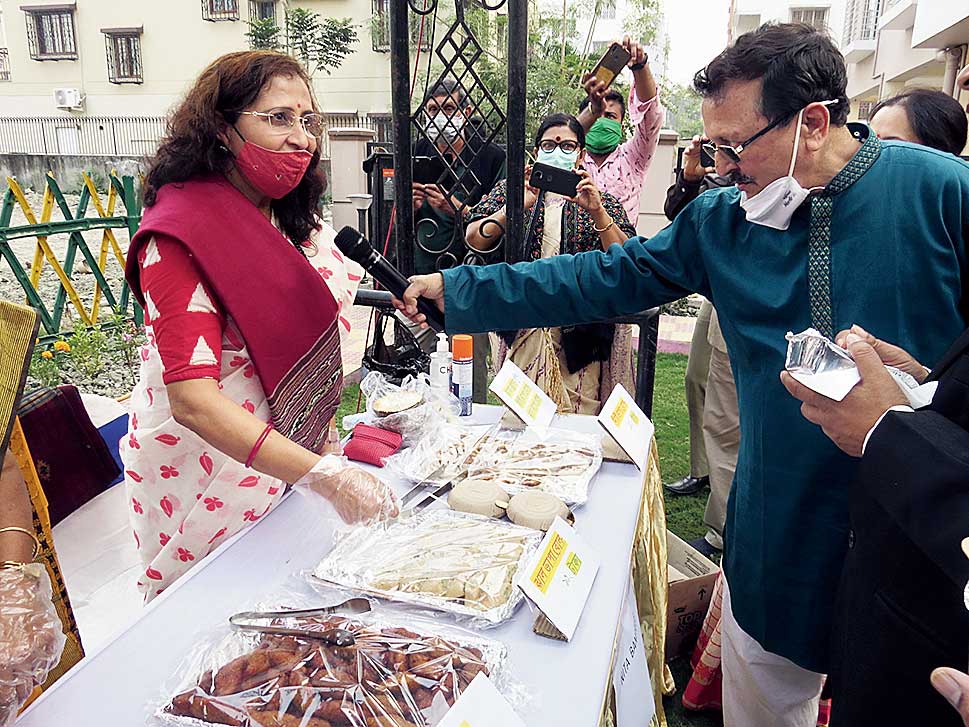 Block resident Debdas Chatterjee interviews one of the participants
The first casualty was Athrayee Das's Shahi Gur and Badam Phirni at the extreme left table, which finished in under half an hour. As yet another irate neighbour complained for not saving a couple of cups for her to buy, Athrayee tried to reason with her: "I had made 50 cups. People started depositing cash in advance even before the inauguration took place. What could I do?"
Seated behind an empty table, Athrayee lamented: "I did not even give one to my daughter to taste though she helped me. Looks like I should have made a few more."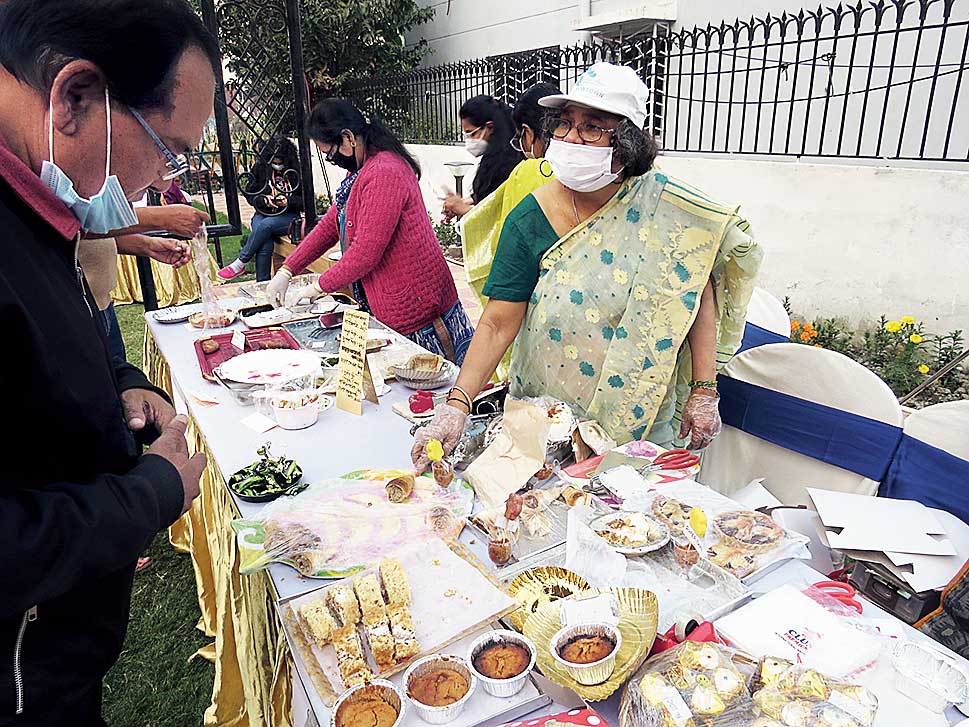 A variety of desserts on sale
Kanakanjali Roy too had a similar experience. "Kouto ta khultei nimeshe sesh," she said of the Dudh Puli made by her mother-in-law Anindita Mitra. "We did not even taste any at home other than the broken pieces." The duo sold patisapta and rose cake too. "We made 45 pieces of each," Roy added.
But Mitra would not have made more even if she foresee the huge demand. "This is about enjoyment, not about making money," she said.
Prospect of enjoyment is what made Anisha Das volunteer in manning the cash transaction of a stall with her friend Ritwika. Ritwika's mother Shyamali Sengupta had prepared the dishes. "Nonta Pithe and Moog Dal Pithe sold the quickest," the friends affirmed.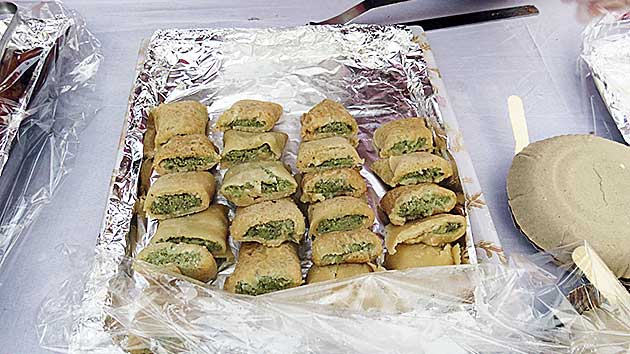 Jhal Bhapa Roll
In fact, so happy was Sengupta at her dishes being sold out that she suggested that such a pop-up sale be hosted every two or three months in the block.
Sumona Jana and her husband Ranadwip Saha had come home from Bangalore for the lockdown and has stayed on, working from home. While her husband was helping her run the counter, she found an assistant in her father At home. "He chopped 2kg carrots for my Gajorer Halwa. He also pasted the daal and grated coconut for rosbora and dudhpuli," said the girl.
Several innovative items were on offer. Nita Banerjee had made Jhal Bhapa Roll. "Diabetics can take this. I make this with sweets too for non-diabetics," she pointed out. Nandita Chatterjee had made Rajma Kheer. Kanakanjali was selling vegetable patisapta, in which vegetables were used in place of narkel kheer. Vegetable Patishapta
Gopa Sarkar's Gokul Pithe Cheese Cake triggered curiosity. "Cheese cake on top, gokul pithe under it, a layer of biscuit beneath, more cheese cake at the bottom," she explained.
The stall-owners had no chance to budge from their posts. But some were lucky to have friendly neighbours like Sanchita Mitra who picked up items of choice from other tables in time for them to taste after they sold off their own dishes.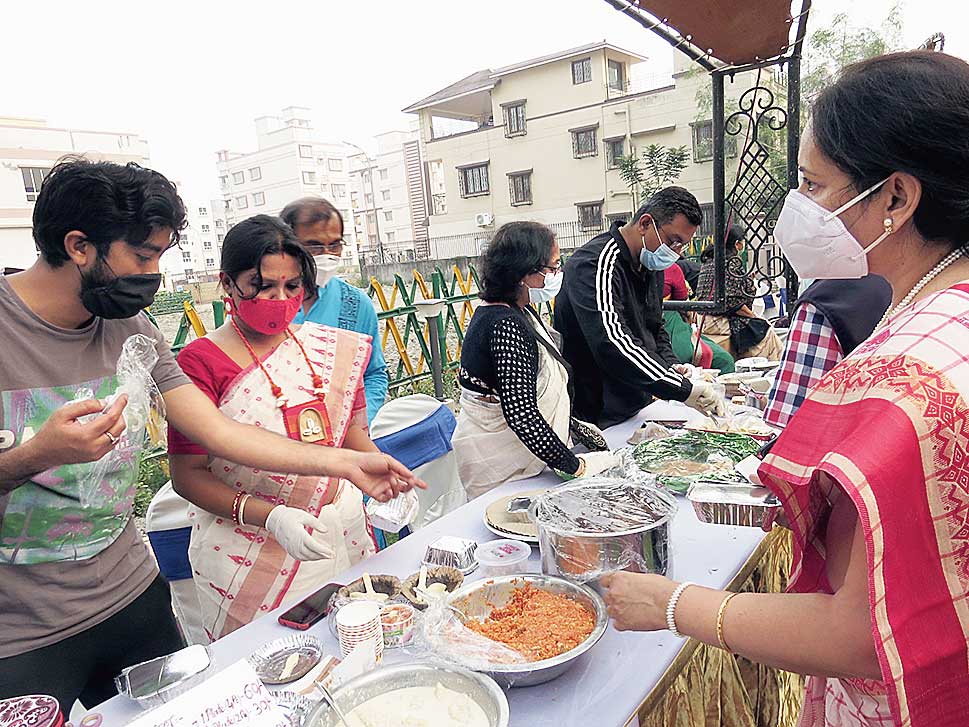 A couple sells Gajorer Halwa at the stall
The event was planned on the basis of a suggestion from Sen, the Hidco chief. "When he came on Christmas to inaugurate our park, he had asked us to organise community events here. So we thought of starting with a celebration of pithe, which is part of our tradition," said Alok Das, secretary of CE Block residents association.
Pictures: Sudeshna Banerjee