New plex for New Town
Five-screen facility ready to open above Pride Hotel once footfall restrictions relax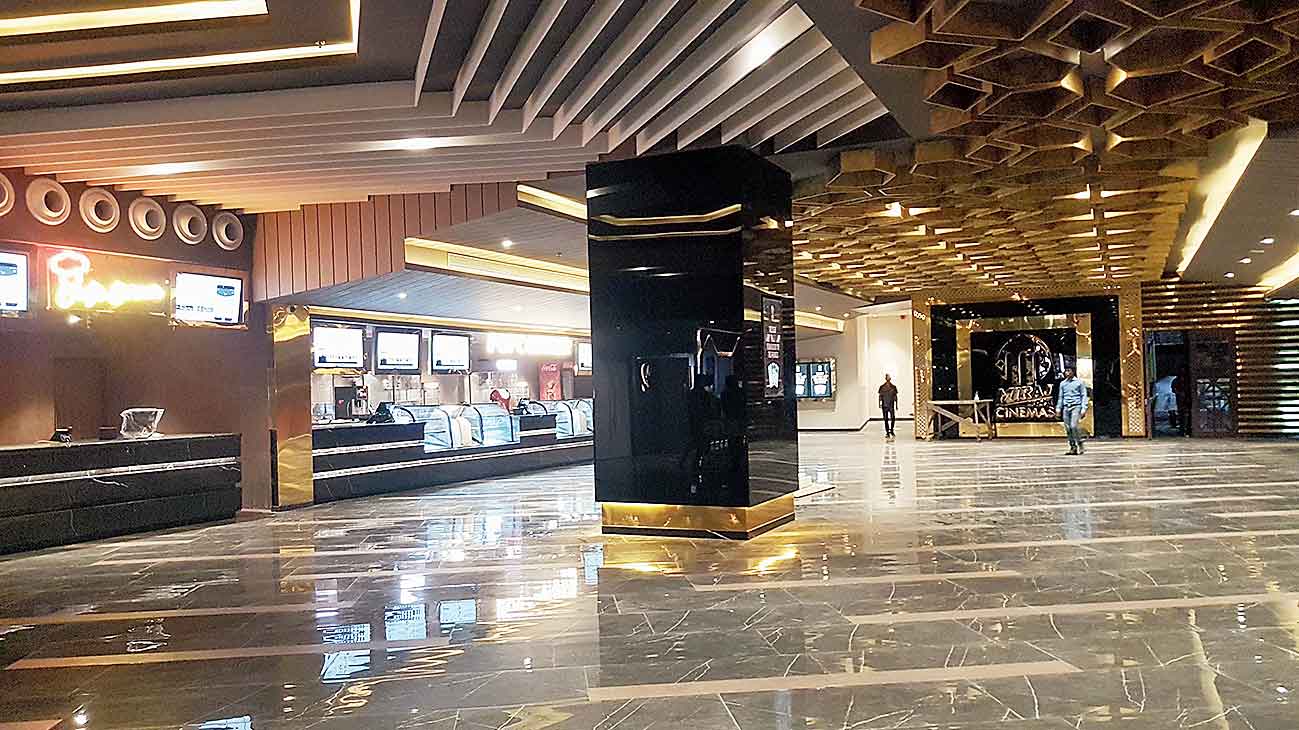 ---
---
A five-screen multiplex is waiting to throw open its doors in New Town this year. In fact, one can already see the name "Miraj Cinemas" glowing atop Terminus Building, half of which is occupied by Pride Hotel.
"We are nearly ready with the interiors but are holding back because of the government order to fill no more than 50 per cent seats during the pandemic. That will be loss-making. We shall start even if the limit is raised to 75 per cent," says Priyanka Biswas Singh, cinema manager.
Miraj Cinemas is a Rajasthan-based chain that has nearly 50 cinema halls across the country. In Bengal, it has a two-screen hall at Aurobindo Mall in Howrah but this New Town one shall be the big draw. "This will be Miraj Cinemas' 140th hall and will house its 135th to 140th screens," says Biswas Singh.
The 36,000sq ft interiors, on the third floor of Terminus Building, is already looking swanky. It has a 100ft long lobby with seating area, huge screens and LCD displays to screen trailers, promotions, information as well as the food counter. "We'll have a live kitchen to prepare sandwiches, burgers, pizzas, kathi rolls etc," Biswas Singh says. The kitchen will be vegetarian.
The smallest hall will have 156 seats and the largest 290. There will be a total of 1,078 seats and all the screens will be 3D-enabled. The state-of-the-art sound system is by Pulz and projectors are by Barco.
Tickets will be priced between Rs 130 and 300, although recliner seats will be priced between Rs 200 and 400. The first and last shows should begin at 9am and 10pm respectively.
The USP of the hall is a large play area for kids. "Parents with young kids always face a problem at the movies. If the child gets cranky, either parent has to take him out to pacify him and in the process misses chunks of the film," says Biswas Singh.
To address the issue is the play room, where parents can leave their wards for the duration of the film. The colourful room will have climbing and rolling equipment, soft toys and balls. The walls will be plastered with posters of characters from superhero films like Spiderman and Thor, and nannies will be around to watch over the kids.
"This play house will be chargeable and, in fact, someone not watching a film is also welcome to bring their kids over for a good time," she says. "We are eager to open up and are expecting great response, especially from residents of New Town and Salt Lake."