Metro yet to decide on resume date
Dry runs on September 8 and 9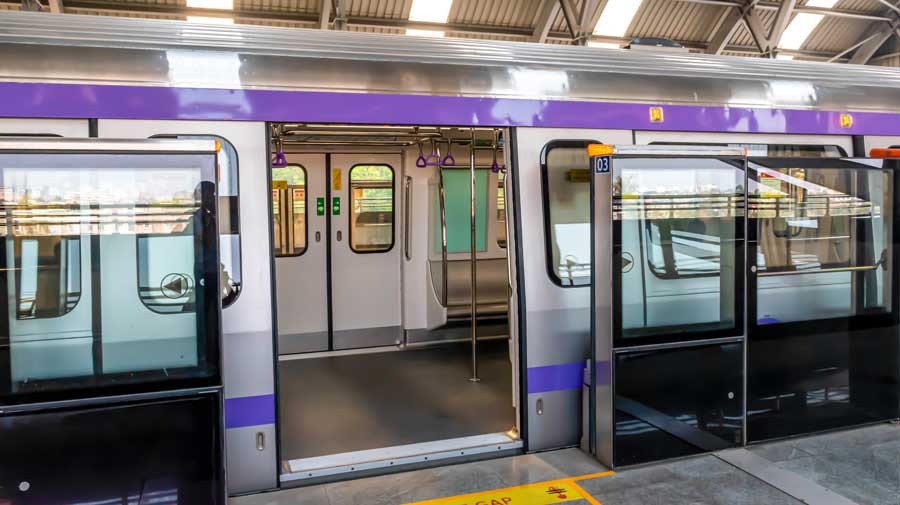 ---
|
Calcutta
|
Published 05.09.20, 03:58 AM
---
The city's Metro is still to decide on a date for the resumption of services, even a week after receiving the Centre's green signal.
Metro services in Delhi and Bangalore are set to resume from Monday, the day of total lockdown in Bengal. On Tuesday, the city's lifeline will have trial runs.
The Delhi Metro Rail Corporation has come up with a detailed protocol to resume commercial services. But "crowd control and distancing measures" have stalled the resumption of services in Calcutta.
Every Metro agency in the country barring Calcutta's is a corporation with a limited government stake and increased autonomy. Calcutta Metro is with the rail ministry, which limits decision-making and efficiency.
"We were ready to run trains in the run-up to the announcement of Unlock 3 guidelines… by June end, we were ready to resume services on a two-day notice," Mangu Singh, the Delhi Metro chief, told Metro on Friday.
Delhi Metro has 285 stations spread over 389km of tracks. The daily passenger volume was above 1.5 million before services were suspended.
Calcutta Metro has 24 stations spread over 27km. The daily passenger volume was close to 600,000 before services were suspended.
One meeting after another
"We will have dry runs on September 8 and 9. An announcement of the date for the resumption of commercial services is likely after that," a Calcutta Metro official said after a meeting — the second in two days — with state government officials on Friday.
The modalities discussed include developing a system of e-passes and QR codes to be scanned at station gates. The code will be valid for a fixed time. "The government has proposed to develop a system of issuing e-passes to passengers. We will provide the information they have sought," Metro spokesperson Indrani Banerjee said.
The Metro authorities had earlier announced that only existing smart card holders would be allowed access once services resume.
A Metro Railway app to recharge existing smart cards is available on Google Play store. On Friday evening, this correspondent was redirected to the Metro Railway website when he tried to recharge his smart card through the app.
Smart or un-smart
An app to get a Metro train will effectively shut the doors on passengers, including many senior citizens, without smartphones.
Metrospeak
"I will not be able to comment on other Metros. Each Metro operates under different circumstances. Like three days in the next week are total lockdown days in Bengal. We are working with the state government to resume services," Calcutta Metro general manager Manoj Joshi said.
The government has been asking for the resumption of Metro services for over two months. The government had on Monday issued a notification saying total lockdown remained unchanged (September 7, 11 and 12). The notice said Metro services could resume in a graded manner from September 8.
A retired engineer specialising in urban transport questioned the logic of pre-booking Metro slots. "The idea of Metro is a quick ride from point A to point B. Not everyone travels on a fixed route daily on Metro," he said.