Injured civet cat takes shelter, rescued
Swapan Pal has contacted animal rights activists and wildlife lovers on Facebook seeking their help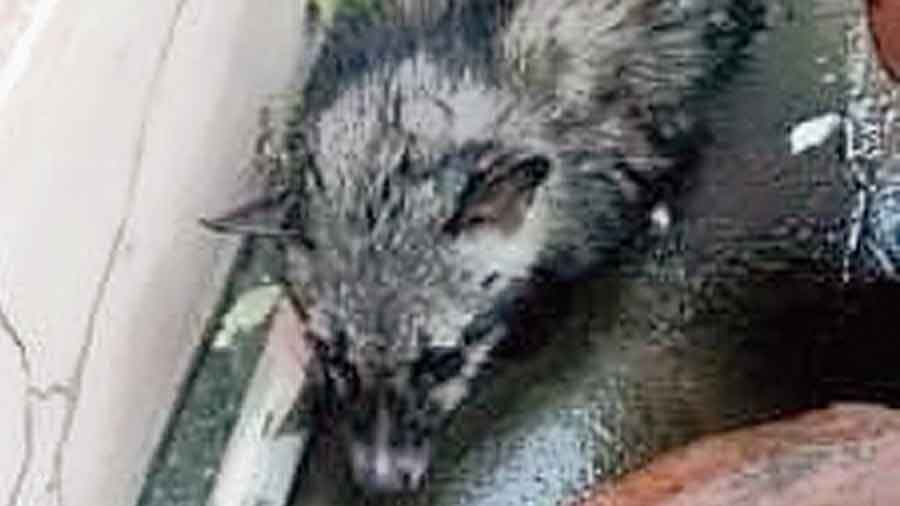 The civet cat that was rescued on Tuesday.
Telegraph picture
---
Chandernagore
|
Published 20.01.21, 02:11 AM
|
---
An injured civet cat took refuge in the compound of a house in Chandernagore late on Monday after it was chased by dogs.
Swapan Pal and his family members came out of their house near the Nadua temple complex in Chandernagore when they heard loud noises at night to find a civet cat. It looked scared and kept snarling at them.
Alerted by the sounds, Pal's neighbours also came to check. When they saw the animal, they asked Pal to drive it away.
But Pal refused and let the animal stay in their compound. He then contacted animal rights activists and wildlife lovers on Facebook seeking their help.
"The animal was bleeding and snarling. Our neighbours were afraid and asked us to drive it out of the house. But I realised that if we did that, it might get killed," said Pal.
He managed to contact Soumyodip Mukherjee, who runs Bonyo, an NGO that helps rescue injured birds and animals.
Mukherjee advised Pal to give the civet cat some food and water and requested him not to drive the animal out.
"We got in touch with the wildlife rescue centre in Salt Lake," said Mukherjee.
An official of the wildlife rescue centre alerted the Hooghly beat office of the forest department about the animal.
A team from the Hooghly beat office reached the spot and rescued the animal on Tuesday morning.