Green drives mark forest festival week
IA Market traders pitch in with plants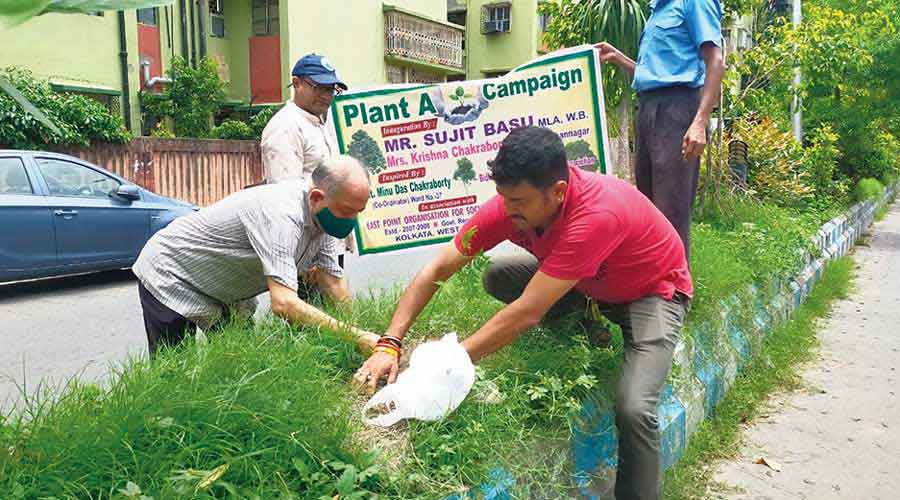 A road divider outside IA Market being prepared for a sapling to be planted by the shopkeepers
---
Published 30.07.21, 11:27 PM
|
---
It's not just residents who care about the environment; shopkeepers did their bit to spread greenery too.
The traders of IA Market held a week-long drive. The first day of the event was graced by chief guests MLA and minister Sujit Bose, chairperson, board of administrators of Bidhannagar Municipal Corporation, Krishna Chakraborty and ward co-ordinator Minu Das Chakraborty but other eminent personalities were invited the rest of the week.
"We distributed 10 trees from the market for seven days, on a first-come first-serve basis," said Rishiraj Ghosh, secretary of Bidhan Nagar IA Market Traders' Association. "Interested customers were given coupons and asked to collect them at a designated time to avoid crowding."
They also launched a mobile campaign on one of their friends' cars. The bright red car had banners all over, bearing afforestation messages and it was driven around the township the rest of the week. Audio messages were played from a loudspeaker in the car. "One needs lots of permissions to fell trees but none to plant. So we wanted to inspire people to plant as many trees as possible," said Ghosh.
The shopkeepers will be planting trees themselves as a long-term project but want to carefully choose the spots so they can nurture them to maturity.
The project was held in collaboration with the East Point Organisation for Social Development, a Kestopur-based group that many IA Market traders are associated with.
More Bon Mahotsav week coverage in the next edition of Branching Out