Former journalist and broadcaster Kishore Bhimani passes away
Educated at the London School of Economics and St Xavier's College, he covered 157 Test matches and 203 one-dayers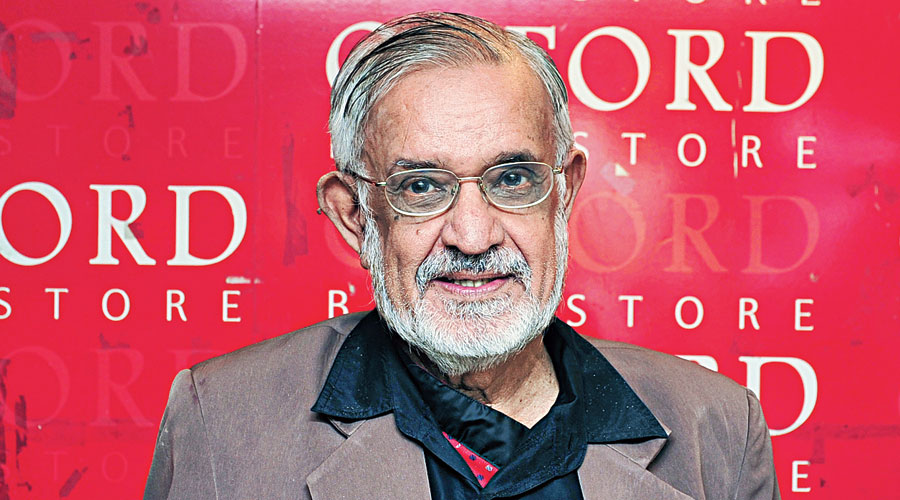 ---
Calcutta
|
Published 16.10.20, 03:38 AM
|
---
Kishore Bhimani, former journalist and broadcaster whose voice brought the action on 22 yards alive on radio and television for generations of cricket lovers, passed away on Thursday. He was 81.
He was admitted to Woodlands Multispeciality Hospital since September 14. He is survived by wife Rita Bhimani and son Gautam.
Bishen Singh Bedi described Bhimani as "one of the good old-fashioned crkt writer(s)" in a tweet.
Commentator Harsha Bhogle told Metro: "Kishore was part of a generation where people covered cricket with an understanding of life. He understood finance, business, horses, music…his connection with the rock music world was legendary. He brought that perspective to cricket. His heart bled for Calcutta. He knew everybody. His house was open. He enjoyed the good life. His joie de vivre is what I remember most about him."
Educated at the London School of Economics and St Xavier's College, Bhimani covered 157 Test matches and 203 one-dayers. Among them were tours like the West Indies in 1976 and England in 1986, as also milestone moments like Sunil Gavaskar reaching 10,000 runs in 1987 and the final over of the India-Australia tied test in 1986.
"'It's a tie, it's tie,' he repeated in his staccato voice on air as Maninder Singh was adjudged leg before wicket to Greg Matthews. Those words reflected the shock of all viewers," recalled Malavika Banerjee, director of the Kolkata Literary Meet where Bhimani was in conversation with Sunil Gavaskar in 2017. "Gavaskar had asked for him," she said.
Bhimani was close to many overseas players too. The likes of Clive Lloyd, Viv Richards and Imran Khan would drop by at his house.
"He was a great raconteur, an encyclopaedia of cricket anecdotes," said former Bengal captain and national selector Sambaran Banerjee.
He compiled and authored over a dozen books, including a novel called The Accidental Godman in 2012.
A steward at the Royal Calcutta Turf Club for five years from 2006, he was fond of racing.
"He (Bhimani) owned his first horse Time and Tide in the early 70s," said Pritheesh Verma, a judge at RCTC. "He would jointly own a horse with Ravi Shastri in later years," added Cyrus Madan, one of the stewards now.
In the 70s, he was the official commentator at the races. "He was already commentating on cricket and football. In later years, he and I commentated on rugby too at CC&FC," Madan said.
Bhimani also had a tremendous passion for theatre. "He was a good poker player too," added Varma. "He could converse with people both older and younger to him and make them feel at home. He had a tremendous sense of humour," Madan said.
His entry into cricket commentary was "accidental". "He went to cover a domestic cricket match because the regular cricket correspondent was absent," wrote friend and colleague Utpal Chatterjee, a former sheriff of Calcutta, in a social media post.
Bhimani wrote in The Statesman on the historic victory in April 1976: "In the dusty twilight of a deserted stadium I gaze upon a wizened old groundsman sweeping away…. So much has happened here in the dressing room under the Geddes Grant Stand — Lloyd's decision to declare; the promotion of 'Jimmy' Amarnath and Bishen's persistence with his own bowling and the confident last-ditch stand of the never-say-die Patel and Madan Lal and the lone Indian cheering hoarse in the Errol dos Santos Stand…".
Readers would agree cricket reporting prospered for the "accident".