Fire breaks out on fifth floor of Apeejay House, none hurt
Police cordoned off the area before firefighters launched an operation with 10 tenders that continued for around three hours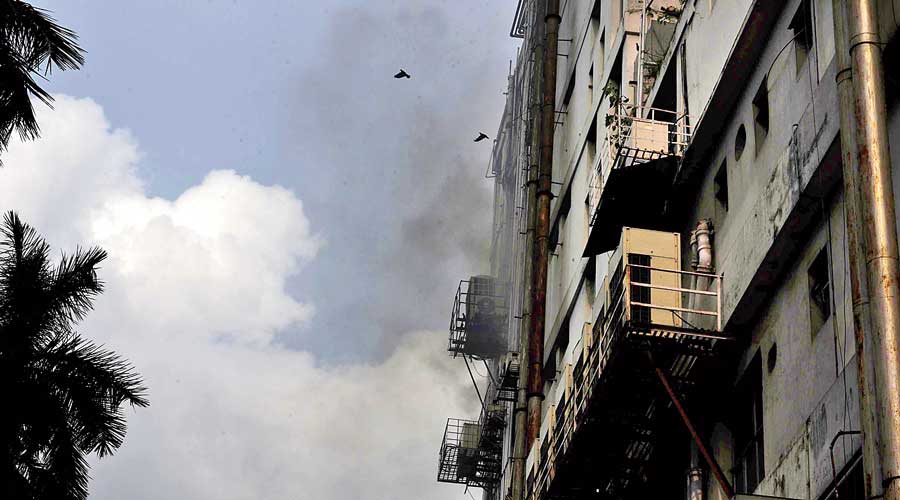 Smoke comes out of the fifth floor of Apeejay House on Park Street on Tuesday.
Pradip Sanyal
---
Calcutta
|
Published 09.06.21, 02:20 AM
|
---
A fire broke out on the fifth floor of Apeejay House on Park Street on Tuesday afternoon. No one was injured, police said.
A number of offices, which fortunately had fewer than usual employees, had to be evacuated. Police cordoned off the area before firefighters launched an operation with 10 tenders that continued for around three hours.
The fire started around 2.40pm in the server room of a company that deals in medical items. The office was closed and so was the server room.
Firefighters had to break open window panes to access the room before bringing in pipes carrying water from the ground floor. Later, a hydraulic ladder was sent to the site but it was not used.
Firhad Hakim, the chairman of the board of administrators of the Calcutta Municipal Corporation, who visited the site, said: "The fire could be contained in the server room."
Apeejay House, the headquarters of the Apeejay Surrendra Group, is home to a number of offices and banks. An Apeejay business centre functions from the eighth floor.
Only a handful of people, including some employees of a private bank, were in the building as the majority of the offices were closed because of the Covid curbs.
"We were asked to take the stairs at the rear," said an employee of the private bank. "By then smoke had filled parts of the sixth and seventh floors."
Apeejay House is located a few metres from Stephen Court, where a fire in the summer of 2010 had claimed 43 lives.
Senior officials of the fire and emergency services said that soon after white smoke was spotted coming out of windows, some of the building's maintenance staff started fetching water from the underground reservoir using hose pipes, while a few ran upstairs to evacuate employees and others.
"Since the building houses several offices, banks and other establishments, fire-fighting gadgets there are regularly checked and their condition is recorded in a logbook," said an officer of Park Street police station.
A team of senior officers led by the deputy commissioner of police, south, reached the spot and launched an evacuation drive as fire tenders started arriving one after another.
"A forensic audit will reveal the cause of the fire. The fire could be contained because of prompt intervention," said fire and emergency services minister Sujit Bose.