JU panel puts 18 trees back on feet
Committee formed to minimise Amphan-induced losses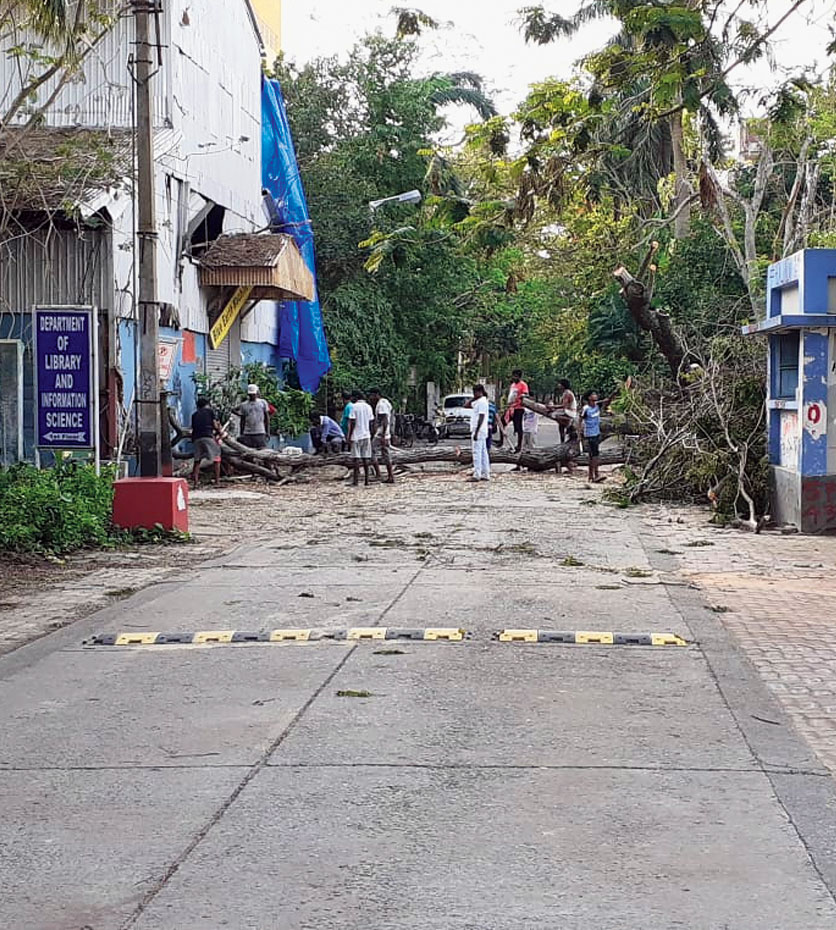 ---
|
Calcutta
|
Published 06.06.20, 09:12 PM
---
Jadavpur University, which lost one in 10 trees on its campus to Cylcone Amphan, has constituted a committee to try and save some from the uprooted 181.

Giants like mahogany, banyan, peepal were ripped apart during the storm on May 20 and the felled trees had blocked concrete driveways across the campus.
A committee comprising representatives of National Medicinal Plant Board (eastern region) and teachers has been constituted to work on possible ways to save the trees.
The members of the panel were involved in a tree census on the 58-acre campus last year.
"We want to minimise the losses as much as possible," said registrar Snehananju Basu, the convener of the committee.
A member of the committee said that so far they had straightened 18 trees with the help of a chain pulley.
After putting the trees back on their feet, they are now working on giving fungicides to the roots to kill infection.
"We have to work on hormone treatment of the roots so that they stay alive. The branches of some of the trees are required to be chopped off so that canopy weight remains proportionate to strength of the tree," said the member.
The team is also digging pits so that the roots have adequate space to grow deep.
Another important aspect of the restoration drive would be to make arrangements for stacking for stable resting of the trees that have been straightened.
Stacking is basically supporting trees with external props.
"Stacking is required so that the restored tree does not get toppled whenever a strong wind blows," said an official.
On Friday, a group of tree cutters were working on to chop the trunk and logs of a banyan tree that still continued to block the concrete driveway that leads to Aurobindo Bhavan, the administrative headquarters.
A visit to the campus would make it clear that the trees that stood along the pavement kerb lining the concrete driveway, which came up about a decade back, got uprooted in large numbers.
"We are facing a steep challenge in saving those that got uprooted in the concrete driveway," said a member of the committee.