Calcutta Metro to run trains every 7 to 9 minutes from today
The first trains will leave the terminal stations of Dakshineswar and Kavi Subhash at 8am and the last train for New Garia will leave Dakshineswar at 7.48pm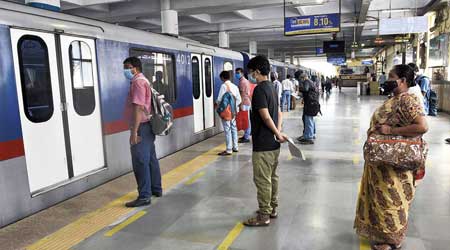 ---
Calcutta
|
Published 16.07.21, 01:32 AM
|
---
Metro trains will run at an interval of seven to nine minutes for most of the day, once services for all resume on Friday.
The first trains will leave the terminal stations of Dakshineswar and Kavi Subhash (New Garia) at 8am. The last train for New Garia will leave Dakshineswar at 7.48pm.  From Dum Dum and New Garia, the last trains will leave at 8pm.
"Service will be available at seven to nine minutes' interval for most of the day. Let us see how the first day goes. The number of trains will be increased from next week if there is a need for the same," said a Metro official.
The services will be available for all passengers from Monday to Friday.
Only special trains for railway staff and essential service providers will run on Saturdays. There will be no trains on Sunday.
A smart card is a must for a Metro as tokens will remain suspended.
Metro services were suspended on May 15. In a notification issued on Thursday, the carrier said the smart cards whose validity expired "on or after May 15 to July 15 will be treated as valid till August 16".
But like before, sufficient balance on a card will be a must for a Metro ride, said an official.
"Commuters need to contact on-duty booking officials at any station to validate their smart cards. People whose cards' validity expired on or after May 15 should get the cards validated by August 16 to have their residual balance carried forward," said an official.
The carrier has 27 air-conditioned trains in operational condition.
"All 27 trains will not roll out every day. The daily fleet will be adjusted according to the increase in the frequency of trains," said another official.
When trains resumed after a long shutdown on September 14 last year, seats were cross-marked to enforce social distancing protocols.
"The markings are still there. But I am not sure how many passengers will abide by them. So far we have got no instructions to enforce the seating arrangements according to the markings," said an RPF official.