Covid-19: Metro commuters flout mask mandate
Many passengers in the city's transport lifeline are travelling unmasked despite regular awareness campaigns by the carrier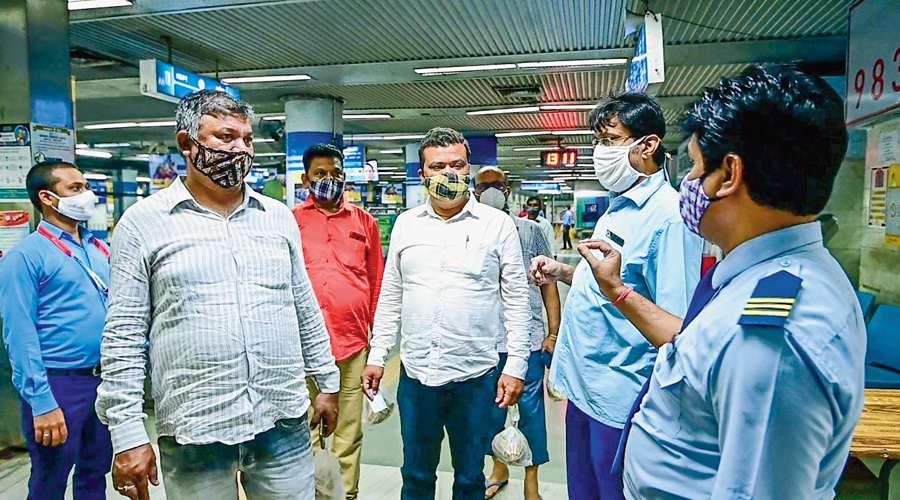 Metro officials talk to passengers during a "mask awareness drive" at New Garia station earlier this week.
Telegraph Picture
---
Calcutta
|
Published 12.04.21, 02:20 AM
|
---
A woman who boarded a Metro train at Sovabazar on Friday saw two teenagers put on their masks after being prodded by a Railway Protection Force jawan on the platform but removed them as soon as the train started moving.
A senior citizen who boarded a train at Tollygunge on Sunday afternoon saw a fellow passenger with his mask on the chin. When the elderly man asked him to wear the mask properly, he said it felt "suffocating".
Many passengers in the city's transport lifeline are travelling unmasked despite regular awareness campaigns by the carrier, said officials and RPF personnel.
"The number of unmasked passengers was much more last month. The renewed surge in Covid numbers has triggered some caution but many are still without masks. Most offenders have been found to carry a mask but not wearing it properly," said an RPF officer.
The Metro authorities had announced a few days ago that passengers without masks would be fined Rs 200. But the penalisation drive is yet to pick up speed.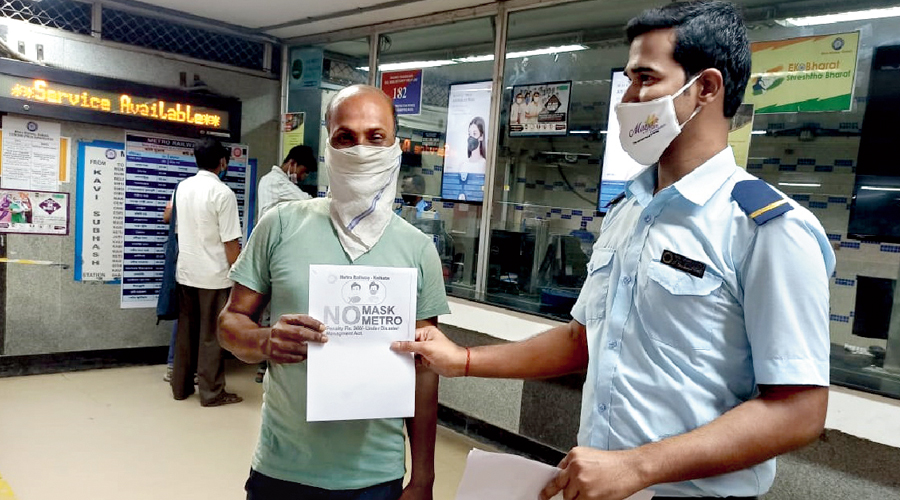 "Less than 10 passengers have been fined on the entire north-south corridor for not wearing masks in the past week," said an RPF officer.
On the Rabindra Sadan-Rabindra Sarobar stretch, only two passengers have been fined in the past two days, said another RPF officer. Similarly, on the Dum Dum-MG Road stretch, the number has been "less than five in the past week".
"Many offenders are young passengers, including teenagers," he said. The average daily Metro passenger count has been over 2.5 lakh per day for some time now.
Saradiya Sengupta Bhattacharya, who commutes regularly between Dum Dum and Rabindra Sadan, said: "Almost every day, I see passengers masked while entering the station. But they remove the masks when the train starts moving."
Metro officials said the stress was on creating awareness. "We are building awareness through the 'No Mask, No Metro' campaign. Audio-visual campaigns are going on regularly across stations. Traffic inspectors are visiting stations to ensure implementation of the Covid-19 protocols," said Indrani Banerjee, the Metro spokesperson.