Residents on sanitise drive in AE Part 2
Corporation has one machine per ward, so it'll be two months before they return to a particular lane a second time: resident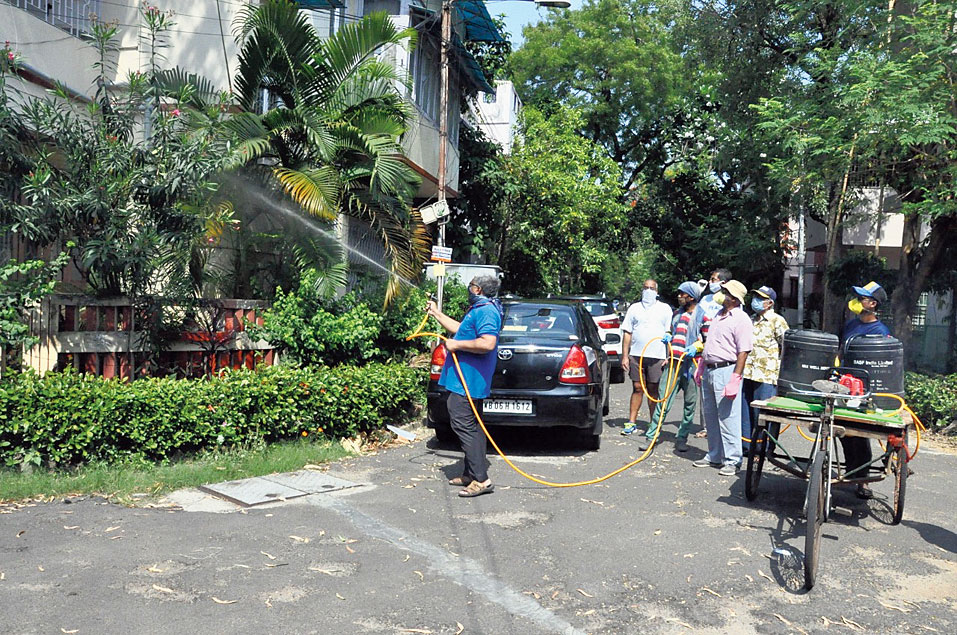 ---
---
Residents of AE Part 2 are taking to the streets every morning to sanitise their lanes.
"The corporation is sanitising the area too but they have one machine per ward. That means it'll be two months before they return to a particular lane a second time," said secretary of AE Block Samaj Kalyan Sangha, Tapas Sengupta.
So the committee used its savings to buy a motorised spray-machine for Rs 10,000 from a Ganesh Chandra Avenue shop. "We have also bought 50kg of sanitising chemical and booked another 50kg from the same shop," he said. They hired their community hall's caretaker, his son and a dhobi to push a van around while residents like Sanjay Kumar Chaudhury, Sunil Kumar Rungta, Arnab Patanaik and Sengupta himself wielded the pipe. Emphasis is being laid on surfaces like gates and grills that people are likely to touch.
"It is not a very cheap proposition but we shall not stop. If we seek financial help from residents I'm sure many will agree," says Sengupta. "We hope other blocks follow our example and start spraying their lanes too. That way the entire Salt Lake will be safe from Covid-19."
In the recent past, FE Block and Basiakhi Abasan have sanitised their lanes too.
saltlake@abpmail.com