Help for College Street booksellers' families
Initiative by former and present students of Presidency University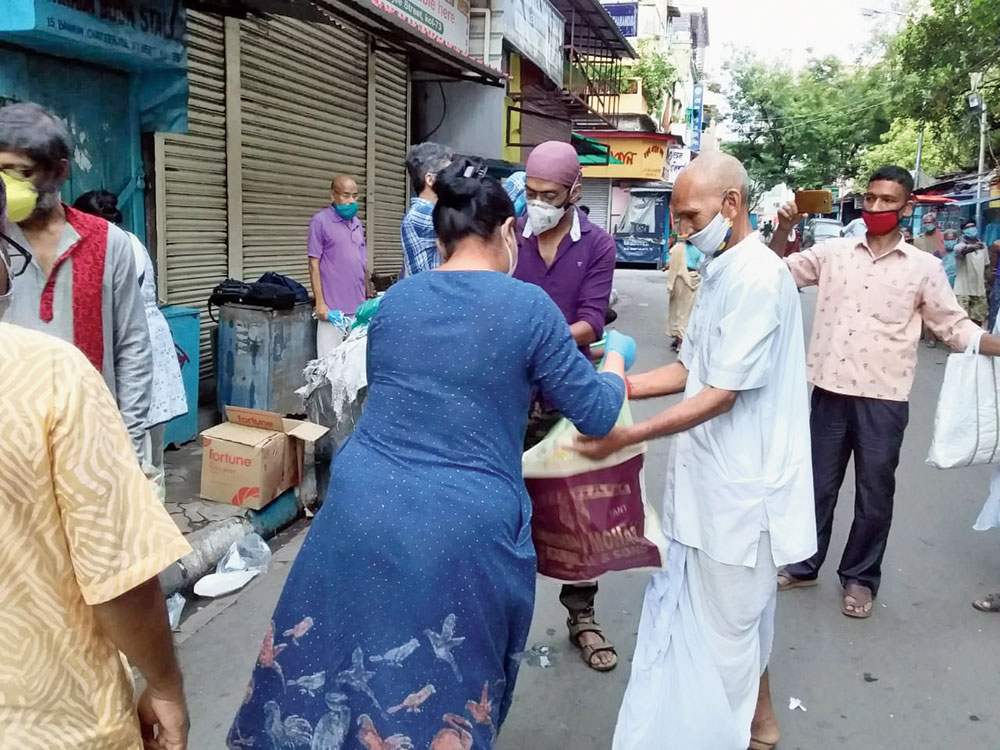 Present and former students of Presidency University distribute essentials in the College Street area on Sunday
Telegraph picture
---
Calcutta
|
Published 22.06.20, 01:32 AM
|
---
Former and present students of Presidency University on Sunday distributed ration among 100-odd families of booksellers and book binders of the College Street area who have been hit by the lockdown and Cyclone Amphan.
The current and former students of the College Street institution are associated with the Quarantined Students Youth Network, a charitable platform.
They were joined by members of the Boipara Banchao Mancha in the distribution of essentials at an event organised at the gate of Indian Coffee House on Bankim Chatterjee Street.
Each beneficiary family was given 3kg rice, 2kg potato, 500g pulse, 250g of soybean, salt, spices, biscuits, vitamin tablets and sanitary napkins.
Sayan Chakravarty, a second-year postgraduate student at Presidency, said small-time booksellers and binders and van-drivers who supply books to the stores have been hit hard by the twin blows of lockdown and the cyclone.
"Having frequented the area over the years, I know big and medium-sized publishing houses have the resources to sustain the loss. But these small-time traders are in a bad state," said Chakravarty, a student of economics.
Another student said the plight of the persons they interacted with frequently prompted them to think of the initiative.
The Boipara Banchao Mancha, a platform of book publishers and book sellers that was set up last month, provided details of the affected families to members of the Quarantined Students Youth Network.
Shyamal Dhar, of the Mancha, said they, too, had raised resources to help these families. Members of the forum visited areas in and around College Street on Friday to distribute coupons among the affected families.
"It is a matter of pride that the students have come forward to help these families with their limited means," said Dhar.
The Quarantined Student Youth Network, whose members include students of other institutes as well, has been running a community kitchen in the College Street since April. The community kitchen is one of the 17 such initiatives being run across the state.