Sankha Ghosh passes away
The poet had tested positive for Covid-19 and was in isolation at his home in Ultadanga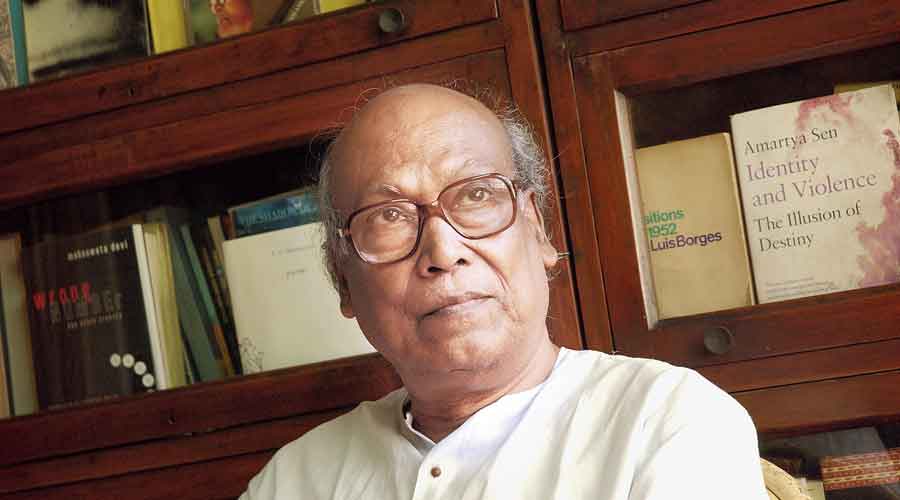 Sankha Ghosh
Telegraph picture
---
Calcutta
|
Published 22.04.21, 02:00 AM
|
---
Sankha Ghosh, one of Bengal's foremost intellectuals, poets, professors and literary critics, passed away in Calcutta on Wednesday morning. He was 89.
Ghosh had tested positive for Covid-19 and was in isolation at his home in Ultadanga.
He leaves behind his wife and two daughters. According to his family, Ghosh had got himself tested last week after running a temperature for a couple of days. He also had a bout of cough and cold.
 "The report came on April 14. He did not want to get hospitalised. His condition started deteriorating from Tuesday night. He breathed his last this morning. A doctor declared him dead around 10.30am," said a relative.
As in life, Ghosh's last journey was bereft of pomp. Of late, a gun salute has been a regular affair at the last rites of cultural luminaries in Bengal. Not for Ghosh because he would not have it that way.
Chief minister Mamata Banerjee said: "I extend my condolences to his family and well-wishers. He was down with Covid-19. But despite that, we will cremate him with full state honours. I have instructed the chief secretary. Ghosh did not like gun salutes. I spoke to his daughter. We will respect the family's wishes. We will not do that."
Ghosh was a man of few words. But his public utterances had an indelible impact in the corridors of power. Ghosh had spoken out against the 2007 Nandigram firing during the Left Front regime, the 2012 arrest of a professor for circulating a cartoon lampooning chief minister Mamata Banerjee and the 2013 Kamduni gang-rape and murder.
He had also been vocal against the citizenship thrust of the Narendra Modi regime and supported the long-standing farmers' protests. A few lines from a poem called Sabinay Nibedan (Humble Appeal), written after the Nandigram firing, is topical even today.
"Ami to amar shapath rekhechhi, akshar e akshar e; jara pratibadi tader jiban diyechhi narak kore/ dapiye berabe amar dal, onnye kobe na katha; bajra katheen rajya shashone setai swabhabikata (I have kept my pledge, letter by letter; have turned into hell the lives of protesters. My party will run amok, others will not utter a word; this is the normal in the rule of a State with an iron-fist)."
On Wednesday, condolences poured in from all quarters, including from the Prime Minister.
Born in Chandpur (now in Bangladesh) on February 5, 1932, Ghosh had graduated in Bengali language and literature from Presidency College and did his master's from Calcutta University before taking up teaching as a profession.
He taught at Bangabasi College, City College, Jadavpur University, Visva-Bharati and Delhi University, among other places.
He won multiple awards, including Sahitya Akademi, Jnanpith and Padma Bhushan.
Dinguli Raatguli (Days and Nights), Babar-er Prarthana (Babar's Prayers) and Mukh Dheke Jaye Bigyapan-e (Face Covered in Advertisement) are among his noted collection of poems. He was also an authority on Rabindranath Tagore.
Actor-director Koushik Sen, a veteran of "civil society protests" alongside Ghosh, said the poet was the chief architect of an "apolitical space" in the state.
"Being apolitical does not mean not being political. It means asserting your opinion without being the stooge of any political party. Sankha Ghosh was not only a poet and a literary critic, he was the chief architect of this apolitical space. He was not with us. We were with him," said Sen.