All of us must step up: 80-year-old
Retired engineer donates Rs 10,001 to provide food to the needy during lockdown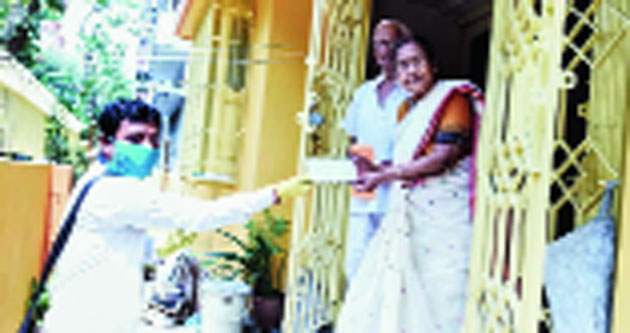 ---
|
Calcutta
|
Published 20.04.20, 09:20 PM
---
An 80-year-old retired engineer from Salt Lake handed over a cheque for Rs 10,001 to Bidhannagar Municipal Corporation officials on Monday to help provide the needy with food during the lockdown.

Sisir Roy, who retired from the defence ministry in 2000, lives in AD Block with wife Chitra, a retired teacher, and their son who works in the IT industry. Their other son is based in Canada.
Roy said he was worried about the needy and the underprivileged. "Several plumbers, electricians, rickshaw-pullers and domestic help in my locality are faced with a tremendous financial crisis because they have lost their livelihood. Most have exhausted their savings completely. Everyone has needs and these people are the worst hit… they need food to survive. We cannot let people starve… all of us must step up and contribute in whatever way we can."
On April 12, The Telegraph had reported how Subhash Chandra Banerjee, a retired college teacher in Dum Dum, had called out police a day earlier. The policemen, part of a patrol from the Airport police station in the Bidhannagar commissionerate, thought he was hungry but were surprised when he wrote out a cheque for
Rs 10,000 in favour of the Chief Minister's Relief Fund to help in the fight against Covid-19.
On Monday, Roy and his wife called up a civic official and told him that they wanted to contribute something. Once the official landed up outside their house, Roy wrote out a cheque for Rs 10,001 in favour of the Chief Minister's Relief Fund.
Roy who has been staying in Salt Lake for more than 22 years said he could not "sit back at home and do nothing in this situation".
"We thought of several options but finally zeroed in on this. We are happy that we could contribute something," Roy said. The money won't affect their household budget, he said. "We will work our way round it. We always have. This is a time to step forward and help others… we could not sit at home and do nothing."
The AD Block is in Ward 41. Anindya Chatterjee, the ward councillor, said Roy had "always been like this". "He has helped out residents as well as several helps in the block in the past."
Food and essential items will be distributed among the needy and migrants in AB, AC, AD, BB, BC and BD blocks later this week, Chatterjee said.