Amphan havoc worst in world this year: UK report
'It was also the costliest tropical cyclone of the year, with losses amounting to more than US$13 billion'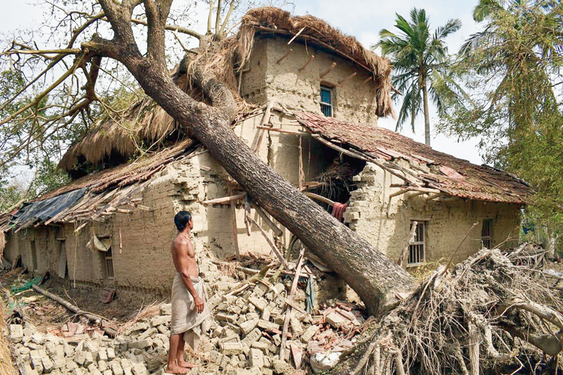 ---
Calcutta
|
Published 28.12.20, 01:23 AM
|
---
Cyclone Amphan, which had struck south Bengal on May 20, accounts for "the biggest displacement" in the world caused by a natural calamity this year, according to a report released in the UK on Sunday.
Amphan, the report says, also qualifies as the costliest tropical cyclone of the year.
The report, titled Counting the Cost 2020: A Year of Climate Breakdown, is prepared by Christian Aid, a London-headquartered relief and development agency. 
"Cyclone Amphan which affected countries in the Bay of Bengal, including India ... displaced 4.9 million people, accounting for the biggest displacement due to an extreme weather event anywhere in the world in 2020," the report says.
"Cyclone Amphan was one of the strongest storms on record in the Bay of Bengal, with sustained wind speeds of 270 km per hour. It was also the costliest tropical cyclone of the year, with losses amounting to more than US$13 billion. At least 128 people were killed by the cyclone, which caused great damage in cities in India, Bangladesh, Sri Lanka and Bhutan," the report states.
The references used in the report show Bengal had to bear the brunt of the economic loss inflicted by the storm. 
"We had calculated the Amphan cost to be Rs 1 lakh 3 thousand crore, which is quite close to the cost mentioned in the international report," Bengal's disaster management minister Javed Khan said on Sunday evening. "However, we have so far received only Rs 1,000 crore from the Centre." 
Khan said about 2.7 million houses were partially or fully damaged by the storm. 
According to the report, the economic impact of Amphan ranks fourth on the global climate related disaster list of 2020,  after US and Caribbean hurricanes, floods in China and fires on the west coast of America.
The report also states that India has suffered the highest damage caused by events triggered by climate change, with 2,067 lives claimed by floods. 
The floods in India also caused 4 million displacements, second to Amphan. 
"It is clear that the impacts of Amphan and the floods in India cumulatively endangered the maximum number of lives and livelihoods than anywhere else in the world and their economic impacts were equally high," said Kat Kramer, the author of the report and Christian Aid's climate policy lead. 
The report lists 15 of the most destructive climate disasters of 2019, which had cumulatively inflicted a loss of around $150 billion, calculated primarily on insured losses. Which means the actual costs are likely to be higher.