Calcutta mayor Firhad Hakim a call away once a week
Calcutta Municipal Corporation opens toll-free number to talk to Hakim every Wednesday from 4pm to 5pm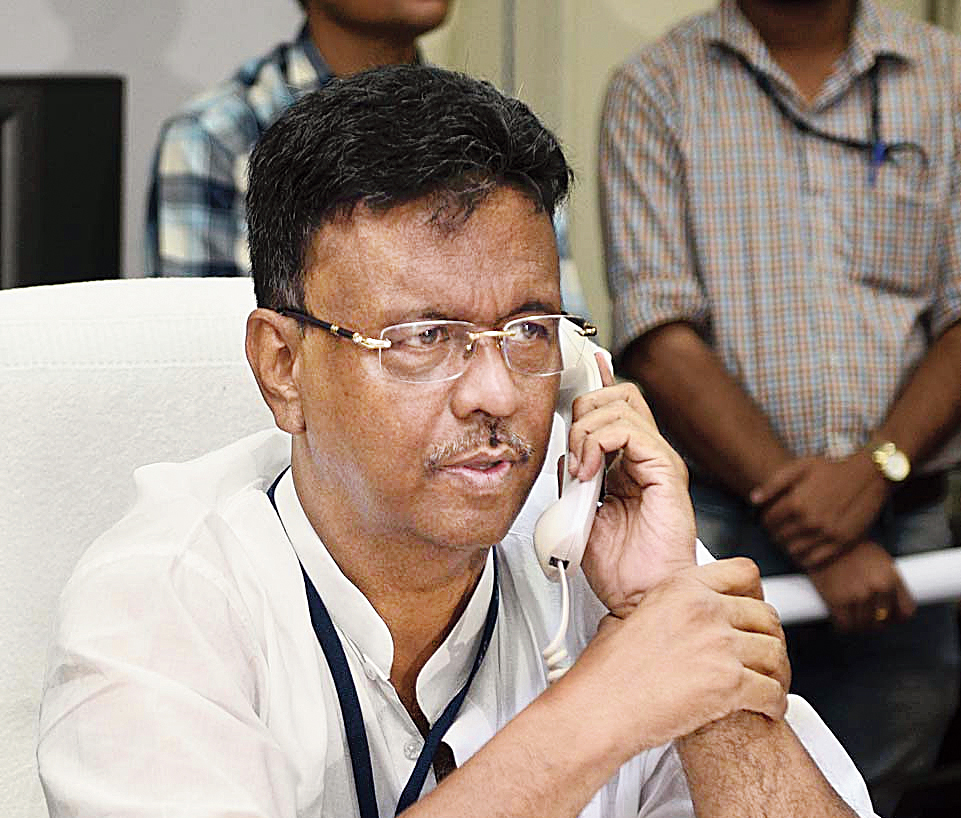 Mayor Firhad Hakim speaks to a caller on Monday.
Picture by Gautam Bose
---
Calcutta
|
Published 01.07.19, 11:21 PM
|
---
Residents of the city can reach mayor Firhad Hakim over the phone every Wednesday for an hour from 4pm. The toll-free number at which Hakim will be available is 1800 345 1213.
The weekly direct interaction between the mayor and the citizens was launched on Monday, with Hakim listening to complaints in the presence of mayoral council member Debashis Kumar and municipal commissioner Khalil Ahmed, among others.
Apart from the weekly interaction, the Calcutta Municipal Corporation will call 100 residents every day to know about their problems.
Officials said a cell had been set up to make the calls.
"I will receive calls from citizens for an hour from 4pm on Wednesdays. People can call me directly about any problem related to civic services," Hakim said.
The civic body will advertise widely both measures, an official said.
Councillors said the mayor's decision to take calls directly from citizens would help him know people's grievances first-hand and identify the areas that need more monitoring.
"The mayor wants to have his ear to the ground. It will help him have an idea about the services that need to improve," a councillor said.
CMC officials said the mayor took 25 calls on Monday. Some of the callers were from outside the city and Hakim told them that the toll-free number was only for those living in the city.
"We received 60 calls. The mayor could not speak to all callers because some of the calls came when others were speaking to him," an official said.
The problems flagged by the callers were related to garbage disposal, illegal construction, mutation and dilapidated buildings.
"All problems cannot be solved in a day. If garbage is not removed, it (steps to get it cleaned) can be done in a day. But if someone says there is a problem with the laying of water pipes, we will need some time to address the issue," the mayor said.
The civic body, he said, will inform the callers about the action taken based on their complaints.
Journalists were allowed in the room where the mayor was taking the calls. A councillor was heard requesting an official that reporters should not be let in from the next day.