City awaits rhino from Assam
Alipore zoo to send giraffe to Guwahati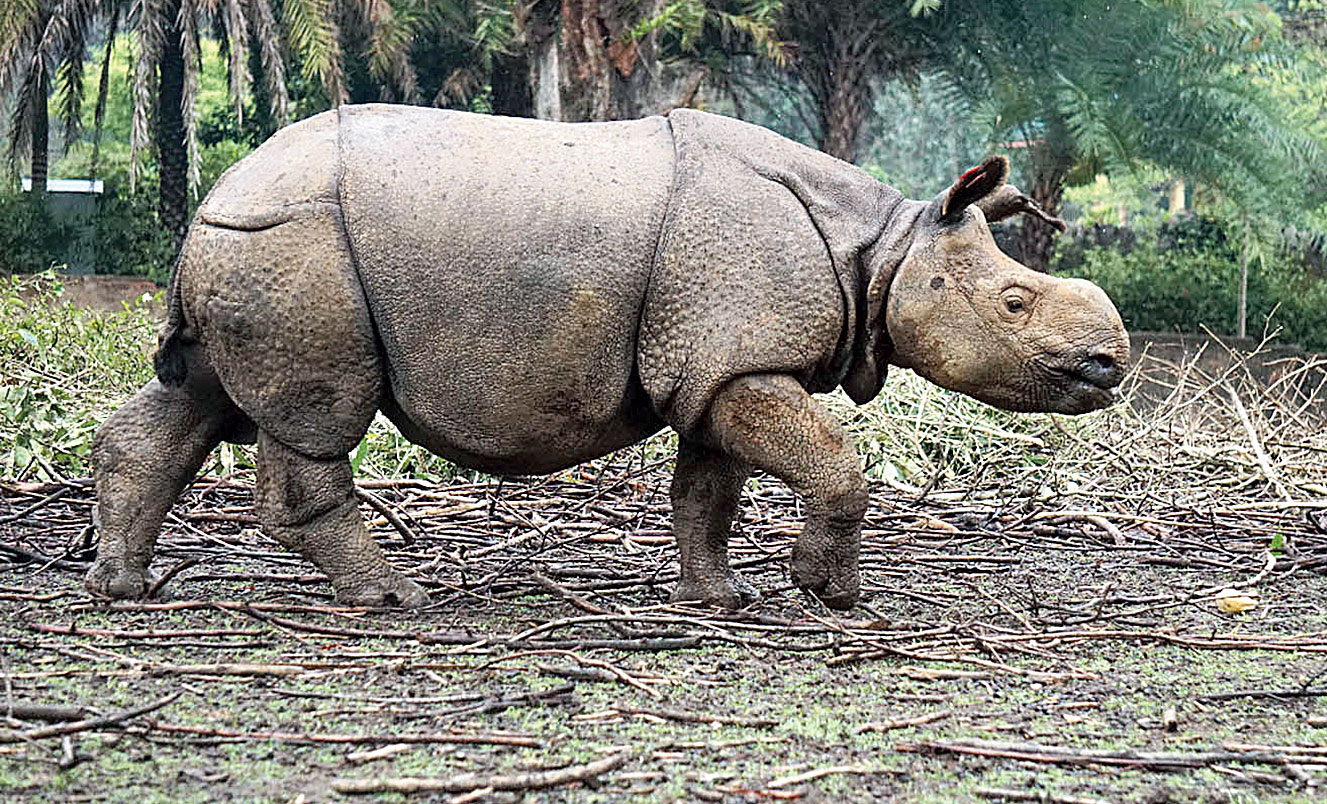 Gauri, a one-horned rhino, at the Guwahati zoo
Telegraph picture
---
Calcutta
|
Published 05.05.19, 08:40 PM
|
---
A teenaged female rhino from Assam will come to Alipore zoo this monsoon and a male giraffe from the city will be sent to the Assam State Zoo in Guwahati as part of an exchange programme.
"The two zoos have agreed on the exchange. A proposal will now be sent to the Central Zoo Authority (CZA). The technical committee of the CZA needs to approve the proposal. We expect the exchange to take place by August," said V.K. Yadav, member secretary of the Bengal Zoo Authority.
Gauri, the three-year-old one-horned rhino that will come to the Alipore zoo, is one of the eight rhinos at the Guwahati zoo. "Her father is no more. Gauri used to live with her mother, who has been shifted to another enclosure, where she is being paired with another male," said Tejas Mariswamy, the divisional forest officer of Assam State Zoo.
A team from Assam had recently visited the Alipore zoo to take stock of the giraffe herd. A female calf was born at Alipore zoo on April 23, taking the strength of the herd to 10, the highest of all zoos in India.
"We will send a young male to Guwahati. There are three to choose from. All three are young and healthy and ideal for breeding programmes," said Asis Kr Samanta, the director of Alipore zoo.
Giraffes, native to Africa and the tallest living terrestrial animal, are sought after in Indian parks. Alipore zoo has sent a pair of giraffes to the Hyderabad zoo in exchange of a pair each of lions and jaguars and six mouse deer.
The last giraffe at Assam zoo died in 2014. "Giraffes are charismatic animals. We are planning to have a female giraffe from another zoo and start a breeding programme," said Mariswamy of Assam State Zoo.
The animals will be transported by road. Guwahati and Calcutta are over 1,000km apart.
Alipore has two rhinos — Ratul is aged over five and Jaldaprasad, around 6. Gauri will be kept alone in a small enclosure carved out of the rhino enclosure in the north-eastern corner of the zoo for the first few days.
"We will try to pair her with Jaldaprasad first," said a zoo official.
The fourth male giraffe at Alipore zoo is Sabuj, aged above 10.