Social enterprises and "encouraging ventures" spell hope for Bengal's industrial climate, panellists at an entrepreneurship symposium concluded on Saturday.
Others argued that Bengal lagged behind in business because of the wrong policies of successive governments.
Metro stitches together the views and counter-views expressed at Entrepreneurship Symposium Bengal-Past-Present-Future presented by the Calcutta Debating Circle, in association with The Telegraph, at The Bengal Club.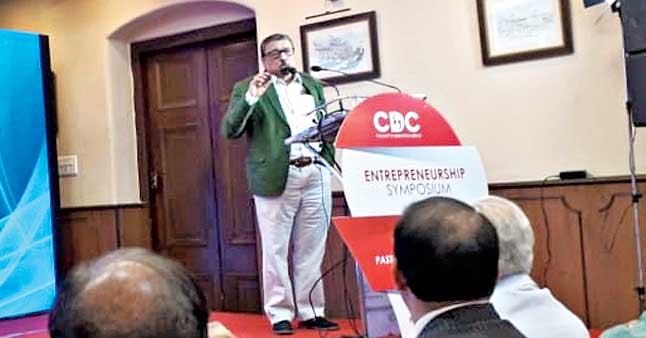 Roopen Roy, management consultant, at the debate. Picture by Bishwarup Dutta
Success story
Roopen Roy, management consultant, opened his speech with the observation: "Bengal's past is not brighter than its future".
Roy highlighted ventures that he said spoke volumes about the success of Bengal in business.
"Bandhan Bank is one of the first banks serving people at the bottom of the pyramid and doing exceptionally well. Srei is quietly doing a lot of work as well," Roy said.
The former managing director of PricewaterhouseCoopers reminded the audience that industrialist Purnendu Chatterjee is from the city and Haldia Petrochemicals is now a grand success.
"How many of you know that one of the best carpet companies in India, OBEETEE, is headquartered in Calcutta and run by another Chatterjee," Roy asked. He referred to the successful business mentoring by the innovation park of IIM Calcutta.
Mousumi Ghosh, the founding director of Future Institute of Engineering and Management, said success in business stems from picking up challenges.
"In the late 1990s, I used to see trainloads of students heading for Bangalore to study engineering. We had got into the business of setting up private engineering colleges to reverse the trend. We reversed the trend," Ghosh said.
Success in technical education has prompted the group to venture into setting up an oncology hospital, she said. "It does not matter whether you are from Bengal. In business, what matters is looking at the big picture," Ghosh said.
Social enterprise
Joydeep Mukherjee, co-founder and managing director of Samarth, appealed to aspiring entrepreneurs to focus on social enterprise that ensures profitability for shareholders and touches the lives of others.
"We are in the business of providing caregivers and counsellors who give mental peace to the urban elderly, many of who stay alone as their sons and daughters are not in the city. We are engaging educated urban youth to fill the void," Mukherjee said.
How Bengal lagged
Prasenjit K. Basu, a Singapore-based economist, said it was a tragedy that Bengal, which once produced Prince Dwarkanath Tagore — arguably the richest man of his time — could do so abysmally in business.
"Sir Rajen Mookerjee, Sir Biren Mookerjee, pioneers in the field of business, were all from Bengal…. But over the years, the anti-industry policies pursued by successive governments have driven business out of Bengal. Calcutta has even conceded space to Dhaka," Basu said.
Jerry Rao, the executive chairman and director of Value and Budget Housing Corp, said a business-friendly atmosphere was missing in India, especially Bengal.
"The situation is probably a tad worse in Bengal because of the tradition of the socialist totalitarianism regime that we unfortunately had for so many years. I am sure it's not fully gone away," Rao said.