Bogtui carnage: Forensic experts take samples of 'fuel carriers'
The CFSL experts arrived in Kumadda, around 600 metres away from Bogtui, and collected samples from various parts of totos, including their handles and seats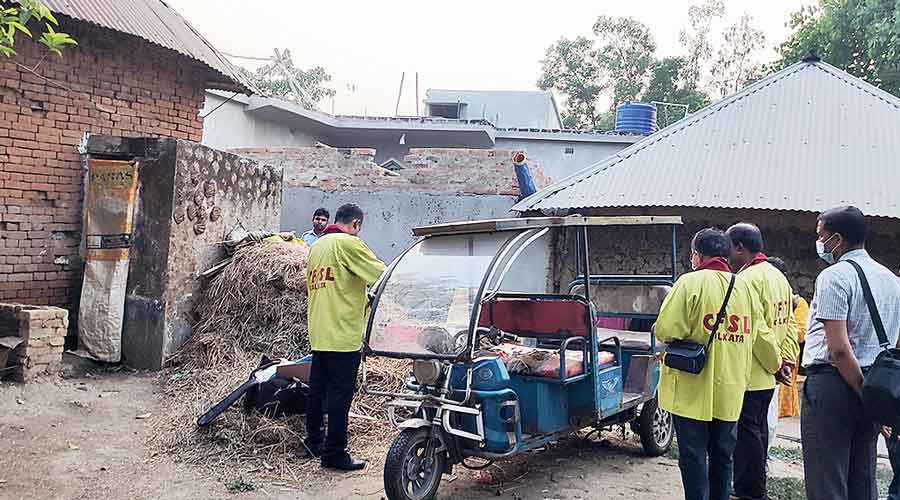 CFSL experts collect samples from one of the totos in Kumadda village near Bogtui on Sunday.
Pritam Das
---
Bogtui (Rampurhat)
|
Published 04.04.22, 01:29 AM
|
---
A team of the Central Forensic Science Laboratory (CFSL) on Sunday evening visited Kumadda village and collected samples from two battery-run three-wheelers allegedly been used to transport jars full of petrol and used to set on fire to houses on the March 21 night of the Bogtui carnage.
The CFSL experts arrived in Kumadda — around 600 metres away from Bogtui — and collected samples from various parts of the vehicles, popularly called totos, including their handles, seats, seat cushions and footrests.
"All the samples will be sent to the laboratory in Calcutta to confirm whether petrol or any inflammable items had been carried in the two vehicles. This is required to confirm the allegations of the family members of the deceased and the eyewitnesses," said a source in the CFSL.
The experts also video-graphed the totos.
Sources said the delay in finding the totos was a worry and it would have been better for the probe had samples been collected earlier.
A CBI team on Saturday afternoon examined two totos kept hidden allegedly by the goons in Kumadda village the massacre at Bogtui that claimed nine lives, including seven women and a child.
Before the CFSL sleuths came to collect samples from the totos on Sunday, CBI sleuths took Mihilal Sheikh and one of his brothers, Sheikhlal Sheikh, to record their statements regarding the two vehicles. CBI sources said their statements were recorded to know how and when they found the totos carrying petrol.
Trinamul leader Anarul Hossain and other arrested people were also interrogated on whether they carried inflammable items on the totos.
The Telegraph had on March 30 reported a teenager recalling how goons had brought jars of petrol in the two totos and emptied them inside a grocery store, where 10 people including him had taken shelter, before setting it on fire on March 21 night.
After collecting the samples from the totos, the CFSL team went to Bogtui where they interrogated Kiran Sheikh, a neighbour of Palash Sheikh from whose courtyard crude bombs recovered by police on Sunday. CFSL teams also collected samples from a motorbike that goons had allegedly used but left behind while fleeing Bogtui.
Arrested Trinamul block president Anarul, along with 14 others arrested in the case, were taken to CBI camp office in Rampurhat where they were interrogated for hours.
CBI sources said all inputs obtained during probe were corroborated through cross-examination of the accused to confirm they were sharing correct information.
"Correct information is necessary to identify those who perpetrated the massacre," a CBI officer said.