BJP hopes for Bihar rerun in Bengal polls
Trending hashtag #Now Bengal gained traction on social media after being tweeted and retweeted by several senior leaders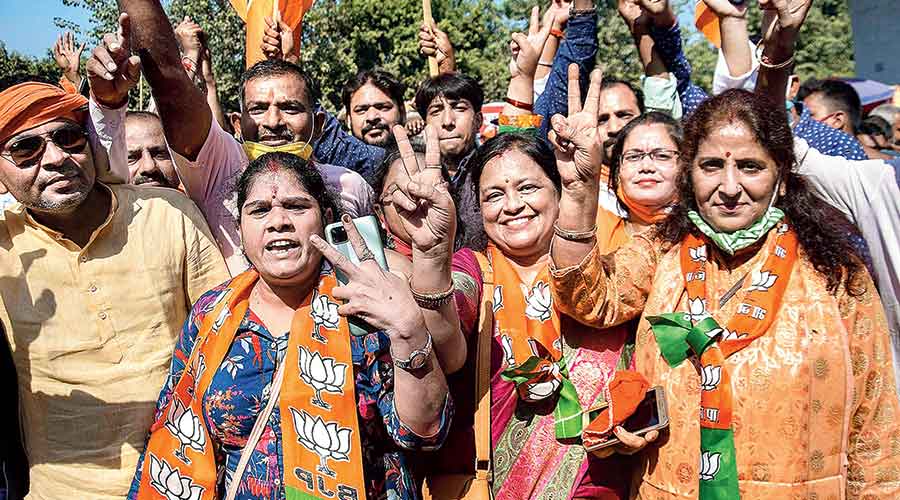 BJP workers celebrate NDA's victory in the Bihar polls in Patna.
(PTI)
---
Calcutta
|
Published 12.11.20, 03:05 AM
|
---
Jubilation erupted in front of the state BJP headquarters here on Wednesday, a day after the NDA emerged victorious in Bihar, with supporters hoping for a rerun of the victory in Bengal in 2021. 
Party workers converged at the central Calcutta office with a newly-coined slogan "Ebar Bangla, parle samla (Now it's Bengal, defend if you can)". 
Though no senior state leader was present at the 6 Muralidhar Sen Lane party headquarters on Wednesday morning, supporters distributed sweets, vermillion powder and urged the groups of dhakis to drum up celebrations. 
The mood was similar to that of May 2019 when the BJP pulled off stunning numbers — 18 parliamentary seats — in the Lok Sabha polls. 
"We are here to celebrate the win in Bihar. Now it is time for the people in Bengal to cast their votes and bring the BJP to power here," said Narayan Chatterjee, a local BJP leader, standing amid a crowd of raucous supporters with boxes of orange-coloured sweets.
Encouraged by Bihar, Bengal's BJP workers and leaders on Wednesday took to social media — Twitter in particular — to emphasise the victory's implications for Bengal. 
The trending hashtag #Now Bengal gained traction on social media by late Wednesday afternoon after being tweeted and retweeted by several senior leaders.
Beneath the euphoria, some senior BJP leaders said in hushed tones that the battle for Bengal was more difficult. 
According to a party leader, the biggest challenge here would be that the party would be fighting it alone. There was no JD(U) here. Also, it is also no secret that the old guard led by state party president Dilip Ghosh and newcomers from other parties led by national vice-president Mukul Roy do not see eye to eye. 
Challenges posed by the ongoing pandemic were not lost on leaders either. 
Bengal has around 78,000 polling booths. The ECI plans to cap the number of voters per booth to 1,500, which would lead to an increase in the number of booths, but the BJP already has many unmaned booths, the leader said. In his recent visit to Bengal, even home minister Amit Shah had stressed the party's weak booth-level organisation in the state. 
The party has to ensure that every counting table has one of their representatives, who is supposed to be present through the entire process irrespective of how long it takes. 
"We have so many euphoric supporters. But I doubt how many of them actually understand the technicalities of elections," the leader added.
"Work hard for five months and rule for 50 years," Shah had reportedly said in a closed-door party meeting.
A source added that it was important that all internal differences were resolved immediately.
"Under Sushil Modi, the Bihar BJP was able to put up a united fight. The petty quarrels that exist in the state unit here in Bengal are harmful for our future," a state vice-president said on condition of anonymity. 
The BJP's Hooghly MP Locket Chatterjee, in Bihar to campaign for the party during the second and the third phase of the polls, however sounded upbeat about her party's prospects in Bengal following the Bihar win. She added that even if her party had lost in Bihar (which did not happen), winning Bengal was near certain because people have "rejected the Trinamul Congress".