BJP flounders in pandal race
Trinamul Congress leaders are much more in demand for puja inaugurations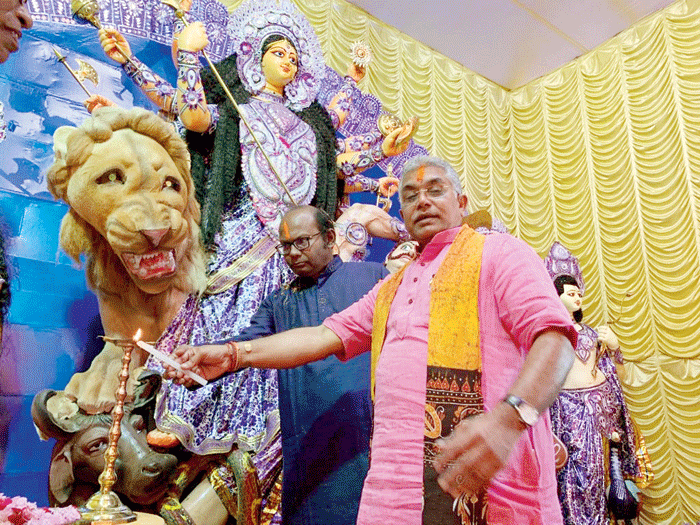 ---
---
The Bengal BJP's plan to tap into the Durga Puja festivities to connect with people seems to have come a cropper with reports from across the state suggesting that Trinamul Congress leaders are much more in demand for puja inaugurations.
Most famous pujas in Bengal have been inaugurated in the past two days and a preliminary assessment suggests that Trinamul politicians remain the top draw for organisers.
"We could not even get a big-ticket puja in Calcutta for our party president Amit Shah…. You can very well imagine what's the situation in the districts," said a BJP insider.
After a stellar show in the Lok Sabha polls, the state BJP leadership had been hopeful of breaking the Trinamul hegemony in puja inaugurations and had apparently drawn up a list of star leaders, such as Union minister Smriti Irani and celebrity MPs like Hema Malini and Gautam Gambhir, to do the honours.
"Not a single leader from outside, other than Amitji, came for inaugurations," said a BJP source. "While it is true that we received invites for inaugurations and the number was higher than previous years, the scale and the profile did not match our expectations," the source added.
In north Bengal, where the BJP won seven of the eight Lok Sabha seats, party leaders languished near the bottom of the pecking order in North Dinajpur and Malda. In Siliguri and Cooch Behar, MPs Raju Bista and Nisith Pramanik did inaugurate a few pujas but the demand for local Trinamul leaders was much higher.
In most south Bengal districts, the gap was even more stark. Estimates suggest that in West Burdwan, the inauguration count for BJP leaders, including parliamentarian S.S. Ahluwalia, was around 15, while Trinamul politicians threw open more than a hundred pujas. In neighbouring East Burdwan, the BJP's tally was 20 against Trinamul's 80.
"State president Dilip Ghosh and minister Debashree Chowdhury received invites to inaugurate several pujas in districts such as West Midnapore, Howrah and North 24-Parganas," said a source.
BJP sources blamed Trinamul's strong-arm tactics for the party's dismal show. "Some organisers wanted our leaders but backed out fearing backlash from local Trinamul leaders and the administration," said a BJP leader.
Additional reporting by Avijit Sinha and Sandip Chowdhury