BJP feud hits Tathagata Roy application
Delay is deliberate to humiliate the former governor: A party leader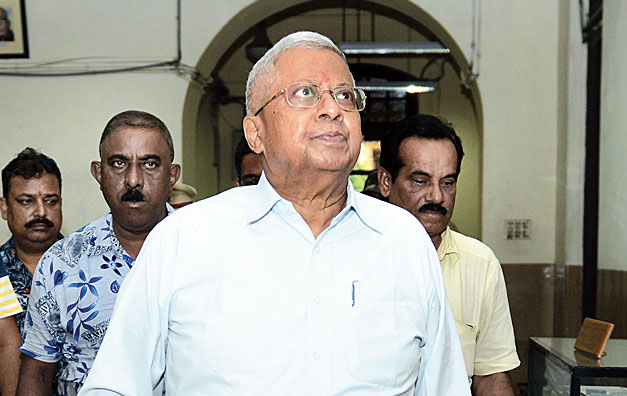 Tathagata Roy
File picture
---
Calcutta
|
Published 17.09.20, 02:30 AM
|
---
Former governor Tathagata Roy's application for active membership in the BJP has been pending for over a week amid murmurs that the Bengal leadership of the party is trying to settle scores with the veteran leader.
Multiple sources in the BJP said Roy — who had served as the governor of Tripura and Meghalaya — had become a victim of the party's internal squabble.
"The faction led by BJP state president Dilip Ghosh is upset with Tathagata-da because of his criticism of Dilipda... As this faction calls the shots in the state, Tathagata-da's application is gathering dust," a BJP leader said.
"Finally, they will have to grant him active membership, but the delay is deliberate to humiliate Tathagata-da," added the leader.
At a recent web seminar, Roy had said people currently running the party in Bengal weren't doing it the right way. Roy, according to several party insiders, was also critical of Ghosh's leadership abilities at a closed-door meeting he had with Kailash Vijayvargiya, the in-charge of the BJP in Bengal.
Roy's term as the governor of Meghalaya ended in August 2020, following which he expressed his intention to make a comeback to active politics.
Like any other member of the BJP, Roy, who had quit the party after his posting as
the governor of Tripura in 2015, became an ordinary member through the missed call route. However according to norms, people interested in participating actively in the party have to apply separately through an 'active membership' form and that application needs clearance of the state leadership.
"The procedure is still pending," Roy told The Telegraph on Wednesday evening while adding that he was not worried about the delay.
According to him, he had sent the form through an acquaintance to the BJP office last Thursday. "However, it wasn't accepted for some reason. On Friday, it was a lockdown and then came the weekend and hence, the delay."
"I'm sure things will be sorted soon," Roy added.
Party sources have said that there is no reason for the delay as the process of accepting active membership application from a party veteran is simple as it just needs approval of the party's general secretary (organisation).
A source said Subrata Chatterjee, general secretary (organisation), was sitting on the application.
"Subratada is deferring the process," this person added.
A source said the Ghosh camp was wary of Roy, who has an RSS background and direct access to the central leadership, because of his ability to create a new power centre.
Ghosh, however, swatted away all the speculations about the delay in Roy's membership. "One phase of the membership drive is already over. From this lot itself, at least one lakh active members have been enrolled. The drive will start soon. However, for Tathagatada, there will be no problem. It will be done as soon as possible," said Ghosh.