BJP embarks on hill drive
Defections from Gurung and Tamang Morcha factions to saffron camp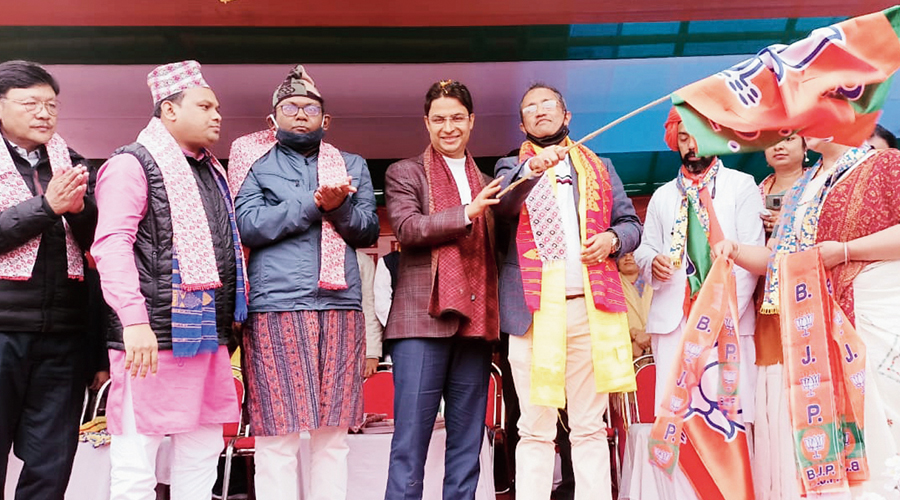 ---
Darjeeling
|
Published 13.01.21, 01:14 AM
|
---
Hundreds, including some prominent names of Darjeeling politics, joined the BJP on Tuesday amid speculations that the saffron party, so far piggybacking on regional parties to win elections, has decided to expand its own organisation in the hills.
The event at Champasari in Siliguri — the first of its kind for the BJP — marked a significant change as until recently, the BJP did not even have full-fledged district committees for Darjeeling (hills) and Kalimpong.
"It's clear that the BJP wants its own presence in the hills. And the joinings today (Tuesday) suggest that they want to expand using the known Gorkha faces," said an observer.
Both the Bimal Gurung and Binay Tamang factions of the Morcha suffered losses as the BJP got leaders from the two camps in its first major induction programme.
The list of leaders who swung to the BJP included L.M. Lama, former organisational secretary of the Morcha and Sawan Rai, central committee leader of the Morcha (both from the Tamang camp), B.P. Bajgain, former spokesman Morcha, Shankar Adhikari, former Morcha president (Terai), Kumar Chamling, secretary, (Kalimpong subdivision committee) of the Morcha, all from Bimal Gurung's camp, and Swaraj Thapa, former political advisor to Gurung,  as well as retired government officials, writers and lawyers.
"The induction has clearly given a fillip to BJP's plan to expand its party on its own capacity," said a hill observer.
The BJP won the 2009 and 2014 Lok Sabha election with Bimal Gurung's support. In 2019, they won both Lok Sabha and Darjeeling Assembly bypoll seat with support from Gurung's Morcha and other hill parties like Gorkha National Liberation Front, Communist Party of Revolutionary Marxists, Akhil Bharatiya Gorkha League and Gorkhaland Rajya Nirman Morcha among others.
While Gurung severed ties with the BJP, other hill parties are part of the NDA fold.
Darjeeling MP from the BJP Raju Bista also criticised Gurung at the event.
"Earlier, I thought daju (Bimal Gurung) would take care of the place and I would focus on Delhi," said Bista. "He (Gurung) showed me the right direction but he took the wrong route."
He dismissed Gurung's taking credit for his (Bista's) win. "No single party or person was responsible for my win. People ensured my victory," said Bista.
On Gurung demanding Bista's resignation, the latter said: "I will not resign." He added it was because of hill politicians that Gorkha issues were unresolved till date. Bista said he was committed to resolve "identity" issues of Gorkhas and added that the BJP would fulfil the promises of granting tribal status to 11 hill communities and finding a permanent political solutionto the region.