BJP elects Suvendu Adhikari to lead Opposition
This unanimous decision of its legislative party conveys the message that the saffron camp would stick to its polarisation strategy in Bengal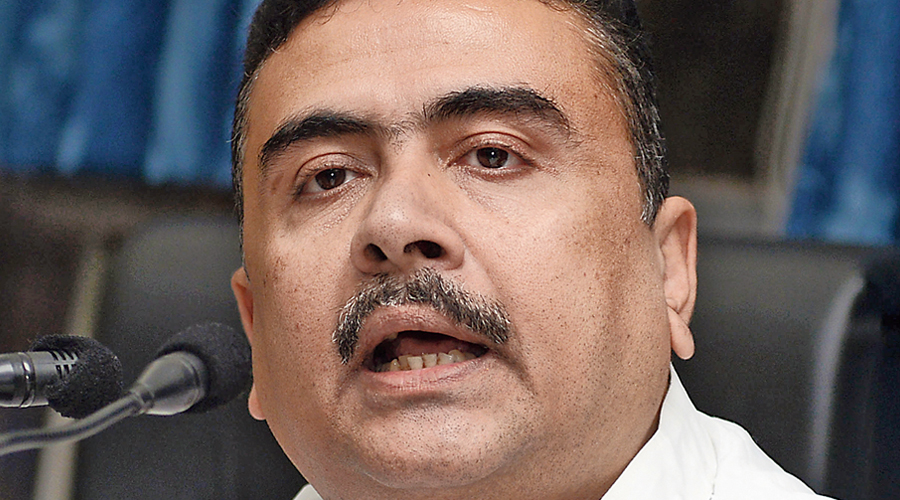 ---
|
Calcutta
|
Published 11.05.21, 01:34 AM
---
BJP MLA from Nandigram, Suvendu Adhikari, whose poll campaign had been shrilly communal, was on Monday elected by his party as the leader of the Opposition in the Bengal Assembly.
This unanimous decision of the BJP's legislative party conveys the message that the saffron camp would stick to its polarisation strategy in Bengal.
"Our party will tread the path of Hindutva politics in Bengal as it has done in the rest of the country. The choice of Suvenduda reflects the party's mood as he successfully emerged as the poster boy of Hindutva in Bengal," a party insider said.
Suvendu's first address to his colleagues after being elected as the leader of the Opposition also set the tone.
"…We are not happy. Over a lakh BJP workers at the grassroots and voters who had fought to establish democracy in West Bengal… just because they belong to a specific community…are homeless today," Suvendu said in line with the saffron camp's propaganda that Hindus were being targeted in Bengal's post-poll violence.
The reality, however, is that the violence affected people cutting across religious and political affiliations.
Suvendu also pointed out three unique features of the new Bengal Assembly, that this is the first time a defeated candidate (Mamata Banerjee lost to Suvendu by 1,956 votes) has been sworn in as chief minister, the Assembly will have no one from the Left or the Congress, and the BJP for the first time in Bengal is the Opposition party.
Suvendu's name was proposed by another Trinamul turncoat and BJP MLA from Krishnagar North, Mukul Roy, at a meeting of legislators at the party's Hastings office. BJP MLA from Madarihat Manoj Tigga was named the party's chief whip.
Of the BJP's 77 MLAs, on Monday, around 52 were present at the meeting. The rest, including MP Nisith Pramanik who was elected as Dinhata MLA, were absent. Sources said while some had contracted Covid-19, others were helping families affected in the post-poll violence.
Union minister Ravi Shankar Prasad and BJP MP Bhupender Yadav, appointed observers for the election of the leader of Opposition, were present at the meeting.
A former minister in Mamata's cabinet, Suvendu joined the BJP in December 2020.
During his campaign, Suvendu called Mamata many names, including "aunt of the Rohingyas" and "Begum". Yet, Mamata garnered 1,08,808 votes in her favour while Muslim votes polled in Nandigram was around 54,000.
Sources said the BJP MLAs also appealed to the Centre for central security for each of them.
"Given the track record of the Bengal police and the post-poll violence, our MLAs have demanded central security. In all probability, their appeal will be granted," a state BJP office-bearer said.