Big-bang curbs keep Calcutta Diwali muted
Noise level much less than in previous year, and so was number of people arrested for violations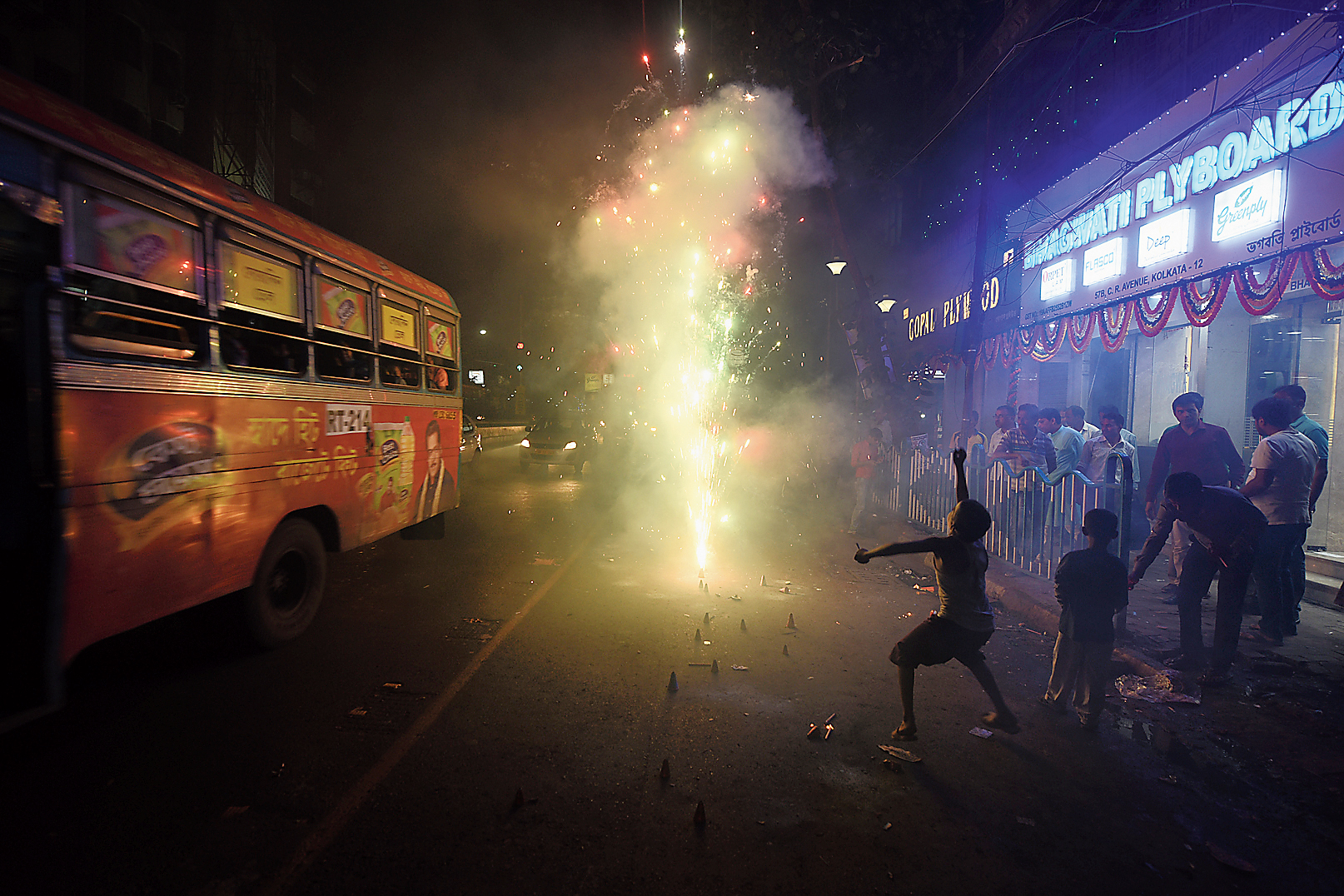 ---
|
Calcutta
|
Published 07.11.18, 07:56 PM
---
Calcutta passed the Kali Puja cracker compliance test on Tuesday, only to switch to noise mode on Diwali night as crackers came alive in several pockets of the city and the suburbs. Police said it was still quieter than in previous years, especially in neighbourhoods notorious for breaking the decibel barriers. "Far less than last year," said an officer in Lalbazar, the city police headquarters.
The number of cases reported about violation of noise norms and disorderly conduct has declined considerably compared to last year's data, the officer said. Till around 9.30pm on Wednesday, 472 people had been arrested across Calcutta for bursting or selling banned firecrackers and disorderly conduct in public. Last year, 730 people had been booked for the same offences. The number of complaints registered declined from 161 in 2017 to 98 this year. Metro highlights pockets that spent a quiet Diwali and those that did not
Wood Street-Theatre Road:
Police personnel were deployed at every other highrise building on Theatre Road, Camac Street, Wood Street, Loudon Street and Rowdon Street to implement the Supreme Court's order.
The court had fixed a window of 8pm to 10pm for Diwali fireworks.
"It was an unpleasant surprise to find a policeman sitting at the reception of our housing complex. Our children wait for this festival the whole year. But given the vigilance, it seems our children have to skip the usual Diwali fun," said a resident of a highrise on Wood Street.
Another resident of the stretch said that except for loudspeaker "noise" from a Kali Puja pandal on Theatre Road, it had been an "eventless" festival night. "On the brighter side, my pets are not as scared this year as they usually are on Diwali," said a resident of Lord Sinha Road.
Kasba-Jadavpur-Behala:
Several residents of Jadavpur and Kasba said they heard noisy fire crackers being burst. "I visited my uncle's home near Bijoygarh and found the place bustling with revellers bursting chocolate bombs, which I believe are banned," said a resident of Sarat Bose Road.
A young man in Behala described how he lit a rocket that exploded multiple times in the sky over five minutes. "We have been bursting these crackers since childhood. How can you stop suddenly?" he said.
Till 8pm, Lalbazar had received around 20 complaints from this pocket of south Calcutta. Most of the violations were in Behala and Jadavpur, police said.
Alipore-New Alipore:
This was one of the quieter neighbourhoods. "We have not received any major complaint till now. We are hoping Diwali night will pass off peacefully here," said an officer of the south division.
Gariahat-Ballygunge:
Senior officers in Lalbazar said the local police stations had held awareness meetings in highrises to ensure that the residents adhered to the Supreme Court's order. "We have not faced any resistance till now," an officer said.
Buildings in and around Ballygunge and Gariahat have in the past been the noisier blocks. "Our residents' association had circulated a notice that no firecracker should be burst after 10pm. Thankfully, everyone agreed," said a resident of Meghamallar apartments on Gariahat Road.
Bhowanipore-Tollygunge:
Decibel levels on this stretch dipped this year. "The firecracker noise is not even 10 per cent of what it used to be on Diwali night. I drove to Garia from Bhowanipore tonight and did not hear any firecrackers being burst," said a resident of Harish Mukherjee Road.
Burrabazar-Posta:
This area dotted with commercial complexes and apartments was also unusually quiet. "It's surprising that we have not received any complaint about noisy crackers," said an officer at Posta police station. Central Avenue and College Street were quieter too, although there were complaints about rockets being burst along a stretch of Bentinck Street.
EM Bypass-Anandapur:
According to residents of highrises along the EM Bypass, both Kali Puja and Diwali were noisy. "I can hear rockets being burst every few minutes. Yesterday, I visited Beckbagan and there was strict police vigil around Park Circus. But one can hardly spot a cop here," said a resident of Anandapur.
Salt Lake:
Several residents of Salt Lake said the noise level was less compared to last year. According to a house owner in IA block of Sector III, there were only stray instances of a chocolate bomb going off or some other noisy firecracker being burst.
"This year is certainly much quieter," said Somdev Burman.
Lake Town:
This VIP Road neighbourhood known to have a blast on Diwali appeared to quieten this year. Subrata Dasgupta, who lives in B Block, said he could hear firecrackers after the stipulated 8-10pm window but the overall noise level was definitely less than last year. "Earlier, we couldn't sleep till almost dawn because of the continuous burst of noisy firecrackers," he said.