A third name has cropped up as a contender for the mayor's post in the Bidhannagar Municipal Corporation (BMC). So far, deputy mayor Tapas Chatterjee and chairperson Krishna Chakraborty were being seen as the frontrunners.
Several Trinamul Congress insiders told The Telegraph Salt Lake that fire and emergency services minister and Bidhannagar MLA Sujit Bose is eyeing the post.
"He is not only well-known but he has also got a general acceptance among the councillors," said a source.
Bose is the vice-chairman of the South Dum Dum Municipality and according to sources, he is ready to step down in order to contend for the Bidhannagar mayor's post.
"It is easy to understand why. Salt Lake is a planned city that is always in the limelight. The mayor's post is quite prestigious and the civic body that governs Salt Lake and its adjoining areas like Baguiati and parts of Rajarhat has the status of a corporation that gets a lot of funding," the source said.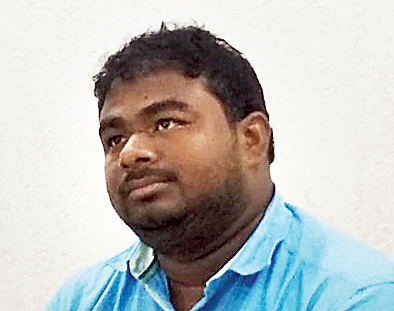 Prosenjit Sardar The Telegraph file picture
The only hurdle in Bose's path is that fact that he is not a voter of the BMC area, neither is he a councillor here.
Minister Firhad Hakim has asked deputy mayor Tapas Chatterjee to look after the day-to-day activities of the corporation.
According to party sources, Chatterjee was the frontrunner for the mayor's seat till resentment among a section of the councillors surfaced about Chattrejee.
Many, including mayoral council member solid waste management Devashis Jana, had told The Telegraph Salt Lake that they would not back Chatterjee, a CPM turncoat.
In the days that followed former mayor Sabyasachi Dutta's resignation, many councillors, especially those from Salt Lake, decided to back chairperson Chakraborty.
The date for electing a new mayor and his council has not yet been decided.
Meanwhile, on Monday, Prosenjit Sardar, councillor of Ward 27, resigned as the mayor-in-council member in charge of sports and youth services. He sent his resignation letter to Chakraborty.
"I am quitting because of personal reasons," said Sardar. He added that he would be in touch with Dutta, considered to be his political mentor.
Chatterjee said that he did not know Sardar well but said that he was also not toeing the party line. "He did not sign the letter seeking the mayor's ouster. The party had instructed everyone to do so," Chatterjee told The Telegraph Salt Lake.