Bengal to get extra 10cr mandays this fiscal
State meets annual job scheme target in just six months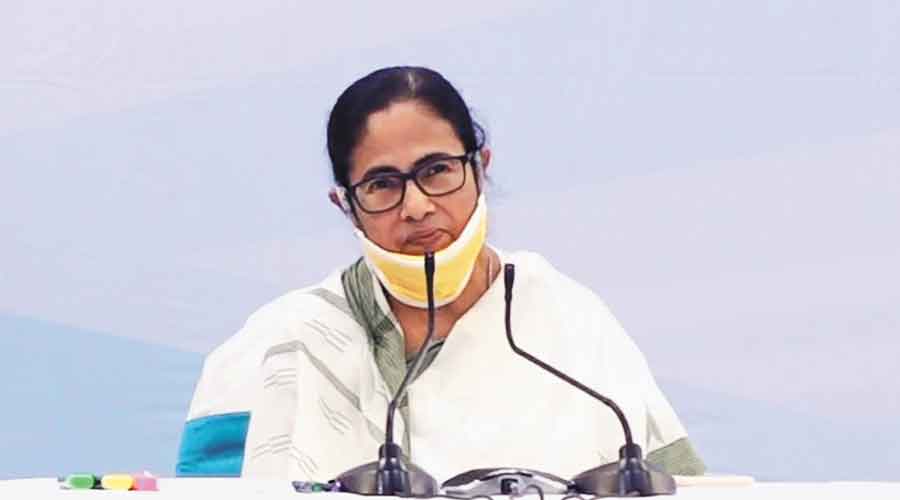 Mamata Banerjee
File picture
---
Calcutta
|
Published 03.10.20, 01:24 AM
|
---
The Mamata Banerjee government has achieved its annual target of generating 22 crore mandays under the Mahatma Gandhi National Rural Employment Guarantee Act (MGNREGA) in the first six months of the 2020-21 financial year and the success has forced the Centre to allow the state to create another 10 crore mandays in the remaining half of the year.
"The Centre had fixed a target of generating 22 crore mandays in the beginning of the financial year. We have generated 21.76 crore mandays by mid-September. During the review meeting for the project in late September, the Centre allowed us to generate another 10 crore mandays in the state during the ongoing financial year," said a senior government official.
According to sources, the state was allotted a sum of Rs 5,800 crore under the scheme in April this year and more than 95 per cent of the funds were utilised within the first six months. The sources said generating 22 crore mandays within the first six months held significance, particularly in the backdrop of the Covid-19 pandemic.
"This gives a clear hint the state administration worked hard to give rural populace a chance to earn livelihood during the pandemic. It is also clear that the government has successfully created employment opportunities during the lockdown and post-lockdown period in the rural areas," said a senior government official.
The sources also said the huge demand for jobs under the scheme was witnessed in rural areas soon after migrant labourers had started to come back to the state since May.
According to records available with the panchayat and rural development department, about 6 lakh new names were included in the job cards under the scheme between May and June this year.
"While 2,88,907 new job cards were issued under the scheme, more than 3 lakh people had added their names in the existing job cards of their families. It is assumed that a majority of the newly included workers are migrant labourers," said another official.
The chief minister had laid stress on including migrant labourers in the 100 days' job scheme since more than 12 lakh such workers — according to the government's estimates — had come back to Bengal during the lockdown.
Sources in the panchayat department said the demand for jobs had started decreasing over the past few months.
"This is because many of the migrant labourers have started going back to their place of work after several activities, including construction works, were allowed in the past couple of months," said a source.
The new target of generating 32 crore mandays would help the state give jobs to the card holders who stayed back in the state in the next six months.
"People living in the state would also require jobs. If we failed to put pressure on the Centre to revise the target of mandays generation, rural people could have suffered," said another official.