The retirement age of college and university teachers in Bengal is being raised from 62 to 65 and that of vice-chancellors from 65 to 70 so that institutes of higher education are able to retain the experience that is needed to maintain academic standards, Mamata Banerjee announced on Monday.
"There should not be a dearth of experienced teachers in universities and colleges…. So, we have decided to increase the age of retirement of college and university teachers…(and) vice-chancellors," the chief minister said during the Calcutta University convocation at Nazrul Mancha.
Exactly two years ago, Mamata had announced to a gathering at Netaji Indoor Stadium that her government was raising the retirement age of college and university teachers from 60 to 62 years. The event was a teachers' convention organised by the school education department.
The chief minister allayed fears that college and university teachers getting an additional three years of service would not affect the employment prospects of young people aspiring to teaching jobs.
"I promise you there will not be a dearth of jobs. We have opened 23 new universities and 11 more are in the pipeline. More colleges will be coming up in Bengal. You need not worry at all," she told the gathering that included recipients of postgraduate and doctoral degrees, students, teachers of colleges affiliated to Calcutta University and government officials. "I do not agree with the idea that teachers can't work after 60. In fact, they can deliver better after this age. We should retain them…. Institutions should utilise their expertise for further improvement."
Bengal has 14,000-odd sanctioned posts of college and university teachers, around 10 per cent of whom retire each year. "A higher retirement age translates into around 4,000 fewer hirings over the next three years," a senior official of the education department said.
The state college service commission is in the middle of a recruitment drive to fill around 2,500 vacancies in the rank of assistant professor. The commission has received nearly 24,500 applications for these posts, reflecting the lack of employment opportunities for educated youths.
"I appreciate the move of the government. But this extension of the retirement age will affect the careers of a huge number of meritorious youths in the next three years," an applicant for the post of assistant professor said.
Srutinath Praharaj, a former office-bearer of the CPM-controlled West Bengal College and University Teachers' Association, said the chief minister's announcement had bitter-sweet overtones. "Teachers who are in service will be happy. But at the same time, a large number of qualified youths will suffer. The government must take appropriate steps to create job opportunities for postgraduates who cleared NET or SET five years ago and have still not got a teaching job in any college."
Education minister Partha Chatterjee said the notification on raising the retirement age of vice-chancellors and college and university teachers would be issued soon.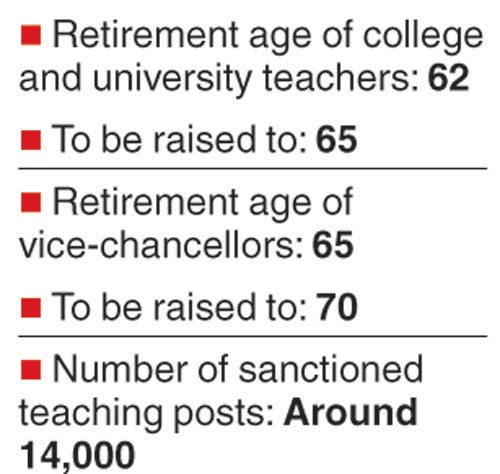 The Telegraph