Trinamul sees no threat from defections to BJP
The party is yet to lose notable key leaders with mass connect or organisational abilities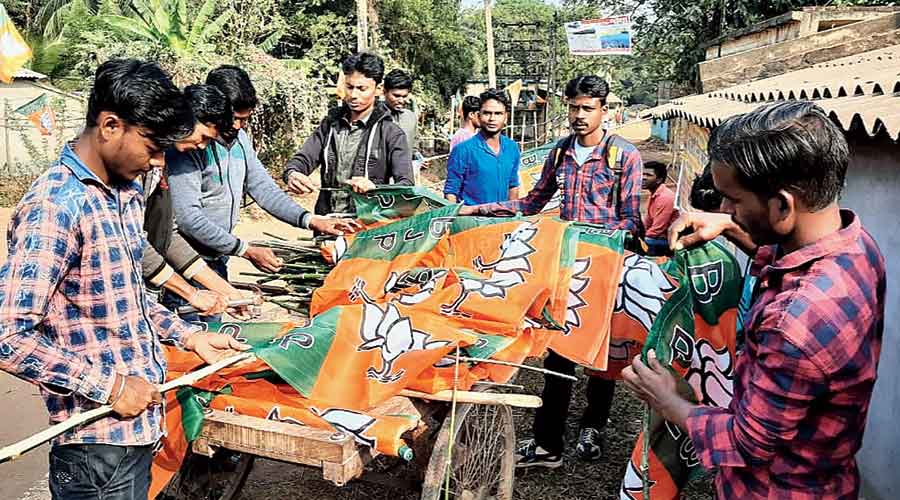 BJP supporters with party flags in Midnapore on Friday, ahead of Union home minister Amit Shah's visit
Saikat Santra
---
Calcutta
|
Published 19.12.20, 02:14 AM
|
---
Trinamul Congress's internal assessment on the actual extent of damage in the wake of Suvendu Adhikari's departure and the consequent bandwagon effect is veering towards the view that there is no need for pessimism yet.
Sources in the ruling party said the BJP had, with considerable success, gone about peddling the perception that Trinamul was all but gone with the desertions, but other than Adhikari himself, the party was yet to lose notable key leaders with mass connect or organisational abilities.
There are rumours in the power corridors that with Adhikari, "three-five MPs and 20-odd MLAs" are likely to join the BJP, either this weekend, or over the next few weeks. Hundreds of elected representatives at local bodies and organisational office-bearers of Trinamul are also rumoured to embrace the BJP.
Chief minister Mamata Banerjee sat with senior Trinamul leaders at her residence in the evening to analyse the situation. Sources said she seemed certain that the desertions would not cause significant damage to the party's electoral chances.
"She is planning her own programmes and is confident of being able to compensate whatever losses these desertions cause," said a source.
The source said Pandaveswar MLA Jitendra Tiwari was already back in Trinamul as the BJP had refused to accommodate him. Tiwari issued a statement, saying it was his mistake to leave Trinamul and he reaffirmed his faith in Mamata.
The former Asansol mayor's turnaround came after a meeting with minister Aroop Biswas and poll consultant Prashant Kishor in Calcutta.
Trinamul, said a party MP, will not be heavily dented by the possible exodus Adhikari was tasked with generating.
"From what we know, as of this evening, Suvendu is the only proper leader with real mass connect who is going. Those leaving for the BJP now with him are mostly those who fear defeat or denial of candidature by Trinamul," he added.
A senior member of the Mamata cabinet pointed out that displeasure with poll consultant Prashant and his role in Trinamul was common to most of those who had left or were likely to desert. Prashant, brought on board by the chief minister after the party's unimpressive performance in the general election last year, is seen as close to her heir-apparent, nephew Abhishek Banerjee.
"Other than Suvendu, whoever scored low in the winnability assessment of PK, is looking to leave," he said, adding that the likes of "turncoats" Cooch Behar South MLA Mihir Goswami, Contai North MLA Banasri Maity and Barrackpore MLA Shilbhadra Datta, all had an unfavourable winnability assessment.
Maity and Datta stepped down from the party on Friday.
Former minister Adhikari — who resigned from the state cabinet on November 27 and the party on Thursday — was asked to make an appearance before Speaker Biman Banerjee on Monday to satisfy him on certain technical shortfalls of his resignation as the Nandigram MLA.
From Friday, Adhikari got allotted Z cover security from the Centre, comprising 20 personnel from the central forces.
A Trinamul Rajya Sabha member said he was more worried about the perception at play that a man like Adhikari must have taken such a big decision, after over two decades in the party, on the basis of his understanding — deemed fool-proof by many — that the BJP's victory was a foregone conclusion.
"Many of those going are doing this on a herd impulse, assuming Suvendu's understanding is infallible. But, as of now, this is far from over and we still have a clear path to victory," he said.
Barasat Trinamul MP Kakoli Ghosh Dastidar said: "These departures are cleansing, purifying our party. We will emerge better and stronger for them."