Trinamul and hill ally on induction spree
The ruling party has been regularly organising meetings, which is also a deviation from the past trend, surprising observers of politics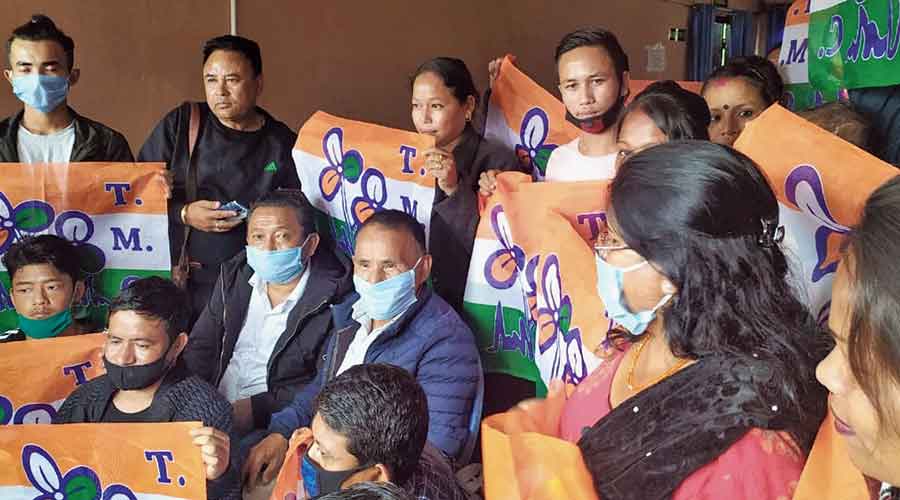 Some of the newly inducted Trinamul members in Mirik on Monday
Telegraph picture
---
Siliguri
|
Published 14.09.20, 11:57 PM
|
---
The Trinamul Congress and the Binay Tamang faction of the Gorkha Janmukti Morcha have been poaching each other's members with the induction sprees by the allies in the Darjeeling hills coming as a surprise for observers of politics.
The ruling Trinamul, which had till now left the political space in the hills vacant for Tamang's faction of the Morcha, has been regularly organising meetings, which is also a deviation from the past trend.
"You can't call it breaking of the alliance... But the developments are interesting as Trinamul and Tamang's faction had been complementing each other till now," said a source.
L.B. Rai, the president of Darjeeling (hills) district Trinamul, said there was nothing wrong in inducting supporters of other political parties.
"We have a tie-up with the Morcha and we will continue to be allies. But if any Morcha supporter wants to join us to strengthen the hands of Mamata Banerjee and in response to the development works carried out across the state, there is no reason to send away that person. Supporters of other hill parties are also walking into Trinamul," he said.
Rai on Monday inducted into Trinamul members of 21 families which stayed at Khaprail, on the outskirts of Siliguri, and Putung tea estate in the Mirik block. They were handed Trinamul flags at a programme held at the municipality hall in Mirik. They had earlier been with the GNLF or either of the Morcha factions.
Rai claimed that around 3,000 supporters from different political parties had switched to Trinamul in the hills in the past one month.
N.B. Khawas, the spokesperson for hill Trinamul, said many people with no political background had also joined the ruling party. Trinamul has recently activated its tea trade union in the hills.
Leaders of the Tamang camp are not sitting idle either. A few days back, Binay Tamang had himself welcomed Rajen Tamang, a vice-president of hill Trinamul, to the Morcha.
Anit Thapa, the second most important leader after Tamang in the party, managed to pull in a number of people from other parties, including Trinamul, at various locations in the hills. "There are people who might have issues with their local leaders and want to shift to another party. That is why one can see such joining. But it is nothing beyond that," said Keshav Raj Pokhrel, a spokesperson for the Morcha.