CPM nod for Bengal poll pact with Congress
The Left will have an electoral understanding with all the secular parties against the ruling Trinamul Congress and the BJP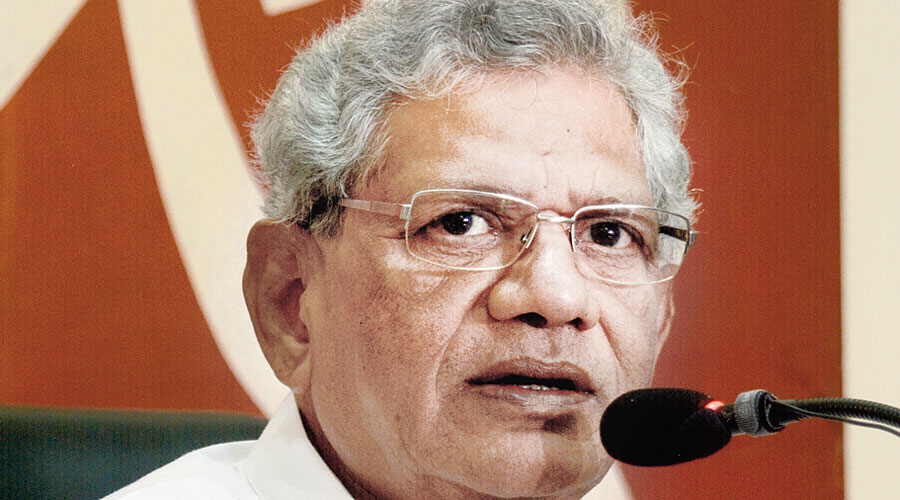 ---
---
The CPM's central committee on Saturday green-signalled the Bengal unit's proposal for an electoral understanding with the Congress for the Assembly elections in the state next summer after the powerful Kerala lobby came around to accepting the pragmatic line advocated by general secretary Sitaram Yechury.
According to the decision of the central committee — the highest decision-making body of the party — the CPM and the Left Front will have an electoral understanding with all the secular parties, including the Congress, in Bengal against the ruling Trinamul Congress and the BJP.
In Assam, which also goes to the polls next summer, the CPM will contest the elections in cooperation with secular Opposition parties, including the Congress.
In Tamil Nadu, the CPM will remain within the DMK-led alliance, which includes the Congress, that was stitched up ahead of the 2019 Lok Sabha elections.
Briefing reporters about the decisions taken at the central committee meeting held virtually, Yechury said he did not foresee any adverse impact of this arrangement with the Congress on the Kerala elections that are also due next summer.
In Kerala, the ruling Left alliance is pitted against a Congress-led front.
Yechury cited the 2006 elections when the two parties had fought against each other in the state polls while being part of the United Progressive Alliance at the Centre.
The Left won the Assembly elections in both Bengal and Kerala in that instance.
The hardliners in the central committee, essentially from Kerala and led by former general secretary Prakash Karat, had held out on any truck with the Congress till last week.
But finally they gave in to the rationale that there needs to be clarity in advance to avoid the pitfalls of the 2016 experiment when the party dilly-dallied on an electoral understanding till the eleventh hour, by when it was too late to translate it on the ground.