Basanta Utsav date changed
Hooliganism and crowd control problems cited as a reason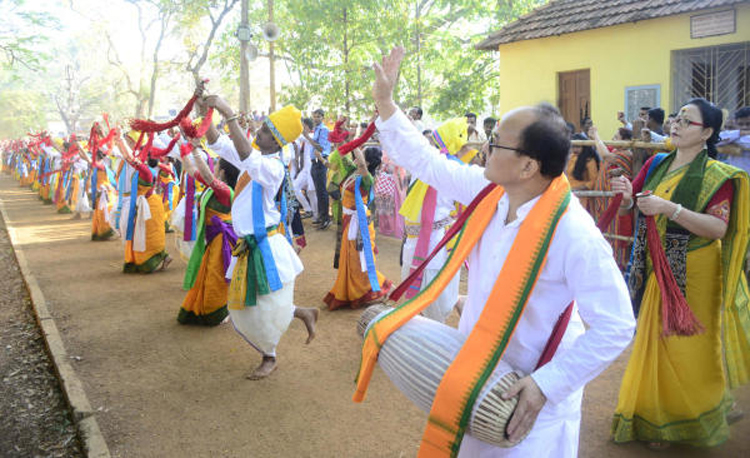 ---
---
Visva-Bharati has decided not to hold Basanta Utsav on Holi this year because of growing footfall on the campus during the festival in previous years.
Varsity officials said they were trying to prevent a repeat of last year when 2.5 lakh visitors converged on the festival venue, resulting in hooliganism and crowd control problems.
"We have decided that we will not organise Basanta Utsav on the day of Holi like in the past years. It will probably be organised between Holi and the preceding full moon," said Anirban Sircar, officiating public relations officer of the varsity.
Sources said vice-chancellor Bidyut Chakrabarty had asked for prospective dates from senior officials and teachers at a meeting recently. "Two dates were proposed. But we might declare it at the eleventh hour just to avoid unprecedented crowd," a senior official said.
"Last year, all roads leading to the ground had got blocked, leading to traffic snarls, suffocation and unwanted harassment. There were also complaints of molestation."
Basanta Utsav was started by Rabindranath Tagore in the early 1920's on Basant Panchami. In later decades, the festival was shifted to the date of Holi.
"More recently, the Utsav has become a playground for hooligans. Thousands of people having no regard for the culture of Santiniketan or Rabindranath Tagore disrupted the harmony of the programme. We welcome the move," said Sudripta Tagore, a resident of Santiniketan and descendent of the Tagore family.
"The more important thing is that there is no rule of organising Basanta Utsav on the day of Holi. Tagore had arranged it as a way to welcome spring, not to play Holi."
A girl student said: "We don't know whether changing the date will be a solution. But if such hooliganism is stopped by doing this, then we welcome it."