Barriers control Calcutta Metro crowd
The plan is being implemented at Kalighat, along with a few other stations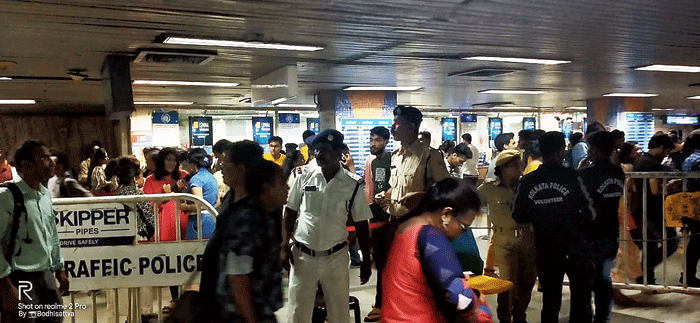 ---
|
Calcutta
|
Published 04.10.19, 07:29 PM
---
Metro is trying to restrict overcrowding on and off platforms at some stations during Durga Puja.
The plan is being implemented at Kalighat, along with a few other stations, said a Metro official.
Metro personnel, who have been engaged to manage crowds at the stations, are deploying steel barriers to temporarily stop people from entering the platforms once they are getting overcrowded.
Once a train leaves the platform and the place becomes less crowded, passengers are being let in, the official said. As the area in front of ticket counters has limited capacity, entry to the station is being stopped temporarily to avoid overcrowding.
"When access to the platform is closed and the crowd is swelling in front of the ticket counters, Calcutta police personnel deployed at entry points to the stations are stopping passengers temporarily," said a Metro official.
Separate entry and exit gates have been designated to control the crowd.
At the ticket counters, too, the Metro authorities have made provisions for multiple small queues.
"On Panchami, October 3, Metro ferried 9.28 lakh passengers, which officials said was the highest ever. To manage the huge crowd, we have introduced the new plans. The idea is to prevent stampede-like situation," said Indrani Banerjee, chief public relations officer, Metro Railway.
Some of the other plans include not to allow two trains in opposite directions to stop at a station at the same time.
Also, when the number of passengers exiting the platform is becoming too high, Metro personnel are collecting tokens from passengers and depositing those in buckets. This is being done to ensure faster exit of passengers.