The authorities have banned loud music, alcohol, thermocol plates and plastic at Rondiha dam and Durgapur barrage in West Burdwan and selfies on boats by picnickers to check pollution and untoward incidents.
The ban by the district administration and local bodies came into effect on December 20.
"Hundreds of picnickers come to Durgapur barrage during the winter. They use loudspeakers and DJ boxes which disturb birds floating in the water and the tranquillity of the area. So, we have banned loud music," said Chandrasekhar Chatterjee, the chairman of the borough committee 4 of Durgapur Municipal Corporation.
He said the civic body had also prohibited drinking and use of plastic and thermocol plates that create pollution.
Sources said the picnickers often smashed empty liquor bottles on the dry river beds which later cause accidents. "Moreover, people often turn violent under the influence of alcohol. Many people, including women, are scared of visiting the picnic spot," said a panchayat official in Kanksa where the Rondiha dam is located.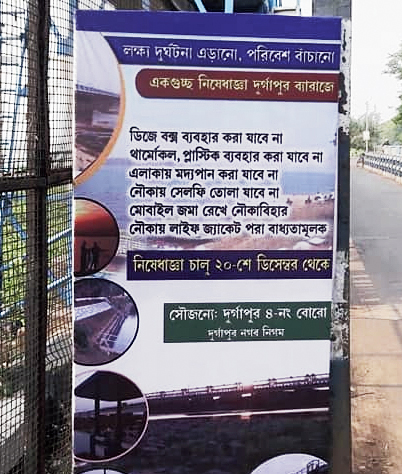 A notice near the spot to inform tourists about the ban. Picture by Arup Sarkar
The administration has also barred the use of thermocol plates and plastics and made life jackets mandatory during boat rides.
There is a bar on selfies during boat rides on both the reservoirs and visitors were asked to deposit their cell phones before the trips.
"We are giving boat operators life jackets so that tourists can wear the same. A boat ride without wearing life jackets will attract fine," said Chatterjee.
The Durgapur civic body asked police to maintain vigil along the barrage, especially during the picnic season in winter, and decided to deploy volunteers at the spot.
Signboards have been put up near the two reservoirs and public address system used to make the visitors to the picnic spots aware of the ban.
"The Durgapur barrage and the Rondiha dam are prominent tourist destinations in Durgapur. We avoid the two places though we want to go there as the ambience is not so nice nowadays. Drunken youths often pose a threat to women. If the administration becomes strict, we can go there and enjoy," said Swathi Chatterjee, a computer teacher at a private school in Durgapur town.
Last year, the West Burdwan district administration had enforced such a ban in the Maithan dam in Asansol, which is also frequented by visitors. Life jackets was also made mandatory for boat riders in the Maithan dam.