Baba Loknath Brahmachari temple seeks part of pond
Plan to increase width of road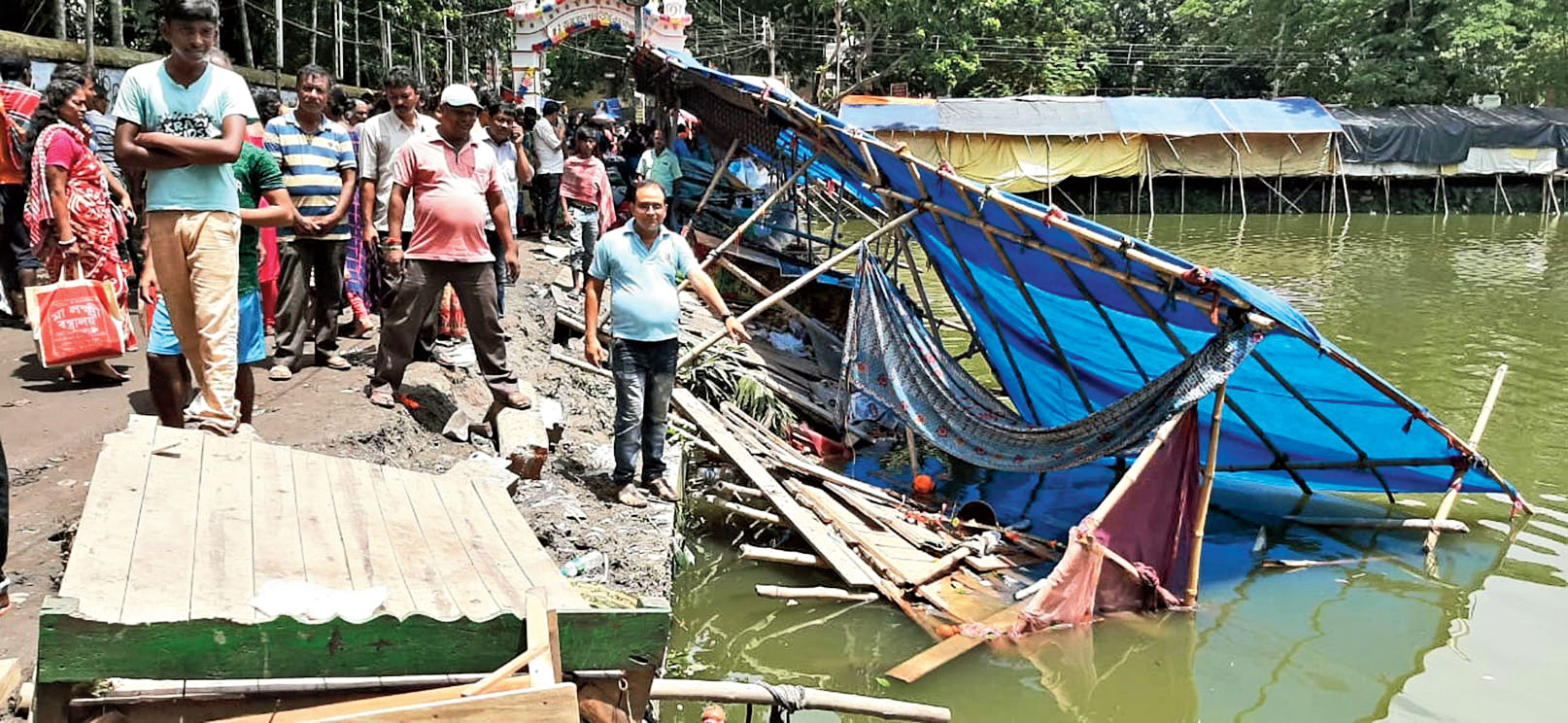 A makeshift kiosk on the edge of the pond that collapsed and fell into the water during Friday's stampede.
Picture by Partha Sarathi Nandi
---
Calcutta
|
Published 24.08.19, 07:27 PM
|
---
The Baba Loknath Brahmachari temple authorities in Kachua plan to approach the owners of an adjacent pond to "use a part of it" to widen the road leading to the temple.
Government officials on Saturday said one of the reasons behind Friday's stampede that left five people dead and 35 injured was the 9ft-wide road leading to the temple.
The road was inadequate to accommodate the tens of thousands of devotees who were in a hurry to enter the temple premises, according to the officials.
"Unless a part of the pond is taken over, the road cannot be widened," Tushar Kanti Basak, secretary, Loknath Mission Trust, said.
The trust runs the temple in Kachua, North 24-Parganas, almost 30km from Calcutta.
"So, we will discuss the matter with the owners of the pond and then talk to the government on ways to increase the road width. We need to think of the future... keep in the mind the possible footfall... say 20 years later," Basak said.
A formal proposal is still to be prepared but the matter will be discussed at a meeting between Kachua gram panchayat officials and members of the Loknath Mission Trust in the presence of food and supplies minister Jyotipriya Mallick on Sunday, a trust member said.
The minister is also the district observer for Trinamul Congress .
"Entry/exit of devotees through this road has to stop immediately... the road has to be widened," minister Mallick said. "We will draw up a plan to overhaul the infrastructure around the temple," he added.
The panchayat is responsible for the maintenance of the 200m road leading to the temple. So, widening the road would involve the local body.
Ganguly pukur, the pond as it is known in the area, is across two bighas of land. The road leading to the temple is on one side. On the other is the boundary wall of a private property.
"The pond is owned by a group of families. Whenever there is some activity, including fishing, the shareholders get their due," Saroj Kaushik, a member of one of the families that own the pond, said.
Every year around this time stalls are allowed around the pond, Kalika Prasad Mukherjee, a member of another such family, said. "The kiosks are run by people of the area... they want to cash in on the huge rush to the temple during Janmashtami."
Police said the stalls had encroached on the road, reducing its width. When a portion of the boundary wall collapsed, some of the devotees had moved to the other side, towards the kiosks, which could not bear the weight and gave away.