At least 73 buildings on Bowbazar scan list
The committee inspected the affected area on Tuesday and scanned 11 buildings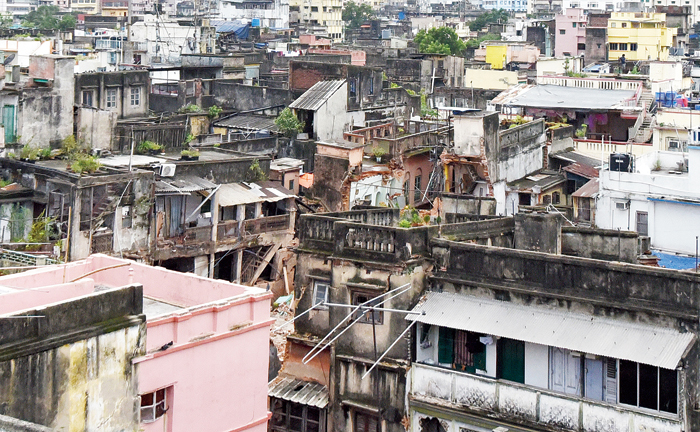 ---
|
Calcutta
|
Published 10.09.19, 08:15 PM
---
A five-member committee will scan at least 73 buildings in Bowbazar to ascertain whether they have been damaged because of subsidence triggered by water seepage into an East-West Metro tunnel.

The committee — headed by Nitin Som, a former head of the civil engineering department of Jadavpur University — inspected the affected area on Tuesday and scanned 11 buildings.
The survey will identify the buildings that need to be demolished, the ones that can be repaired and the houses where the residents can be allowed to return.
"The committee will scan 73 buildings but the number is not rigid. If needed, it will scan more buildings," said a senior official of the Kolkata Metro Rail Corporation (KMRC), the implementing agency of East-West Metro, which will connect Salt Lake Sector V with Howrah Maidan and run under the Hooghly.
Som said they would try to categorise the buildings within 10 days based on their vulnerability. "We want to categorise the ones that have to be demolished, the ones that need extensive repairs, the ones that need minor repairs and the ones that will not need any repair," he said.
KMRC officials said that altogether 686 residents had been evacuated from 64 buildings. No evacuation notice was issued on Tuesday.
As for repairs, Som said that in the first phase they would focus on the buildings that can be restored through minor repairs. "In the second, we will zero-in on houses that require extensive repairs. That will be followed by the ones that are slightly more complex in terms of damage," he said.
Once the lists are drawn up, sources said, Metro will start working on the cracks and ensure that the buildings are stable enough for the residents to return. It is only after some residents return home that work in the second phase will start. "It is important to win back the trust and confidence of the residents. We will be only too happy to see that at least some of them have returned home," said KMRC general manager A.K. Nandy.
Geo-technical analysts and engineers have found that the subsidence zone in Bowbazar has taken the shape of an ellipse and are trying to prevent its spread by building a concrete underground wall around it. KMRC officials said that though the lateral spread of the subsidence zone has not increased, subsidence within the zone is still on.