At Bengal hospital, staff take ID proof as 'collateral' for trolleys
Hospital authorities say they haven't tried to stop the practice because people abandon trolleys all over the place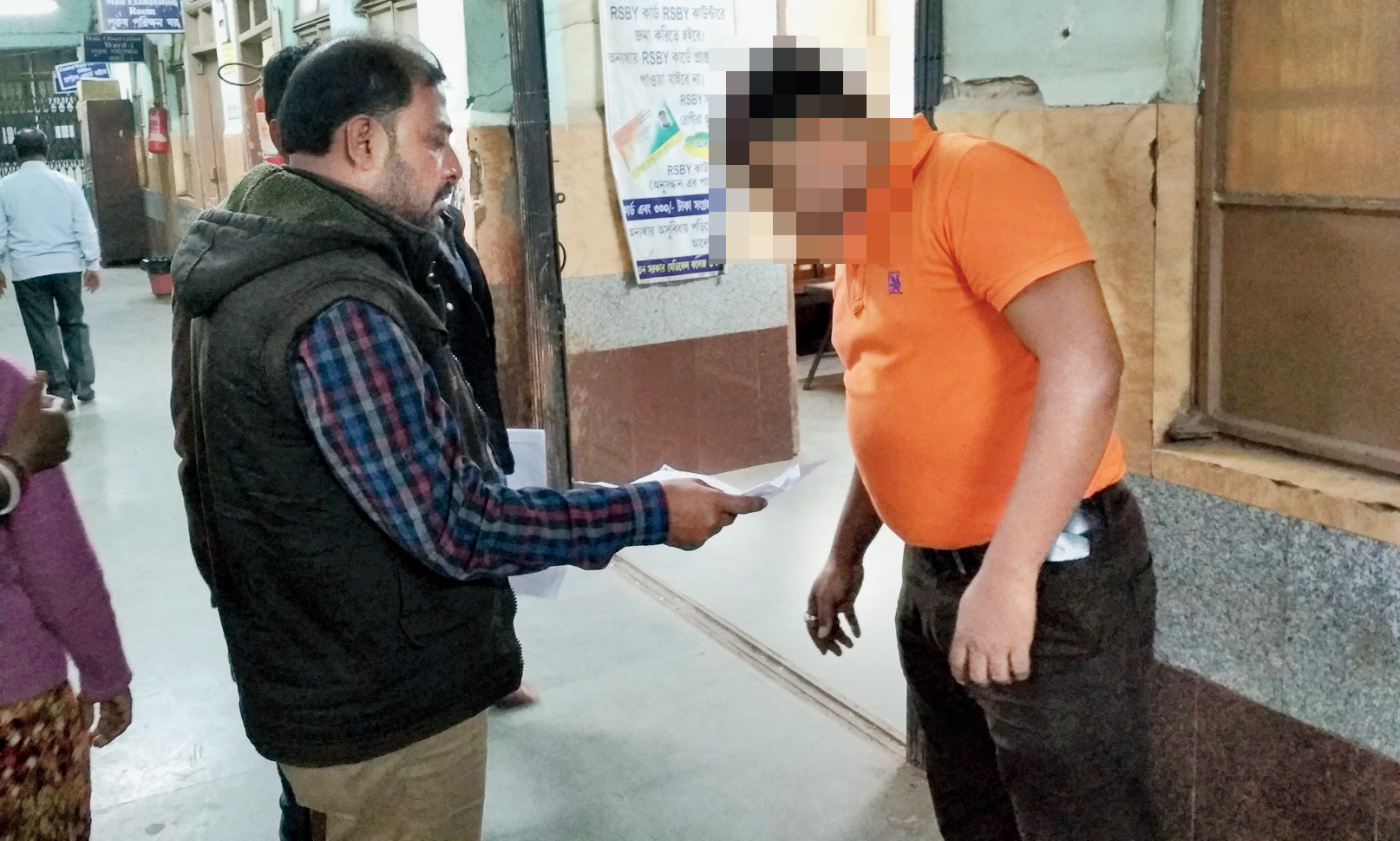 ---
|
Calcutta
|
Published 08.01.19, 10:01 PM
---
Relatives of patients at government hospitals have to keep an identity document or a phone as collateral with Group D employees for taking trolleys to transport them.
Hospital authorities say they know of the practice but haven't tried to stop it because "people don't keep trolleys in designated places after using them".
Sheikh Nuruddin, 55, reached NRS Medical College and Hospital on Monday afternoon with a head injury.
His nephew had to hand over the paper on which the doctor had advised admission to the neurosurgery department to a Group D employee before he could get hold of a trolley to ferry his uncle.
"They are asking for any document... Aadhaar card, voter identity card, driving licence.... I got back my Aadhaar card after returning the trolley," the relative of a girl who had to get an X-ray of her fractured leg done said.
A RG Kar Medical College and Hospital official said people were asked to "submit their phones to Group D employees for trolleys if they they didn't have any other ID proof".
The practice is on at all government medical college and hospitals in Calcutta except SSKM.
An official of SSKM Hospital said Group D employees should escort patients on trolleys to wards and also for any investigation and return with the trolleys to the designated spot.
But most patients don't get trolleys and there have been allegations that some Group D employees "hide" the trolleys and would provide one only against payment.
"The system of asking people to submit documents for trolleys encourages the practice of seeking bribes," a doctor at Calcutta National Medical College and Hospital said.
"People would prefer to get a trolley in exchange of money instead of submitting ID proofs when someone is sick."
The authorities at NRS said they had changed the entire team in charge of maintaining trolleys after a patient's relative complained of someone seeking a bribe.
The going rate for a trolley varies between Rs 200 and Rs 500 depending on the patient's profile.
Many hospital officials Metro spoke to said this was the "only way to ensure people returned trolleys". People get back their documents only after they return the trolleys to the place they took it from.
Saurabh Chattopadhyay, the medical superintendent-cum-vice-principal of NRS, defended the practice. "We have had to retrieve trolleys from outside the main gate and at times from APC Road where people left them after boarding taxis.
"Trolleys are also kept all over the campus... this means other patients don't get access to trolleys when needed. This is why such a move is necessary."
Ideally every trolley should be escorted by a Group D employee; but that is not practicable because 50 posts are lying vacant, Chattopadhyay said.
Indranil Biswas, the medical superintendent-cum-vice-principal of Calcutta Medical College and Hospital, claimed the practice of submitting some ID proof had ensured people return trolleys and reduced the possibility of seeking bribes.
The practice of seeking documents for trolleys has caught on in government hospitals in the past two years but without any such order from Swasthya Bhawan.
Pradip Mitra, the state director of medical education, said he knew of the practice.
People do not return trolleys and that's why such a system has been put in place by hospitals, he said.
But there should be notices in prominent places clearly saying what can be submitted to take trolleys, Mitra said.